Gunnar Fischer
World-renowned cinematographer who set the expressionistic visual tone for many of Ingmar Bergman's early films, including The Seventh Seal.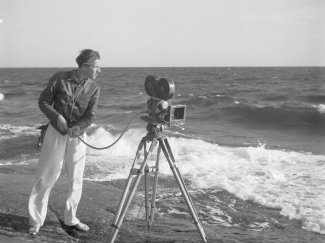 Gunnar Fischer
World-renowned cinematographer who set the expressionistic visual tone for many of Ingmar Bergman's early films, including The Seventh Seal.
'He translated Bergman's themes of emotional isolation, sexual anguish and fear of death into unforgettable images.'

Peter Cowie
About Fischer
Born in Ljungby on 18 November 1910, Fischer studied painting for Otte Sköld, lived in Copenhagen and spent three years enlisted in the navy before he applied for work at Svensk Filmindustri. At SF he learned cinematography from Victor Sjöström's legendary photographer Julius Jaenzon and started out as assistant cameraman on Smålänningar.  He was then engaged as assistant cameraman on 16 feature films before his first film as director of photography in 1942.

During his productive years from 1935–75, Gunnar Fischer worked with Sweden's most prominent directors as well as with international directors such as Anthony Asquith and Carl Theodor Dreyer. He served as cinematographer on 12 of the young Ingmar Bergman's films, from Harbour City in 1948 to The Devil's Eye (and also designed the titles for The Touch).

Gunnar Fischer on his partnership with Bergman:

'I felt privileged collaborating with Bergman. He was never indifferent to photography. He could be upset if he didn't like what he saw. Why our collaboration ended with The Devil's Eye, I don't really know. Realistically it's most likely that he thought Sven Nykvist was a better photographer.'

Torsten Jungstedt describing Fischer's style:

'Fischer's cinematography is characterized by the fact that he came relatively late in life to film in the transition from silent to sound film, and was also an educated artist. But as a cinematographer he accepted Bergman and Dreyer's ideas and sense of imagery. At the height of his proficiency, Fischer gave Ingmar Bergman the faces that represent the beginning of the more intensive part of Bergman's international acclaim.'

In 1970, Gunnar Fischer left SF and moved on to Sveriges Television, where at the end of his active career he was responsible for cinematography on the TV series Din stund på jorden and Raskens. One of his last film assignments was Jacques Tati's Parade on which he collaborated with his son Jens, one of the most distinguished Swedish cinematographers of the 1990s and 2000s. An interesting fact is that Fischer's sons Jens and Peter (also a cinematographer) played Eva Dahlbeck and Gunnar Björnstrand's young sons in Waiting Women.

In addition to his career as cinematographer Gunnar Fischer also directed short films, wrote screenplays (1933–41) and published books for children.

Fischer was married to Gull Söderblom, sister of the popular actor Åke Söderblom.
Gunnar Fischer passed away on 11 June 2011 in Stockholm. He reached the age of 100 years.  
Sources
Myggans nöjeslexikon: ett uppslagsverk om underhållning, red. Uno Myggan Ericson, (Höganäs: Bra böcker, 1989-1993).
Honorary Guldbagge Award (2003) 

The Ingmar Bergman Award (1993)

The Swedish Society of Photographer's Filmbanan Award (1991)

The Swedish Film Academy's honorary diploma (1957)

The Swedish Film Academy's plaque (1955)