Hasse Ekman
Back in the 1940s Hasse Ekman and Ingmar Bergman were both protégés of Lorens Marmstedt, and by the early 1950s they were regarded as two of Sweden's most promising young film directors. The press relished the rivalry between the two men, albeit more apparent than real.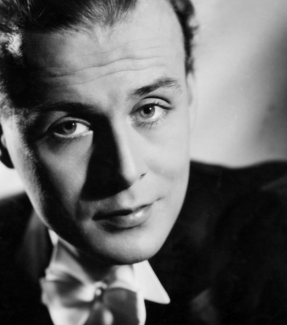 Hasse Ekman
Back in the 1940s Hasse Ekman and Ingmar Bergman were both protégés of Lorens Marmstedt, and by the early 1950s they were regarded as two of Sweden's most promising young film directors. The press relished the rivalry between the two men, albeit more apparent than real.
'Hasse Ekman is one of the great and unique talents in Swedish cinema.'

Ingmar Bergman, 1992
About Ekman
Born Hans Gösta Ekman in Stockholm on 10 September 1915, he was the son of Gösta and Greta Ekman (née Sundström).

Hasse Ekman grew up as the celebrity son of Gösta Ekman (1890–1938), one of the biggest names of the Swedish stage of his day, both as an actor and theatre owner. Sent away to boarding school, the young Hasse at first wanted to be writer rather than become an actor who might forever risk standing in the shadow of his father. Yet his theatre debut came as early as 1932 in The Merry Widow, a production in which his father Gösta was also playing, and in the same minor role in which Gösta had also made his debut. 

Although primarily a stage actor, Gösta Ekman nonetheless played a handful of film roles, including a part in Victor Sjöström's debut The Gardener and F.W. Murnau's Faust. His last film role was in Intermezzo in 1936, alongside his son Hasse and Ingrid Bergman. While shooting Faust in Berlin, Gösta had been introduced to cocaine by one of his fellow actors, Emil Jannings, and long-term abuse of the drug was a contributory factor in his untimely death from uraemia and pneumonia in 1938 aged just 47 years.

From an early age Hasse Ekman was regarded as a wunderkind of the world of entertainment. He wrote his memoirs at the age of 17, and made his first film at 25. From the end of the 1930s onwards he was extremely prolific, and in addition to directing and acting in films he also wrote popular songs (including the Swedish classics "Swing it magistern" and "Regntunga skyar"). He even found time to write books (including one about his father), regular columns, articles and review sketches. A passionate art collector, he was also involved in television during the 1960s prior to retiring from the limelight and leaving Sweden.

Towards the end of the 1930s Ekman went to Hollywood to observe and learn. Back home in Sweden, the first film he made himself was the star-studded musical comedy With You in My Arms. During the 40s he appeared to move with ease between various genres, making comedies, thrillers, romances, melodramas and home-front propaganda films. By the time that Ingmar Bergman made his first film Crisis in 1946, Ekman had already notched up a dozen productions. Like Bergman, Ekman also learnt a great deal at the hands of the producer Lorens Marmstedt during the 40s, working just as Bergman did under Marmstedt in the latter's own Intima Teatern between 1951––54 and 1960––64.

The late 1940s were Ekman's most successful years as a film director, from his autobiographical Kungliga patrasket until his peak in 1950 with the drama thriller Flicka och hyacinter, a film that Ingmar Bergman described as: 'an absolute masterpiece. 24-carat, perfect.' Leif Furhammar has called Ekman's films of this period 'a superb group of films that may well contain the odd slip, yet which seen as a whole radiate cinematographic brilliance, humanity, spirituality and the joy of storytelling'.

Ekman made his first appearance in a Bergman film in Prison, in which he plays a not overly-talented film director. In Furhammar's view: 'This film assumed a unique position in the rivalry between the two men. Prison was one of Bergman's most angst-ridden films of the 40s, in which he portrayed life as one of the outer reaches of hell. Ekman immediately countered with The Girl from the Third Row, a genial anti-Bergman film that lovingly portrayed the inner sanctity of life.'

In the artistic rivalry between the two men, the 1950s saw the scales tip decidedly in Bergman's favour: His films got better and better, whereas Ekman's work was of an increasingly uneven quality. The press continued to make comparisons between the two, although seldom to Ekman's advantage. Even though he continued to produce films at a high tempo, Ekman became increasingly regarded as an 'admirable and amiable journeyman director with no major artistic pretensions'. However, many of his comedies with Sickan Carlsson, Stig Järrel, Gunnar Björnstrand and others remained immensely popular with Swedish audiences.

During the 1960s Ekman began to feel increasingly uneasy with the Swedish cinema scene, making his final film in 1964. He sold his valuable art collection, bought a house on the Costa del Sol in Spain and turned his back on his native country.

Married four times, Hasse Ekman's four sons have all followed in their father's footsteps at one time or another. His oldest son Gösta is one of Sweden's most popular actors and comedians, who gained an early taste for his chosen profession working as Victor Sjöström's personal assistant during the shooting of Wild Strawberries. A few year's later he told Sjöström, then on his death bed, of his decision to become an actor. The old man laughed as he recalled that, 50 years previously, Gösta's grandfather and namesake had told him exactly the same thing.

Hasse Ekman died on 15 February 2004 in Marbella, Spain.
Sources
Ingmar Bergman, 20th Century of Bergman, editor Gunnar Bergdahl, (Göteborg: Göteborg Film Festival, 2000).
Leif Furhammar & Jannike Åhlund, En liten bok om Hasse: Hasse Ekman som filmregissör, (Göteborg: Filmkonst, 1993).
Leif Furhammar, "Hasse Ekman hade lätt för det mesta", Dagens Nyheter, 17 februari 2004.
Honorable Guldbagge Award (1996)