Autumn Sonata
Successful concert pianist is confronted by her neglected grown-up daughter.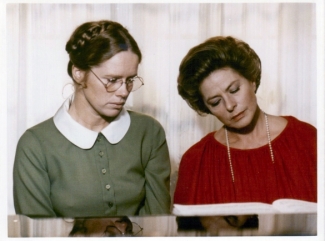 "A French critic cleverly wrote that 'with Autumn Sonata Bergman does Bergman'. It is witty but unfortunate. For me, that is."
About the film
Bergman writing on the genesis of the film in Images: My Life in Film: 
The idea of working with Ingrid Bergman was an old desire, but that did not initiate the story. The last time I had seen her was at the Cannes Film Festival at the screaning of Cries and Whispers. She had snuck a letter into my pocket, in which she reminded me of my promise that we would make a film together. Once long ago planned to adapt Hjalmar Bergman's novel The Boss, Mrs. Ingeborg to film. [...] I wrote the screenplay for Autumn Sonata in a few weeks in order to have something up my sleeve in case The Serpent's Egg flopped with a somersault.
Shooting the film 
Bergman continues in Images: 
My decision was final: I would never work again in Sweden. That is the reason I made the strange arrangement to shoot Autumn Sonata in Norway. As it turned out, I felt perfectly content to work in the primitive studios on the outskirts of Oslo. Built in 1913 or 1914, the buildings have been left just as they were. Of course, when the wind blew in certain directions, the air traffic passed right overhead, but otherwise it was old-fashioned and cozy. Everything we needed was available there, even though the place was dilapidated and had not been kept up. The crew members were friendly but a little amateurish.

The actual filming was draining. I did not have what one would call difficulties in my working relationship with Ingrid Bergman. rather, it was a kind of lenguage barrier, but in a profound sense. Starting on the first day when we all read the script together in the rehearsel studio, I discovered that she had rehearsed her entire part in front of the mirror, complete with intonations and self-conscious gestures. It was clear that she had a different approach to her profession than the rest of us. She was still living in the 1940s.

I believe that she possessed some sort of inspired system of working, albeit a strange one. In spite of her mechanisms for receiving director's cues not being placed where one expected to find them – and where they ought to be – she still must have been somehow receptive to suggestions from two or three of the former directors. After all, she had done excellent work in several American films. In Hitchcock's films, for instance, she is always magnificent. She detested the man. I belive that with her he never hesitated to be disrespectful and arrogant, which evidently was precisely the best method to make her listen.

I discovered early into our rehearsals that to be understanding and offer a sympathetic ear did not work. In her case I was forced to use tactics that I normally rejected, the first and foremost being aggression. Once she told me: 'If you don't tell me how I should do this scene, I'll slap you!' I rather liked that."
Sources
The Ingmar Bergman Archives.
Ingmar Bergman, Images: My Life in Film.
Hanserik Hjertén in Dagens Nyheter:
Autumn Sonata is a film I can appreciate, but to a certain extent (only) on Bergman's terms. The way he deals with the role of the mother is reported to have disturbed a number of those who have already seen the film. I myself am more cold-hearted and suspect that it might exacerbate the feelings of guilt already held by working mothers. I can well imagine a more rounded view of the perils of being a mother and child. But this is Bergman's version, and it has its harrowing moments and memorable instants which can recommend it to all Bergman admirers. As well as Ingrid Bergman in her best (ever) film role, of course.
Lasse Bergström in Expressen:
For a long period of his life as a mature artist, Ingmar Bergman has been heading towards the enclosed world of the chamber play, in which a few people meet and talk with, or past, each other, and where the space of the drama opens solely onto the landscape of dreams, or of the soul. His new film Autumn Sonata comes close to this approach, but something new has happened to the play in the confined space. We are no longer intended to experience it at a distance. We are to be forced into it, to feel how the mirrors close in on us. Let me begin by saying that I find the power of Autumn Sonata to affect both enormous and unique. Between two screenings I struggled to think of an earlier film by Bergman or anyone else which in the same naked way feels like a punch in the soul –but in vain.
Åke Janzon in Svenska Dagbladet:
Above all, this is Ingrid Bergman's film. More convincingly than ever before, and using her as a medium, Ingmar Bergman has managed to construe the incurable loneliness of the soul. It is a heavy and extremely oppressing film, but it is one of Ingmar Bergman's purest works, with an uncompromising concentration on what is essential, devoid of all artifice. When, nevertheless, at certain points he cannot resist expanding the family circle, placing members of his former team of actors in silent, almost ghost like appearances in moments of reflection, one merely perceives this as the hallmark of the master craftsman. In his next film, perhaps, he may not need them at all– even though we would miss them somewhat.
Distribution titles
Autumn Sonata (Great Britain)
Autumn Sonata (USA)
Essena sonata (Bulgaria)
Høstsonaten (Norway)
Õszi szonáta (Hungary)
Sonata de otoño (Spain)
Sonate d'autonne (France)
Production details 
Production country: West Germany
Swedish distributor (35 mm): Svensk Filmindustri, Svenska Filminstitutet
Swedish distributor (video for rental and sale): (physical): Svenska Filminstitutet
Laboratory: FilmTeknik AB
Production company: Personafilm GmbH
ITC Film Distributors, Ltd.
Other company: Neue Constantin Film GmbH & Co. Verleih K.G.
Kommunernes Filmcentral A/S

Aspect ratio: 1,66:1
Colour system: Eastman Color
Sound system: Optical mono
Original length (minutes): 93

Censorship: 119.325
Date: 1978-08-25
Age limit: 11 years and over
Length: 2540 metres

Release date: 1978-10-08, Spegeln, Stockholm, Sweden, 93 minutes
Filming locations
Norway (1977-1977) (autumn)
Norsk Film A/S, Jar (studio)
Music
Title: Preludium, piano, op. 28. No 2, a-major
Composer: Frédéric Chopin (1838-1839)
Instrumentalist: Käbi Laretei
Title: Suite, no 4, BWV 828
Composer: Johann Sebastian Bach (1731)
Instrumentalist: Claude Génetay

Title: Sonat, fluit, b.c., HWV 369, F-major
Composer: Georg Friedrich Händel (1725-1726)
Instrumentalist: Frans Brüggen, Gustav Leonhardt, Anner Bylsma
Charlotte: I've never had a taste for people who are unaware of their motives.
Eva: Do you mean me?
Charlotte: Take it the way you want.

Eva: This inconceivably peculiar mother! You should have seen her when I told her that Helena lived here. She even managed a smile, despite her surprise and dismay. And then, outside Lena's door, the actress before her entrance. Awfully frightened – but composed. An outstanding performance. Why did she come, really?

Eva: Yearning?
Viktor: I yearn for you.
Eva: These are pretty words, aren't they? Words that don't mean anything real? I was brought up on pretty words. Mother is never mad, or disappointed or unhappy. She feels pain.

Eva: Viktor, I've often wondered why she suffers from insomnia. I think I know. If she slept normally, her vitality would crush those around her.

Charlotte: Chopin was emotional, Eva, not sentimental. There is a chasm between emotion and sensibility. The prelude you played speaks of suppressed emotion, not reveries. You have to be calm, clear and austere. Take the first few bars… It hurts, but he's not showing it.

Charlotte: Chopin was proud, sarcastic, impetuous, tormented and very manly. He was no sentimental old woman.

Eva: To me, man is an unparalleled creation. Like an unfathomable thought. Everything exists in man, from the highest to the lowest. Man is created in God's own image, and everything exists in God. And so man is created, but also the demons and the saints, the prophets and the artists and all those who destroy. Everything coexists, grows together. Enormous patterns that constantly change. Do you know what I mean?

Viktor: Just a moment, dear Charlotte, and I will try to explain how I view my wife. When I asked her to marry me, she immediately said she didn't love me.
Charlotte: What are you saying?
Viktor: I asked, did she love someone else? She replied that she had never loved another person, that she was incapable of loving.

Charlotte: I was convinced an abortion was the only solution. I have been until now. All these years of hatred. Why didn't you say something?
Eva: Because you never listen. Because you run away from things. Because you're emotionally crippled. Because you actually loathe me and Helena. Because you're helplessly locked inside yourself, always holding yourself back. Because I loved you. Because you thought I was a failure, disgusting and untalented. And you damaged me for life, just as you yourself are damaged.

Eva: The unhappiness of the mother shall be the daughter's unhappiness. It is as if the umbilical cord had never been cut. 
The warm autumnal hues of a house on a lake give a false, perhaps wished-for sense of security to the setting, the home of a pastor and his wife, Eva (Liv Ullmann). Very soon the steely tone of love avoided, attempted, and denied overrides all hope.

The arrival of Eva's mother (Ingrid Bergman, in her only film with Ingmar Bergman), a world-traveling concert pianist, for their first meeting in seven years occasions a near-complete opening out of feelings by daughter and mother. Near complete, for Ingrid Bergman subtly portrays the mother's love, grief, and guilt as mercurial posturings of a virtuoso performer. The better for our understanding of Eva's sense of abandonment and loss, conveyed in Ullmann's bruising honesty and echoed in the utterings of Eva's disabled sister, Helena. Bergman uses a formal combination of flashback tableau and piercing close-up to answer the daughter's worst fear-that her grief is her mother's secret pleasure-with the reality of indifference.
Collaborators
Ingrid Bergman
Lena Nyman
Halvar Björk
Arne Bang-Hansen
Georg Løkkeberg
Linn Ullmann
Knut Wigert
Eva von Hanno
Marianne Aminoff
Mimi Pollak
Tommy Persson

, Boom Operator

Per Mørk

, Construction Coordinator

Jo Banoun

, Gaffer

Sven Nykvist

, Director of Photography

Lars Karlsson

, Assistant Cameraman

Carl Gustaf Nykvist

, Assistant Cameraman

Hans Lindgren

, Unit Manager

Sylvia Ingemarsson

, Film Editor

Inger Pehrsson

, Costume Designer

Barbro Sörman

, Costume Designer

Owe Svensson

, Production Mixer

Rolf Persson

, Painter / Scenic Artist

Daniel Bergman

, Grip Best Boy

Bo Andersson

, Key Grip

Ulf Pramfors

, Key Grip

Ragnar Waaranperä

, Key Grip

Gunnar Bøvollen

, Key Grip

Jarle Hole

, Key Grip

Bjarne Kjos

, Key Grip

Lena Hansson-Varhegyi

, Production Assistant

Lars-Owe Carlberg

, Production Accountant

Katinka Faragó

, Production Manager / Production Coordinator

Jon Arvesen

, Property Master

Demetrios Glavas

, Property Master

Anna Asp

, Production Designer

Cecilia Drott

, Make-up Supervisor

Tom Olsson

, Carpenter

Percy Nilsson

, Carpenter

Knut Andersen

, Other Crew

Gunnar Sakshaug

, Other Crew

Ase Seim

, Other Crew

Ingmar Bergman

, Screenplay