Dom Juan
Sganarelle, Dom Juan's servant, is a focal point in Bergman's first staging of Molière.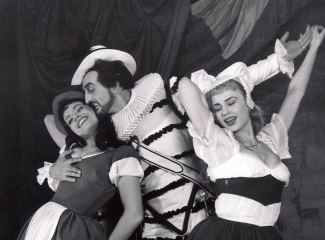 Ebbe Linde, Dagens Nyheter
About the production
The Don Juan production was another victory for Ingmar Bergman and his ensemble. Thought not unanimous, the critics were fascinated by the opening pantomime and by the element of pastiche which made the production a lesson in theatre history. They also commented on the morality play approach, which displayed human situations and actions in Christian terms of saved or lost souls.
An important theme in Bergman's production of Molière's play was the unmasking of Dom Juan, which was demonstrated in an added introductory pantomime, where Dom Juan had his elegant night gown and cap removed, revealing for a moment a bald wig, tight pants, ruffled coat and a sword, the audience immediately knew that Dom Juan is a fake as he sets out on his obsessive erotic conquest. Bergman saw Molière's play as a morality play in which Dom Juan's punishment in hell was a given from the start.
Sources
The Ingmar Bergman Archives.
Birgitta Steene, Ingmar Bergman: A Reference Guide, (Amsterdam University Press, 2005).
Collaborators
Georg Årlin

, Don Juan

Toivo Pawlo

, Sganarelle

Berit Gustafsson

, Elvira

Nils Nygren

, Gusman

Bengt Schött

, Don Carlos

Oscar Ljung

, Don Alonse

Anders Frithiof

, Don Louis

Josef Norman

, Francisque

Harriet Andersson

, Charlotte

Gunnel Lindblom

, Mathurine

Åke Fridell

, Pierrot

Frans Oscar Öberg
Ulf Qvarsebo

, La Violette

Nils Eklund

, Dimanche

Molière

, Author

Ingmar Bergman

, Director

Stig Nelson

, Designer