Dreams
Fashion photographer encounters married lover, while her top model visits a tivoli in Göteborg with an old stranger.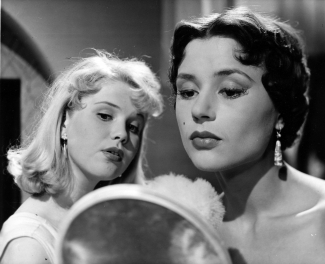 [...] merely the statement of a talented artisan rather than that of an original, creative artist."

A.H. Weiler in The New York Times
About the film
The storyline of Dreams is set in Göteborg, for example at the Liseberg amusement park, and spans a mere 24 hours. Dreams is a serious comedy about dreams and awakening, about people's inability to reach out to one another.

The film came about as a compensation to Anders Sandrew who had against "his better judgement" produced Sawdust and Tinsel, a film shunned by every other producer and which had fulfilled their every expectation by failing dismally at the box office. Even though Bergman naturally did his best, there's no escaping the fact that he approached the subject matter without much enthusiasm.

Dreams was the last Swedish film of the 1950s that Bergman did not produce for Svensk Filmindustri (SF). After this one, he chose to return to SF.
Sources
The Ingmar Bergman Archives.
Distribution titles
Confesión de pecadores (Argentina)
Dreams (USA)
Frauenträume (West Germany)
Journey into Autumn (Great Britain)
Kvindedrømme (Denmark)
Kvinnedrøm (Norway)
Naisten unelmia (Finland)
Rêves de femmes (France)
Sny zen (Czech Republic)
Sogni di donna (Italy)
Sonhos de mulheres (Portugal)
Sueños (Spain)
Sueños de mujer (Uruguay)
Zenskie grezy (Soviet Union)
Production details 
Production country: Sweden
Distributor in Sweden (35 mm):  Sandrew-Bauman Film
Laboratory: Film-Labor
Production company: Sandrew-Produktion

Aspect ratio: 1,37:1
Colour system: Black and white
Sound system: Optical mono
Original length (minutes): 87

Censorship:  086.261
Date: 1955-05-28
Age limit: 15 years and over
Length: 2385 metres

Release date: 1955-08-22, Grand, Stockholm, Sweden, 87 minutes
Filming locations 
Sweden (1954-06-15-1954-08-04) (34 days of shooting) (1955-02-22-1955-02-25) (complementary shooting)

AB Sandrew-Ateljéerna, Stockholm
Liseberg, Göteborg
Götaplatsen, Göteborg
Centralstationen, Göteborg
Hotell Göteborg, Göteborg
Föreningsvägen, Göteborg
Göteborgsvägen, Göteborg
Gröna Lund, Stockholm
Music
Title: Music in the Night
Composer: Ludo Philipp (Alias)
Singer: Harriet Andersson
Comment: Also instrumental (record CBL 35 A).

Titel: Lenas tema
Composer: Stuart Görling (1954)
Comment: Instrumental (from the film "Flicka utan namn" 1954).

Titel: Charlie boogie Alternative title: Charles boogie
Composer: Charles Norman (Alias) (1941)
Instrumentalist: Charles Norman (Alias)
Comment: Record Sonora 527 (1941).

Titel: Too Late for Tears
Composer: Charles Pierre, Richard Thorpe
Comment: Instrumental (record CBL 41 A).
Palle: You're obsessed with clothes, your career, luxury. The only thing you care about is your reflection.

Otto: Maybe I've rigged a trapdoor? Am I a bloodsucking vampire? Or do I have a henchman inside, ready to attack you?
Doris: No, but …...
Otto: One does not accept gifts from older men. But let's be the first to break that silly convention.
Doris: Alright, if you insist.
Otto: Thus speaks a brave woman.

Susanne: That girl's always annoyed me with her laziness. I know her kind. Men, clothes and sex. No sense of honesty. No ambition to learn. They just want the high life.

Otto: I must have slipped on something. Don't know what. It's very unpleasant. Please forgive. How ridiculous. I'll get up in a minute.

Doris: Who's the beautiful girl?
Otto: It's my wife.
Doris: Is she dead?
Otto: She's been in a mental hospital for 23 years, ever since she gave birth. She thought her baby girl had a wolf's head.
Doris: That daughter is your only child?
Otto: Yes, my only child.

Doris: Sarabande. Bach.

Doris: You shouldn't be giving me things, cause we'll never meet again and you'll regret it tomorrow.

Otto: Why do you hate me so terribly, Marianne? Tell me.
Marianne: Our house has always been filled with rows over money. It's your special perversion. You're so tight with money, it's sick. But I don't hate you. You disgust me. I find you ridiculous and repulsive.

Susanne: Good bye, Henrik.
Henrik: We shouldn't see each other again. It gets too complicated. We couldn't cope with it. We mustn't lose face.
Susanne: You're right. Keeping face is important.

Marta: Before you and Henrik met, I was terribly jealous. I made Henrik suffer for it a lot. I was so afraid to lose him. Then I lost him. That burnt out my jealousy. It's as simple as that.

Magnus: Not someone making demands, I hope.
Susanne: No, just someone begging me for help.
Magnus: Well, charity must stop somewhere, especially with today's taxes.
Susanne: You have to say no at some point.
A fashion director, Susanne (Eva Dahlbeck), and her top model, Doris (Harriet Andersson), journey from Stockholm to Gothenburg for a shoot. While there, Susanne attempts a reconciliation with a married lover. The flighty Doris becomes involved with a wealthy gentleman (Gunnar Björnstrand) who senses that she can be bought: drawn to the innocence of youthful materialism, he becomes lost in a funhouse of desire that leaves him first weakened, then sickened, then, as he began, alone. For her part, the girl has her first real encounter with possession. Susanne is a study in obsession as played by a Kim Novak-like Dahlbeck-too blond, too statuesque, lost in interior pursuit of the past. Her train ride to Gothenburg relates in purely cinematic terms the emotional journey that lies ahead, one very similar to the old man's. Bergman uses his cinema of reflection-self and other are met and merged in mirrors, windows-to show love as a function of projection: only desire, never its object, is worthy of the effort.
Collaborators
Ulf Palme
Inga Landgré
Benkt-Åke Benktsson
Sven Lindberg
Kerstin Hedeby-Pawlo
Renée Björling
Ludde Gentzel
Git Gay
Gunhild Kjellqvist
Axel Düberg
Marianne Nielsen
Jessie Flaws
Bengt Schött
Viola Sundberg
Tord Stål
Carl-Gustaf Lindstedt
Richard Mattsson
Per-Erik Åström
Inga Gill
Maud Hyttenberg
Curt Kärrby
Folke Åström
Asta Beckman
Ninni Arpe
Margaretha Bergström
Elsa Hofgren
Millan Lyxell
Inga Rosqvist
Greta Stave
Ella Welander
Gerd Widestedt
Ingmar Bergman
Siv Ericks
Gösta Prüzelius
Sigvard Törnqvist
Gertie Löweström
Gittan Gustafsson

, Art Director

Bertil Wiktorsson

, First Assistant Cameraman

Gösta Björck

, Boom Operator

Hilding Bladh

, Director of Photography

Lars-Owe Carlberg

, Unit Manager

Carl-Olov Skeppstedt

, Film Editor

Olle Jakobsson

, Production Mixer

-

, Music Composer

Keddy Jansson

, Key Grip

Gunnar Jónsson

, Key Grip

Rune Waldekranz

, Line Producer

Hans Abramson

, Assistant Director

Sven Björling

, Property Master

Katinka Faragó

, Script Supervisor

Sture Höglund

, Make-up Supervisor