The Ghost Sonata
Olof Molander, the Royal Dramatic Theatre director, inspired Bergman to reduce the giant Malmö stage in order to produce Strindberg's chamber play for the second time.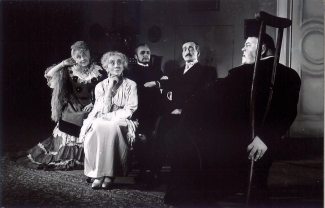 'Ingmar Bergman has settled in, having shed the fads and a lagging pubescent complex, stepping forth as a theatre director of an entirely different maturity, balance and wisdom than before.'

Erik Wahlund, Svenska Dagbladet
About the production
Ingmar Bergman wrote a brief untitled note in the theatre programme, in which he claimed he read Strindberg's play at age 12. There are some age variations concerning Bergman's first encounter with Strindberg's text, but little doubt about Strindberg's early impact on him. In the programme note he recalls his first production of The Ghost Sonata in 1941 when 'the frail ensemble was lifted, as if on a wave, by the immensity of the drama and got to take part in the theatre as magic: to be thrown beyond our own limits'.
Bergman calls his Malmö production a love child, with his own staging in 1941 as the mother and Molander's production the following year as the father, but also asserts that the offspring is independent enough to stand on its own two feet. The programme note as such is an interesting balance between Bergman's respect for Molander and his plea that his own work be blessed by the great Royal Dramatic Theatre director.
Most reviews felt obliged to compare his production to Molander's, usually in very positive terms for Bergman. 'Molander has no monopoly on The Ghost Sonata'. 'Bergman plays homage to Molander but he himself has of course the predisposition to interpret the play independently.'
Sources
The Ingmar Bergman Archives.
Birgitta Steene, Ingmar Bergman: A Reference Guide, (Amsterdam University Press, 2005).
Collaborators
Benkt-Åke Benktsson

, The old man

Folke Sundquist
Harriet Andersson

, The milkmaid

Anders Frithiof
Birgitta Hellerstedt

, The dark lady

Georg Årlin

, The colonel

Naima Wifstrand

, The mummy

Gaby Stenberg
Arnold Sjöstrand
Åke Fridell

, Johansson

Josef Norman

, Bengtsson

Lena Cederström
Alfhild Degerberg
August Strindberg

, Author

Ingmar Bergman

, Director

Martin Ahlbom

, Designer