Jacobowsky and the Colonel
Bergman's production of Werfel's play was originally scheduled to open in the spring of 1945, but was postponed until the following season.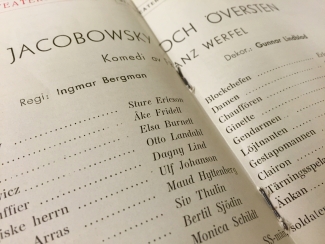 About the production
Werfel's play had been produced by Torsten Hammarén at the Gothenburg Municipal Theatre earlier. Comparisons were inevitable and some voices indicated that Bergman's undertaking was somewhat presumptuous.
Sources
Birgitta Steene, Ingmar Bergman: A Reference Guide (Amsterdam University Press, 2005).
Collaborators
Sture Ericson

, Jacobowksy

Åke Fridell

, The Colonel

Elsa Burnett

, Marianne

Otto Landahl

, Szabaniewicz

Dagny Lind

, Mme Bouffier

Maud Hyttenberg

, Lady from Arras

Siv Thulin

, Clementine

Bertil Sjödin

, Salomon

Monica Schildt

, Young girl

Carin Cederström

, The lady

Curt Edgard

, The driver

Marianne Nielsen

, Ginette

Karl-Axel Forssberg

, The gendarme

Birger Malmsten

, The Lieutenant

Gunnar Nielsen

, The dice man

Annika Tretow

, The widow

Franz Werfel

, Author

Ingmar Bergman

, Director

Gunnar Lindblad

, Designer