Kriss-Krass-Filibom: New Year's Cabaret
After the previous year's efforts with Macbeth, Bergman surprised his Helsingborg audience with a light-hearted New Year's Cabaret.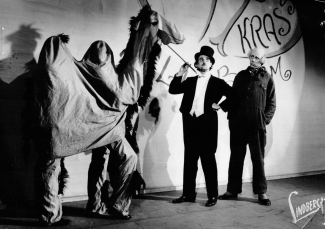 'That Bergman! He has a propensity to shock.'
About the production
This New Year's cabaret, Kriss-Krass-Filibom, was opened by a figure named The Occult, after which point the stage was taken over by the Paprika Theatre Company. The Occult resumed momentary control until Romeo and Juliet intervened. Sketches, dancing and musical numbers followed.
Bergman was one of three scriptwriters writing under the pseudonyms Scaplin, Pimpel and Kasper (Punch), hiding behind the latter. 
Sources
The Ingmar Bergman Archives.
Birgitta Steene, Ingmar Bergman: A Reference Guide (Amsterdam University Press, 2005).
One review summed up the New Year's Cabaret as follows:
Ingmar Bergman's staging is, as expected, full of ideas. There is speed and vitality throughout the entire undertaking, the actors pop up in every imaginable spot on stage and in the audience, disappear though trapdoors, etc. There is shooting and banging so that the smoke settles like a thick fog over the house.
Collaborators
Otto Landahl

, The occult

Ulf Johanson

, Noak Noaksson

Dagny Lind

, Augusta

Åke Fridell

, Pere Noble

Monica Schildt

, Mere Noble

Ingrid Luterkort

, The primadonna

Birger Malmsten

, He

Siv Thulin

, She

Karl-Axel Forssberg
Bertil Sjödin
Curt Edgard

, The extra

Sture Ericson
Rune Moberg

, Author

Sture Ericsson

, Author

Ellen Bergman

, Choreography

Ingmar Bergman

, Director

Gunnar Lindblad

, Designer