A Lesson in Love
Elegant marital comedy about a gynaecologist who attempts to win his way back into his wife's affections during a journey to Copenhagen.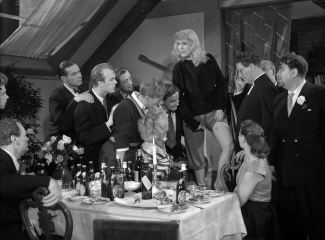 "On edge, I paced back and forth in the foyer of the movie theater Röda Kvarn, like a lost soul. Suddenly I could hear from inside the theater one roaring wave of laughter after another. And I said to myself: It's not possible! They are laughing. They are laughing at someting I have created".
About the film
Two years earlier, in the lift scene between Eva Dahlbeck and Gunnar Björnstrand that concludes Waiting Women, Bergman had tried his hand for the first time at the light, sophisticated and witty style that he now expanded to a full scale feature film in A Lesson in Love (using the same two principal actors). Earlier he had lacked any immediate opportunity to develop the style, but following the financial debacle of Sawdust and Tinsel, Carl Anders Dymling at SF once again took Bergman under his wing. The two of them decided that, for a while at least, it might be in their mutual interest to abandon more serious subject matter in favour of lighter, more humorous material, preferably with erotic undertones. A Lesson in Love was the first of three films in this manner. It was followed by Smiles of a Summer Night, Bergman's first international success, and Dreams, his way of expressing his gratitude to Anders Sandrew for financing Sawdust and Tinsel. But other themes were subsequently to take over and dominate Bergman's filmmaking, and he never again returned to this particular light-hearted style.

Sources of inspiration 
Bergman in Images: My Life in Film: 
My own relationship to comedy has been complicated, however, and the difficulties go way back in time. As a child I was considered sullen and too sensitive. From an early age onward it was said that 'Ingmar has no sense of humor'. [...] I made several attemps to create something funny. In Helsinborg I directed two New Year's revues for which I wrote a few skits that I thought were hilarious. But nobody craked even a smile, and I brooded a good deal over how others could so easily make people laugh. [...] In Waiting Women I took my first real stab at comedy.

Shooting the film 
Shooting began on 30 July 1953 and came to an end on 16 September the same year.

Bergman in Images: My Life in Film: 
There was something fateful about the meeting between the three of us: me, Eva, and Gunnar. Both of them were talented and creative actors. They felt immediately that although I had perhaps not yet written a spectacular text, the collaboration offered them great opportunities. On my part I was panic-stricken as I attempted for the first time to make a comedy. With overt confidence in me and great tact, they taught me how I should go about it.

[...] In a scene meant for farce, Eva tries to hang herself. In that same moment Gunnar declares his love for her. The ceilling collapses, and the whole incident becomes funny. When we went to shoot the scene, I got cool feet. I told Eva and Gunnar that I had reread the scene in the script and found it totally impossible, boring, poorly written; we would have to do it some other way. Eva and Gunnar protested in union. [...] 'Give us an hour or so to work onit. When we are ready, we'll play the scene for you'. That's is how it happened. And all at once I had a revelation: ah yes, it is possible to do it like this! I could not have received a better lesson. The trust, the security, the lack of tension, and the professionalism were forever established between us and becamea stable foundation for the comedies we did together, not the least of which is Smiles of a summer night
Sources
The Ingmar Bergman Archives.
Ingmar Bergman, Images: My Life in Film.
Harry Schein in Bonniers Litterära Magasin: 
It has been said of Ingmar Bergman that one either likes his films or dislikes them. This brilliant distinction is intended to turn censure into praise, since nobody, at least, is indifferent to his films. But that is exactly what one is when faced with A Lesson in Love.

To begin with, the film is so unassuming that censure would be misplaced. Yet it also has enough merits that it would be unjust simply to dismiss it with a yawn. Apart from numerous witty lines and images, one is especially taken by Harriet Andersson's adolescent girl who thinks that life is just too dreadful and wishes she were a boy. Skilfully and touchingly, the actress strikes a delicate balance between child and woman, and with her incredibly natural delivery steals any number of scenes from such experienced actors as Gunnar Björnstrand och Eva Dahlbeck. Ultimately, with the many weeks of full houses for this film, Bergman has demonstrated the art of making something out of nothing: he has managed to conceal at great length the fact that he has nothing to tell.
Mauritz Edström in Arbetaren:
The ironic wavelength Ingmar Bergman uses is not uplifting, it is more stinging in tone. But most importantly, it is never indifferent. [...]

The admirable thing about A Lesson in Love is how Ingmar Bergman has managed to draw together all the disparate elements in his comedy, his questions, taunts and ironies, into a homogeneous cinematic form. However, the film is not always equally convincing behind this outer shell. I am thinking of Ingmar Bergman's way of upsetting the coherence of the story by inserting the comically overblown figure of a clergyman at one point, and his occasional digressions from the plot in the scenes with the fifteen year-old daughter (Harriet Andersson) who is rebelling against adolescence. In these episodes the film risks becoming too diverse in artistic terms - sudden pathos swaps places with detached irony. Yet Eva Dahlbeck and Gunnar Björnstrand as the married couple excel in acting of the highest order, the mature and assured artistry of which balances out the Bergmanesque inconsistencies.
C B-n in Dagens Nyheter: 
Ingmar Bergman's debut as a comedy writer for the screen – a brilliant debut! Quite simply, what he has achieved with in his Lesson in Love is a first-rate lesson in how a Swedish film comedy should be made. Turning his back on tired routine, he mercilessly strips away everything that usually 'works well' in Swedish films when they are trying to be light-hearted: the stock characters, the patented jokes, puns and clichés.
"In my opinion, Ingmar Bergman has made a delightful film. It is not one for the avant-garde, nor for those looking for literary depth. It is an 'ordinary' film, yet ordinary films like this are themselves unusual."
Robin Hood in Stockholms-Tidningen
Distribution titles
Una lección de amor (Spain)
Une leçon d'amour (France)
Lekce v lásce (Czech Republic)
Lekcja milosci (Poland)
En lektion i kærlighed (Denmark)
En lektion i kärlek (Finland)
Lektion in Liebe (West Germany)
A Lesson in Love (Great Britain)
A Lesson in Love (USA)
Lezione d'amore (Italy)
Um lição de amor (Portugal)
Rakkauden oppitunti (Finland)
Production details 
Production country: Sweden
Distributor in Sweden (35 mm): Svensk Filmindustri, Swedish Film Institute
Distributor in Sweden (rental video) (physical): Swedish Film Institute
Distributor in Sweden (video for sale): Swedish Film Institute
Distributor in Sweden (35 mm): Svensk Filmindustri, Swedish Film Institute
Laboratory: Svensk Filmindustris filmlaboratorium
Production company: Svensk Filmindustri
Make up: Firma Carl M. Lundh AB

Aspect ratio: 1,37:1
Colour system: Black and white
Sound system: AGA-Baltic
Original length (minutes): 96

Censorship: 084.690
Date: 1954-08-23
Age limit: 15 years and over
Length: 2620 metres

Release date: 1954-10-04, Röda Kvarn, Stockholm, Sweden, 96 minutes
Röda Kvarn, Uppsala, Sweden
Filming locations
(1953-07-30-1953-09-16)

Sweden, Filmstaden, Råsunda (studio)
Denmark, Copenhagen
Sweden, Helsingborg
Sweden, Arild
Sweden, Ramlösa
Sweden, Pålaskog
Sweden, Mjölby the railway station
Sweden, Beatelund
Sweden, Saltsjöbaden
Music 
Title: Treulich geführt, ziehet dahin. From Lohengrin Alternative title: Brudmarsch
Composer: Richard Wagner (1850)
Lyrics: Richard Wagner (German lyrics 1850) Fritz Ahlgrensson (Swedish lyrics 1874)
Arrangement: Dag Wirén
Comments: Instrumental

Title: Med en enkel tulipan
Composer: Jules Sylvain (Alias) (1938)
Lyrics: Sven Paddock (1938)
Singer: Renée Björling, Gunnar Björnstrand, John Elfström, Eva Dahlbeck, Harriet Andersson, Göran Lundquist

Title: Ja, må han leva!
Singer: Renée Björling, Gunnar Björnstrand, Eva Dahlbeck, John Elfström, Harriet Andersson, Göran Lundquist

Title: Vila vid denna källa Alternative title: Oförmodade avsked, förkunnat vid Ulla Winblads frukost en sommarmorgon i det gröna
Composer: Carl Michael Bellman (1790)
Lyrics: Carl Michael Bellman (1790)
Comments: Instrumental

Title: An der schönen blauen Donau, op. 314
Composer: Johann Strauss, jr (1867)
Comments: Instrumental

Title: Finska Rytteriets marsch Alternative title: Den snöiga Nord är vårt fädernesland
Lyrics: Zacharias Topelius
Singer: Åke Grönberg

Title: Nyhamns Boogie
Composer: Fritz Fust, Mats Olsson, Gunnar Olsson
Comments: Instrumental

Title: Meaning Blues
Composer: Fritz Fust, Mats Olsson, Gunnar Olsson
Comments: Instrumental
Robin Wood, 1996:
Bergman's version of a Cary Grant comedy of remarriage can't approach screwball but is rather oddball, and not just in its elliptical flashback format. The amorous adventures of a gynecologist is a queasy premise for laughs so it is fitting that (as usual) the women carry the day. Eva Dahlbeck, as the doctor's wife who embarks on a revenge affair of her own, stoops to conquer low comedy and raises it to her own level. And Harriet Andersson makes the role of an ever-questioning tomboy daughter a challenging Greek chorus. She's just the one to trim the feathers of the patriarchal peacock knowingly played by Bergman alter ego (capital E) Gunnar Björnstrand. Lessons in lyricism play off acerbic commentary on marriage for a film "notable among Bergman's work for its freedom and spontaneity of invention, its emotional richness, warmth and generosity.
Collaborators
Yvonne Lombard
Åke Grönberg

, Adam, skulptör, Mariannes älskare

Olof Winnerstrand
Birgitte Reimer
John Elfström
Renée Björling
Dagmar Ebbesen
Sigge Fürst
Carl Ström
Siv Ericks
Helge Hagerman
Gösta Prüzelius
Torsten Lilliecrona
Arne Lindblad
Georg Adelly
Julie Bernby
Henning Blanck
Olle Ekbladh
Gustaf Färingborg
Kaj Hjelm
Vincent Jonasson
Wera Lindby
Georg Skarstedt
Bengt Thörnhammar
Ingmar Bergman
Yvonne Brosset
Göran Lundquist
Margareta Öhman
John Starck
Kjell Nordenskiöld
Tor Åhman
Torbjörn "Tompa" Jahn
Mats Olsson
Tor Borong
Björn Näslund
John Melin
P.A. Lundgren

, Art Director

Bengt Nordwall

, First Assistant Cameraman

Sven Löfgren

, Driver

Nils Löfgren

, Driver

Sven Säfström

, Gaffer

Martin Bodin

, Director of Photography

Gustav Roger

, Unit Manager

Oscar Rosander

, Film Editor

Sven Hansen

, Production Mixer

Dag Wirén

, Music Composer

Eskil Eckert-Lundin

, Orchestra Leader

Allan Ekelund

, Production Manager / Production Coordinator

Rolf Carlsten

, Assistant Director

Bente Munk

, Script Supervisor

Birgit Norlindh

, Script Supervisor

Nils Nittel

, Make-up Supervisor

Ulrika Gernandt

, Make-up Supervisor

Louis Huch

, Still Photographer