The Ritual
Judge questions three actors accused of obscenity.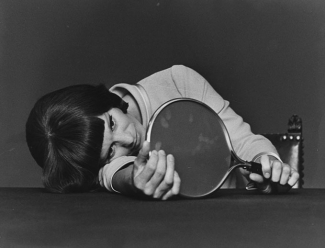 "I have no religion. I don't belong to any faith. I don't need a god, salvation or eternal life. I'm my own god, I supply my own angels and demons."
About the film
Ingmar Bergman in Images: My Life in Film: 
In the ancient Greece, theater was inextricably tied to religious rituals. The audience arrived long before sunrise. At dawn the masked priests appeared. When the sun rose over the mountains, it illuminated the center of the stage, where a small altar was erected. The blood of a sacrificial animal was collected in a large vessel. One of the priests hid behind the others. He wore a golden mask, like that of a god. When the sun had risen even higher, two priests elevated the vessel at precise moment, so that the audience could see the godly mask reflected in the blood. An orchestra of drums and pan flutes played, and the priests sang. After a few minutes the officiant lowered the vessel and drank the blood.
Talking about the genesis of the film in Bergman on Bergman: 

'There's always such a lot of pretentiousness surrounding films. Such a lot of apparatus. Shooting takes forty-five days, fifty days, sixty-five days. For Fellini it takes twenty-eight weeks and there's a hell of a hullaballoo and cost God knows how much. So I thought: Hell, I'll gather four of my close friends and we'll rehearse for four weeks and then we'll shoot it. I figure out I'd be able to shoot it in nine days.'

Sources of inspiration 
Bergman in Images: My Life in Film: 
When I ended my tenure as head of the Royal Dramatic Theater, I could barely contain a heavy fury: we had completly revitalize a theater that had been like Sleeping Beauty's castle and had, as the Swedes say: "put the church in the middle of the village", meaning that we had put the chief thing in the chief place. We have organized the house from the top to bottom and had begun to play timely dramas. We offered children's theater on the large stage there and we also rented the China Variety Theater, which was close by, where we put on plays for various schools. We toured. We twenty plays per season. In short, we utilized the resources of the theater to the maximun degree. For this, we (I) kept being reprimanded. My fury had to be channeled – it broke out in The Ritual.

More or less consciously I divided myself into three characters in the film. Sebastian Fisher (Anders Ek) is responsible, lecherous, unpredictable, infantile, emotionally disturbed, and always on the verge of a nervous breakdown, but he is also creative, deeply anarchistic, epicurean, lazy, amiable, soft, and brutal. Hans Winkelmann (Gunnar Björnstrand), on the other hand, is orderly, strictly disciplined with a deep sense of responsability, socially aware, good humored, and patient.

The woman, Thea (Ingrid Thulin), is, I believe, a half-conscious attempt to depict my own intuition. She is faceless, doesn't recognize her maturity, submissive, and has a need to please. She has sudden impulses, speaks with God, angels, and demons, believes herself to be a saint. She tries to accomplish stigmatization, is unbearably sensitive – cannot even stand to wear clothes at times. She is a kind of satellite dish for secret signals from extra-terrestial radio stations.

These three characters are inextricable entwined; they cannot get away from each other and cannot funtion in pairs. Only in the tension between the three points of the triangle can anything be accomplished. It was an ambitious effort to divide myself and depict how I really function, what forces keep my machine going.

Thea has sister characters from other films: Karin in Through a glass darkly goes through the wallpaper and speaks with a spider-god; Agnes in Cries and Whispers gets stuck on the road between life and death; Aman/Manda in The Face has an ever-shifting sexual identity. Thea also has cousins such as Ismael in Fanny and Alexander, who has to be kept in a locked room.

From this trinitarian perspective, the years at the Royal Dramtic Theater were not good ones. Neither Sebastian nor Thea has any room to speak of in which to live and move. The orderly Hans Winkelmann has the floor. The other two fall silent, weaken, and withdraw.
Sources
The Ingmar Bergman Archives.
Ingmar Bergman, Images: My Life in Film.
Stig Björkman, Torsten Manns and Jonas Sima, Bergman on Berg­man, (New York: Da Capo P., 1993).
Mauritz Edström in Chaplin, no. 4 1969: 
In an extremely simplified and distilled form, Bergman revisits questions and images that he has always circled around. The situation of the jester, the prominence, exaltation and degradation of the artist. The sexual obsession, the complicated dependence on women. The rebellion against the father, the image of God. Society and the bourgeois, at once the audience and enemy of the artist.
Distribution titles
Le rite (France)
Riten (Norway)
El rito (Spain)
Rítus (Hungary)
Der Ritus (West Germany)
Production details 
Production country: Sweden
Laboratory: FilmTeknik AB
Production company: Cinematograph AB

Colour system: Black and white
Length: 2060 meter

TV-screening: 1969-03-25, Sweden, 72 minutes
Thea: "The islands in the river are a sign of approaching death. They grow and solidify, rising out of the flowing darkness. One day the stream will be suffocated – by islands."
Sebastian: You should have four different men. One to keep you, one to fuck you, one to amuse you and one for your psyche.
Thea: I'm so very poorly off.

Judge: How many children do you have?
Sebastian: Don't know.
Judge: You don't know?
Sebastian: I honestly don't know. I've never cared to count them. I support some four or five of them. My lawyer has all the facts.

Judge: One more question. Your religion?
Sebastian: I have no religion. I don't belong to any faith. I don't need a god, salvation or eternal life. I'm my own god, I supply my own angels and demons.

Hans: Well, I love Sebastian Fisher and my wife. Love. Oh, I don't know. I need them. But I'm not so sure they need me. So I try to make myself indispensable.

Hans: I'm tired of you and Sebastian. I'm tired of touring with two lunatics. I'm tired of our so-called artistry. I've lost belief in our purpose. We're pointless, disgusting, ridiculous. We lost our relevance.
Thea: I don't know what 'relevance' means.

Hans: How are you feeling?
Sebastian: Like shit.
Hans: Are you arguing?
Sebastian: Can you call it arguing? We perform some kind of play where we both actors and audience. Long performances. She says I can't satisfy her.
Hans: You.
Sebastian: She says you did. What did you do?
Hans: Love and tenderness makes her nervous. Put the left hand deep inside her. Push with the right in her clitoris. She'll have several orgasms. Then you can fuck her any way you like.

Judge: My father wanted me to be a lawyer, like him and his father before. I had no choice in that matter. This case was imposed on me.

Judge: I'll happily admit there's a measure of cruelty also in my profession. To reprimand, humiliate, judge and investigate. Cruelty's lust. How else would it be possible? I'm asking you, you artists. You must know. You know. Sebastian Fisher. Claudio Monteverdi. Hans Winkelmann. Start your performance.
A judge questions three actors about their new production, which is considered obscene. Their relations are complex: Sebastian is an unstable drunkard, in debt and guilty of killing his former business partner. He is involved with Thea. She is tense and fragile, prone to outbursts of rage, and is married to Sebastian's new partner, Hans.