The Silence
Two sisters torment each other, while a boy wanders around the corridors of a hotel among old people and dwarves.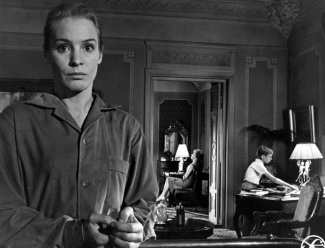 "Not for the prudish. It demands maturity and sophistication from the viewer."

The New York Herald Tribune
About the film
In February 1962 it was reported in the press that Ingmar Bergman was going to take a break for a year to devote himself entirely to the study of J. S. Bach. His wife, the concert pianist Käbi Laretei, was to help him with his studies. 'Once in a lifetime', he is quoted as saying, 'one has to try to realise one's dreams'. No full-time Bach studies actually materialised. However, in the film that Bergman worked on instead –The Silence –the composer was to play a small yet important role: when Bach's 'Goldberg Variations' are played on the radio in the film, the emotional and linguistic distances are bridged for a short moment. This is the only time in the film that the characters appear to connect with each other.

In his book about the making of Winter Light, Vilgot Sjöman describes how Bergman told him about an idea for a new film:
'Two women and a thirteen-year-old boy in a completely strange city. The older woman has a hemmorrhage and they stop at a hotel. Ingmar explains that some of the material goes back to an old radio play The City. The rest is quite fresh and is based on a dream he had during his illness in December.'

The dream was a frequently recurring one. Bergman in Images: My Life in Film:
'I am in an enormous, foreign city. I am on my way toward the forbidden part of town. It is not even some dubious area of ill repute with its steaming flash pots, but something much worse. There the laws of reality and the rules of society cease to exist. Anything can happen and everything does.'
Another dream he had at the time appears to have been incorporated into the film, yet only by association. When putting the finishing touches to Winter Light , Bergman wrote down a dream he had about an old man being pushed around some hospital grounds by four women. In her exertions, one of them falls down and lies flat out on the ground, whereupon the others laugh uncontrollably.

There is a short association to a similar incident in The Silence, when Anna and Ester talk about how difficult it was to carry their dead father's coffin since he was so extremely heavy. (Another, much later film, Cries and Whispers, invites similar comparisons.)

As Bergman expanded on his idea to Sjöman, he explained that the film would be set in an Eastern European state 'with troop transports, in smoke and grime'. Wondering about a suitable location, he settled on Grenoble: 'I recall it as grimy and awful and lacking in culture: no concert hall, no theater, only striptease.'

Even at this early stage he had decided that the language in the film should be a made up one, but that he would use his wife's mother tongue, Estonian, as a basis. One working title for the film was 'Timoka', which is the name of the city where the action takes place. In Bergman on Bergman: 
'Timoka, the name of the city, I saw in a book belonging to my wife at that time. She's Esthonian. It was a book of poetry. The word 'timoka' stood there on a line by itself, and without knowing what it meant I baptized the city Timoka. Then I asked her what it meant, and she said –there are a lot of cases in Estonian– it means 'appertaining to the executioner'. Otherwise it was just a language I made up.'
Those to whom Bergman presented his idea were not especially impressed. His wife, a number of his friends and even Kenne Fant, the head of Svensk Filmindustri, tried to dissuade him from making the film: "But I had a tremendous desire to make it. So I did anyway."

As usual for Bergman, the actual writing process was swift: the screenplay is dated 18 April 1962.

Sources of inspiration 
Just as Winter Light had begun with Stravinsky's Symphony of Psalms, The Silence also started with a piece of music: Bartók's Concerto for Orchestra.
In Bergman on Bergman: 

'My original idea was to make a film that should obey musical laws, instead of dramaturgical ones. A film acting by association – rhythmically, with themes and counter-themes. As I was putting it together, I thought much more in musical terms than I'd done before. All that's left of Bartók is the very beginning. It follows Bartók's music rather closely – the dull continuous note, then the sudden explosion.'
The dream which gave rise to The Silence, of 'sinking into an enormous city, absorbing it, becoming anonymous within it' originates from a short story by Sigfrid Siwertz. In The Circle (1907) there is a story set in Berlin entitled 'The Dark Goddess of Victory' which 'must have hit me like a bullet straight into my young consciousness.' 

The theme of the city, although not especially common in Bergman's films, has nonetheless been one of his recurrent themes. Bergman in Images:

'Before The Silence I wrote the outline for a film that was never made. It dealt with a couple of acrobats who have lost their partner and are caught in some German city, Hanover or Duisberg. The time is toward the end of the Second World War. During the course of repeated bombings, their relationship begins to fall apart. Within this outline is concealed not only The Silence, but also The Serpent's Egg.'
Furthermore, in 1951 he had written a radio play that he called The City. In a sketch for t he play he writes: 'I see myself as an infinitely reduced person standing at a juncture of consciousness that has suddenly taken on the appearance of a busy road junction in a large and dirty French industrial city. The city itself is on the right bank of a river, the factories and the disused mines on the left bank. It is a summer evening, an evening heavy with thunder, sheet lightning over the rooftops and lots of people in motion.'

Shooting the film 
Shooting began on 9 July 1962, and took place entirely at the Råsunda Film Studios. 

The film, as Bergman explained it to Sven Nykvist, was certainly meant to be dream-like, but there were to be no hackneyed dream effects such as soft focus images or fades. The challenge lay in the fact that the film itself must have the character of a dream. The director and cinematographer decided to use Eastman Double-X negative, developed to a higher gamma than usual. Coming after the ascetic imagery of Through a Glass Darkly and Winter Light, they decided to be far less restrained. Bergman describes it as 'a cinematic sensuality that I still experience with delight. To put it simply: we had an enormous amount of fun making The Silence.'

Nykvist also recall the shooting as being 'child's play' compared to the rigours of Winter Light. Yet it gave rise to the only real quarrel that Bergman and Nykvist ever had. Nykvist's mother was dying, and shooting the scene in the train compartment he received a telephone call from the hospital telling him that the end was near: 
Naturally I was upset, and I went up and interrupted Ingmar as he was rehearsing the actors, something that nobody was allowed to do. Ingmar was furious. I explained the situation.

'Don't you dare leave now – right in the middle of a shoot! If you go now, you bastard, you can stay at home for good,' shouted Ingmar.

'If you call me a bastard when my mother's dying, then I really won't come back,' I said as I left.
Yet during the afternoon Nykvist did come back, and Bergman apologised. But he added: 'Listen, Sven, the most important thing is still what's left. What's up there on the screen. There's nothing else for you.'

As it turned out, The Silence is one of Bergman and Nykvist's most outstanding cinematographic achievements: not, perhaps, as striking as the Oscar-winning camera work of Cries and Whispers and Fanny and Alexander, yet scenes such as those in the train compartment, or those between Anna and Ester by the hotel window must have been very difficult to shoot, despite what their creators might claim.

The leading roles were played by Ingrid Thulin and Gunnel Lindblom, the latter in her greatest ever performance for Bergman. She had been a key player in his band of actors since Don Juan at the Malmö City Theatre in 1955, and had played minor parts in The Seventh Seal, The Virgin Spring and Winter Light. This, however, was her first lead.

Thulin was one of Bergman's most regular actresses, with major roles in most of his films since Wild Strawberries. One interesting aside is that the characters she played became less and less attractive: from the elegant Marianne in Wild Strawberries, she played a hermaphrodite in The Magician, the snivelling and wretched school teacher in Winter Light, and now a bitter, compulsively masturbating invalid. Later, she would play other unpleasant roles, such as the corpse in Hour of the Wolf, the self-harming Anna in Cries and Whispers or the fading actress in After the Rehearsal. Bergman has occasionally expressed a certain jealousy over the fact that the beautiful Thulin was married to Harry Schein, but it is hard to determine whether or not this had any bearing on the matter.

Bergman was, in any case, delighted with their efforts: 'Furthermore, the actresses were talented, well-disciplined, and almost always in a good mood. That The Silence in some ways became their undoing is another story. The film made them all internationally known. And other countries chose, as usual, to misunderstand the uniqueness of their respective talents.'

Anna's son Johan was played by Jörgen Lindström. He would also take part in Bergman's next film Persona, and in Mai Zetterling's Night Games. Some twenty years after the première of The Silence he was interviewed in the newspaper Aftonbladet to coincide with a TV broadcast of the film. Thirty-three years old at the time, he was working in a film laboratory in Stockholm. He said that he could not recall much about the shooting, other than that Bergman was 'quite avuncular' and that Gunnel Lindblom 'had such an amazing car –– a black Cadillac. It was the car that made her exciting.'

The old room service waiter was played by the veteran Håkan Jahnberg, formerly the leading actor at the Gothenburg City Theatre. He had a problem remembering his lines in Bergman's made-up language, and struck a deal with the director that he could revive his childhood ability to speak backwards. Attentive Swedish-speaking listeners might notice that some of Jahnberg's lines are well-known Swedish nursery rhymes recited backwards!

Epilogue 
Shooting came to an end on 19 September 1962. Reminiscing in Bergman on Bergman: 'When Kenne and I had run though the film together for the first time I said to him: 'Well, one thing you can be sure of is that nobody will be rushing to see this film.' One can see how badly one can misjudge a situation, because that's exactly what they did.' The question remains as to why they flocked to see it.
Following the première in September 1963 the press were in competition –with headlines such as 'Moral outrage' and 'Indignation and abhorrence for Bergman film' –as to who could quote the most shocked viewer of all. The Christian magazine Dagen was the most harsh in its censure, and even though none of its staff had seen the film, they had 'read enough' to declare that the film not only showed scenes of intimacy, but also 'other abominations, such as a girl's self-abuse'. Pastor John Hedlund summed up their feelings: 'If Satan disguises himself as an angel of light, however artistic that may be, he is still Satan nonetheless'.

The Swedish Board of Film Censors had passed the film without cuts, prompting a probation officer from the Prison and Probation Service and an assistant pastor from the Stockholm parish of Bromma to bring a civil action against the Board before the Swedish Parliamentary Ombudsman. This was triggered by a reported statement from the deputy head of the Board, Torsten Eklund: 'How would it be seen if we started interfering with Bergman [...].' 'It is not reasonable', claimed the litigants, 'that skilful direction and editing should excuse content that all normal people must realise has a brutalising effect.'

One salient point that sparked off a separate debate was the fact that the film had been sent in for censorship when the head of the Board of Film censors was on holiday. The man in question, Erik Skoglund, had previously asked Svensk Filmindustri when the film would be submitted, and when he was told 'not before autumn' he blithely went off on his summer vacation. In the meantime SF's plans were changed and the film was submitted during the summer. After the premiere Skoglund let it be known that, had he been involved, he would have opposed the decision to release the film uncut. The head of SF, Kenne Fant, vigorously denied the claim that the Board had been misled and provided a number of explanations which were eventually accepted by Skoglund himself.

The Silence was even discussed in the Swedish parliament, when the right-wing member of parliament, Birger Isacson, asked the minister in question why censorship was being successively liberalised. He claimed that young people regarded The Silence as a superior form of pornography, travelling miles 'to see the blatant sex scenes, elements of perversion and sick depravity.'

Of all the letters published in newspapers on the subject (one of Bergman's accusers called him 'a common peeping Tom'), one which is signed 'Fond of children' deserves a special mention: 'Thank you Ingmar Bergman for the truly stimulating film 'The Silence'! For five years our marriage has been childless. Yet since my wife and I went to see 'The Silence', it is with great joy that we can announce that we are expecting an addition to the family. We shall never forget that wonderful film.'

The result of all this commotion was, as one could almost have predicted, that The Silence became SF's biggest success ever up to that time. It was not until his immensely popular TV series Scenes from a Marriage that Bergman was to reach such a large audience, and this for his most inaccessible film to date. One point of special interest to football fans is that when the legendary Italian team AC Milan was in Sweden to play a friendly match against IFK Norrköping in November 1963, the entire team was bussed up to the Röda Kvarn cinema in Stockholm to see this notorious film. Their Swedish coach Nisse Liedholm acted as interpreter. The Milan players liked the film a great deal, especially the direction and cinematography, and Ingrid Thulin's performance in particular. The sex scenes, however, they thought were 'a bit on the strong side'.

The film's international launch caused a similar furore, and consequently it was also an export success for SF. The Silence received the dubious distinction of being labelled a semi-pornographic film; In the USA, posters for the film featured a review from the New York Daily News: 'On incest, self-defilement and nymphomania, this Bergman latest is the most shocking film I have ever seen. I couldn't believe my eyes.' In New York it went on release in cinemas including the Rialto, notorious for its striptease shows.

In Argentina the film's distributor Juan Antonio Muruzeta was given a one year suspended prison sentence. The judgement lamented the fact that 'modern art makes use of the ugly, the outlandish, the abnormal, and raises it to the level of beauty; traditional harmony and peace of mind as orthodox artistic effects are replaced in the troubled world of our day with dissonance and confusion, which now serve as a means of recreation.' Summing up, the judge's decision was that the film contained at least three scenes that were 'repulsive, even for the most liberally-minded of audiences'.

Artistic freedom, however, know no bounds, and an astute entrepreneur in the film business decided to screen the film in the town of Colombia, Uruguay, a mere 30 kilometres from Buenos Aires. In Uruguay the film was passed for screening uncut, and prospective Argentinean viewers were offered a package deal that included a boat trip and a ticket for The Silence. Yet the film's scandalous reputation was to prove short-lived. A few years later considerably more explicit Swedish depictions of sex were to cause new storms and new box office successes. With later films like Vilgot Sjöman's I am Curious – Yellow, The Silence suddenly seemed rather tame by comparison.

Watching the film again many years later, Bergman was still largely satisfied. Writing in Images:  
While you see The Silence today, you have to admit that it suffers from a severe literary list (as a ship with an unbalanced load) in two or three sequences. First and foremost, that is true in the confrontations between the two sisters. The tentative dialogue between Anna and Ester with which the film ends is also unnecessary. Other than that, I have no objections. I can see details we could have improved upon if we had had more time and money; a few street scenes, the scen in the variety theater, and so on. But we did what we could to make the scenes comprehensible. Sometimes it's actually an advantage not to have too much money.
Sources
The Ingmar Bergman Archives.
Ingmar Bergman, Images: My Life in Film.
Ingmar Bergman, "Anteckningar till Staden", Röster i Radio, 1951.
Sven Nykvist & Bengt Forslund, Vördnad för ljuset: om film och människor, (Stockholm: Bonnier, 1997).
Vilgot Sjöman, L136: diary with Ingmar Bergman, (Ann Arbor: Karoma, 1978).
"Argentinsk producent dömd för Tystnaden", Stockholms-Tidningen, 11 November 1964.
"Argentinarna gör båtresor till Tystnaden", Stockholms-Tidningen, 17 February 1964.
"Rättvisans gudinna på bio", Expressen 4 December 1964.
"Biografbyrån JO-anmäld för oklippta 'Tystnaden'", Dagens Nyheter 28 October 1963.
"Tystnaden i riksdagsdebatten: Högerman till skarpa angrepp", Stockholms-Tidningen 4 December 1963.
"Tystnaden –vilket liv det blev", Aftonbladet 22 September 1984.
In February 1960, Stanley Kubrick wrote a letter to Bergman: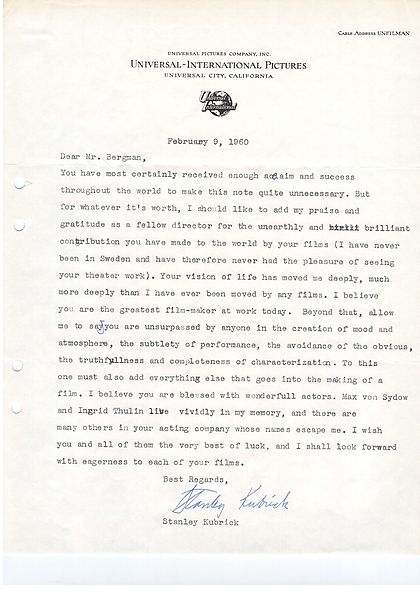 To claim, then, that Kubrick might have been inspired by The Silence for the scenes of his young hero roaming the hotel corridors in The Shining (1980), does not seem too much of a stretch.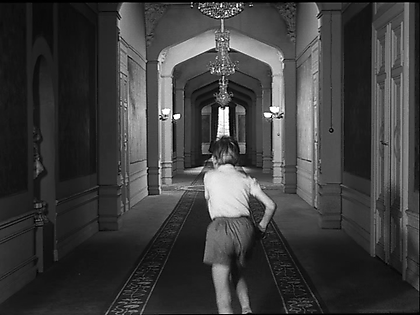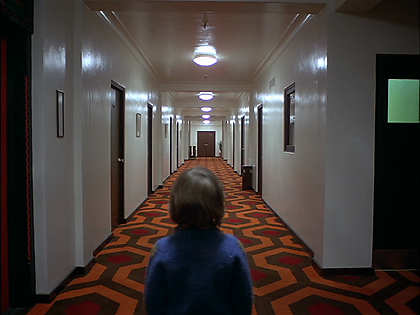 Besides, another scene in The Shining reminds us of a shot in the prologue of Persona: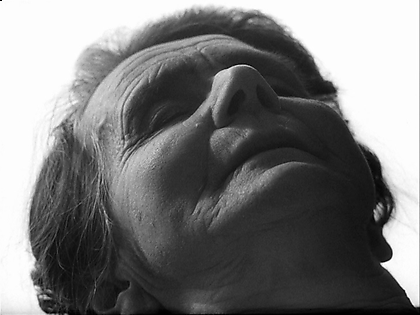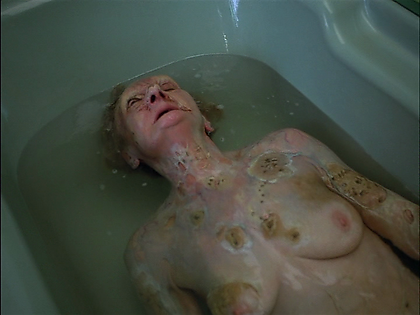 It seems that it was a mutual admiration. In July 1981, according to his diary, Bergman saw The Shining. Fanny and Alexander was broadcast on Swedish TV in December 1982. There are similarities with Kubrick's masterpiece, especially the two dead girls, who appear to young Alexander in the attic.

Juxtaposed faces
The Silence marks a kind of culmination of what could be called a signature of Bergman: juxtaposed faces, as to illustrate the fact that the characters are unable to look at or to talk to each other. It conveys a feeling of loneliness and incommunicability. This shot, which first appeared in Thirst, has often been referred to by other filmmakers, such as Agnès Varda, John Cassavetes and Alain Resnais, or, more recently, David Mackenzie and David Fincher.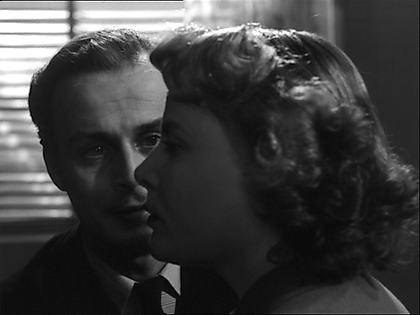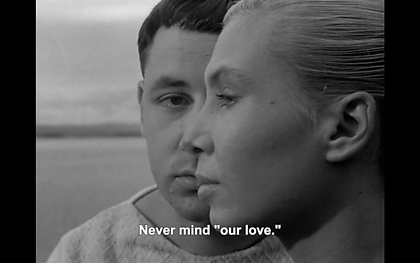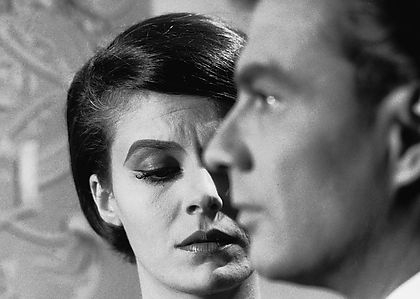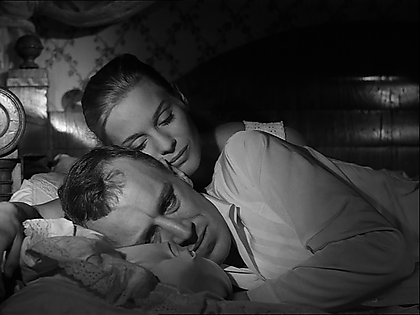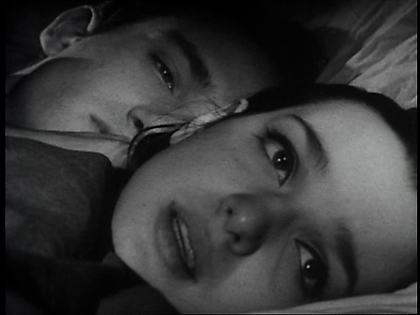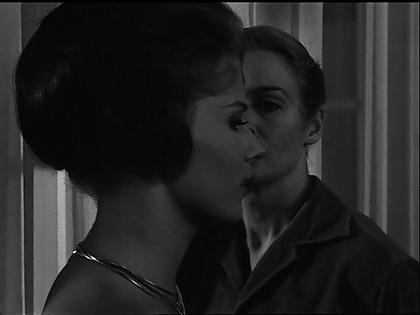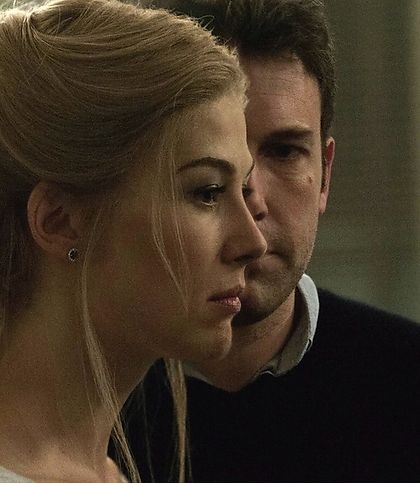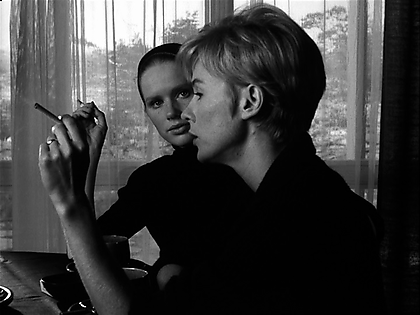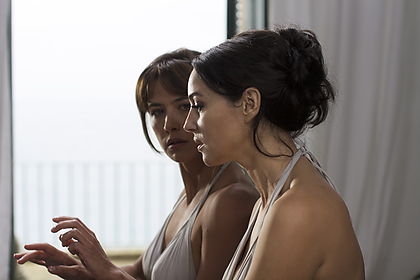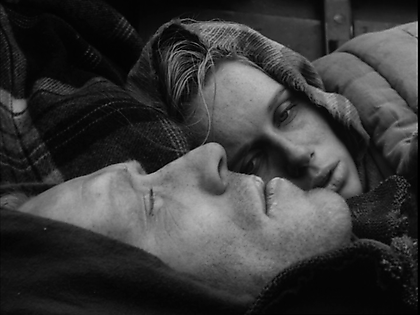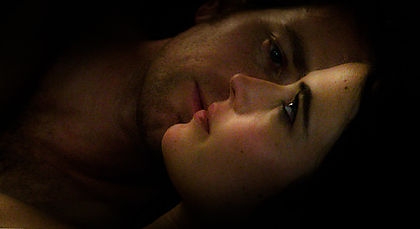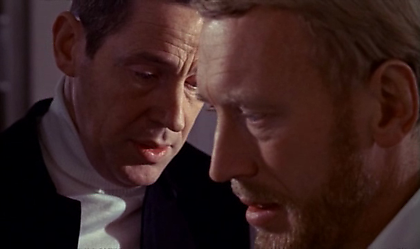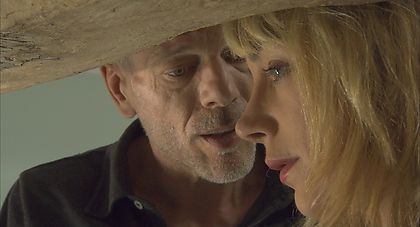 These images are so ingrained in our culture that they are readily recognizable (and, as such, the subject of numerous parodies).
© Charlotte Renaud
[The "Legacy" section is written and compiled by Charlotte Renaud. Look here for heirs to other Bergman films.]
Distribution titles
A csend (Hungary)
Hiljaisuus (Finland)
Milczenie (Poland)
Mlcení (Czech Republic)
Molcanie (Soviet Union)
Moltjanie (Soviet Union)
Das Schweigen (West Germany)
Le silence (France)
The Silence (Great Britain)
The Silence (USA)
Le silence (Belgium)
El silencio (Argentina)
El silencio (Uruguay)
El silencio (Spain)
O silêncio (Portugal)
Il silenzio (Italy)
Stilheden (Denmark)
Production details 
Working title: Timoka
Production country: Sweden
Swedish distributor (35 mm): Svensk Filmindustri, Svenska Filminstitutet
Swedish distributor: (video for rental and sale) (physical): Svenska Filminstitutet
Laboratory: FilmTeknik AB
Production company: Svensk Filmindustri

Aspect ratio: 1,37:1
Colour system: Black and white
Sound system: AGA-Baltic
Original length (minutes): 95

Censorship: 100.806
Date: 1963-07-04
Age limit: 15 years and over
Length: 2610 metres

Release date: 1963-09-23, Fontänen, Stockholm, Sweden, 95 minutes
Röda Kvarn, Stockholm, Sweden
Filming locations 
Sweden (1962-07-09-1962-09-19)
Filmstaden, Råsunda (studio and exteriors)
Music 
Title: Coffee Bean Calypso
Composer: Silvio Pinto
Comment: Instrumental.

Title: Mayfair Waltz
Composer: Robert Mersey
Comment: Instrumental.

Title: Sing, Baby, Sing
Composer: Lew Pollack (1936)
Lyrics: Jack Yellen (1936)
Comment: Instrumental.

Title: Club Cool
Composer: Robert Mersey
Comment: Instrumental.

Title: Jazz Club
Composer: Robert Mersey
Comment: Instrumental.

Title: Rock in the Rough
Composer: Robert Mersey
Comment: Instrumental.

Title: Goldbergvariationer. Variation nr 25
Composer: Johann Sebastian Bach (1742)
Comment: Instrumental.
Sisters Anna (Gunnel Lindblom) and Ester (Ingrid Thulin) are traveling with Anna's son when they are forced by Ester's poor health to hole up in a hotel in a strange country seemingly on the verge of war. Anna shuns the attentions of her desperately ill sister and goes out, picking up a man in a bar. Ester is left to cope with the pain of her desire and her illness; it seems they are one.

Meanwhile the boy explores the mysteries of the old hotel, playing out the fears inspired by the passions around him. The third film of Bergman's "God trilogy" was one of his most controversial. If it remains risky and experimental it is not for its intimations of incest but for the post-apocalyptic landscape of emotions it traverses: a truly desolate foreign land, where language is reduced to ciphers, and sex to a brittle ritual of humiliation; where God is no longer even an absence.
Collaborators
Håkan Jahnberg
Jörgen Lindström
Eduardo Gutiérrez
Lissi Alandh
Leif Forstenberg
Eskil Kalling
Carl Andersson
Karl-Arne Bergman
Olof Huddén
Claes Esphagen
Kotti Chave
Kristina Olausson

, in för Gunnel Lindblom i nakenscenerna

Nils Waldt
Birger Lensander
Olof Widgren
P.A. Lundgren

, Art Director

Rolf Holmqvist

, First Assistant Cameraman

Tage Sjöborg

, Boom Operator

Bo Leverén

, Boom Operator

Lennart Blomqvist

, Construction Coordinator

Gerhard Carlsson

, Gaffer

Sven Nykvist

, Director of Photography

Lars-Owe Carlberg

, Unit Manager

Ulla Ryghe

, Film Editor

Marik Vos

, Costume Designer

Stig Flodin

, Production Mixer

Olle Jakobsson

, Re-recording Mixer

Ivan Renliden

, Music Composer

Allan Ekelund

, Production Manager / Production Coordinator

Lenn Hjortzberg

, Assistant Director

Lars-Erik Liedholm

, Assistant Director

Katinka Faragó

, Script Supervisor

Börje Lundh

, Make-up Supervisor

Gullan Westfelt

, Make-up Supervisor

Evald Andersson

, Sound Effects

Bertha Sånnell

, Dressmaker

Ingmar Bergman

, Screenplay