Sunday's Children
Second part of the trilogy about Bergman's parents beginning with The Best Intentions and continued in Private Confessions. Directed by Daniel Bergman, screenplay by Ingmar Bergman.
"The story is a childhood memory."

Ingmar Bergman in Aftonbladet
About the film
Bergman's screenplay centres on a chapter in The Magic Lantern. He summed up the film in Aftonbladet as follows:
The story is a childhood memory. I had– I believe – just had my eighth birthday and it's a Sunday at the end of July 1926. The family live in an indescribable Chehkov-esque summer house in Dalarna. There are lots of us: Mother, father, Aunt Emma, three children, 'Aunt' Märta, Maj the nanny (whom I love), the cook Lalla and a young female friend of the family called Marianne (whom I also love). Yet I love my beautiful mother most of all. On the Saturday afternoon my father arrives on the Stockholm train..
The director was Ingmar Bergman's son, Daniel, from his marriage to Käbi Laretei. Sunday's Children was his feature film debut.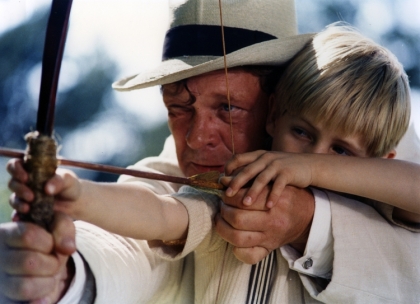 Sources
The Ingmar Bergman Archives.
Ingmar Bergman, The Magic Lantern.
Distribution titles
Niños del domingo (Spain)
Sunday's Children (USA)
Sunnuntailapsi (Finland)
Søndagsbarn (Denmark)
Søndagsbarn (Norway)
Production details
Production country: Sweden, Denmark, Finland, Iceland, Norway
Swedish distributor (35 mm): Sandrew Film & Teater AB
Laboratory: FilmTeknik AB
Production company: Sandrew Film & Teater AB, Svenska Filminstitutet, Sweetland Films BV, Sveriges Television AB Kanal 1, Metronome Productions A/S, Suomen Elokuvasäätiö, Kvikmyndasjóður Íslands, Norsk Film A/S, FilmTeknik AB, Eurimages du Conseil de l'Europe, Nordisk Film- & TV-fond

Aspect ratio: Wide screen
Colour system: Colour
Sound system: Dolby Stereo
Original length (minutes): 121

Censorship: 131.506
Date: 1992-07-23
Age limit: 11 years and over
Längd: 3320 metres

Release date: 1992-08-28, Sandrew, Göteborg, Sweden, 121 minutes
Metropol, Malmö, Sweden
Biografpalatset 3, Stockholm, Sweden
Olympia, Stockholm, Sweden
Music
Title: Ah! Vous dirai-je, Maman Alternative title: Blinka lilla stjärna
Bearbetning: Wolfgang Amadeus Mozart (1778)
Lyrics: Betty Ehrenborg-Posse (svensk text 1852)
Singer: Marie Richardson
Title: Songes
Composer: Carl Jonas Love Almqvist (1849)
Lyrics: Carl Jonas Love Almqvist (1849)
Singer: Marie Richardson

Title: Sonat, cello, op. 8
Composer: Zoltán Kodály (1915)
Instrumentalist: Frans Helmerson

Title: Concert, violin (2), string orchestra, BWV 1043, d-minor
Composer: Johann Sebastian Bach (1717)

Title: Härlig är jorden Alternative title: Dejlig är Jorden
Lyrics: Bernhard Severin Ingemann (Danish lyrics 1850 - "Dejlig er Jorden")
Cecilia Bååth-Holmberg (Swedish lyrics 1884)
Ingmar Bergman scripted this elegiac and semi-autobiographical film, directed (in his debut) by his son Daniel Bergman. The story picks up a decade after The Best Intentions, the previous film written by Bergman, leaves off. Sunday's Children focuses on a young boy named Pu and his relationship with his father, a local pastor. Pu observes his father as he shifts from being a didactic preacher, to an ill-tempered husband, to a caring and devoted parent.
Collaborators
Daniel Bergman

, Director

Ingmar Bergman

, Screenplay

Katinka Faragó

, Producer

Klas Olofsson

, Executive Producer

Tony Forsberg

, Director of Photography

Darek Hodor

, Film Editor

Carolina Häggström

, Script Supervisor

Mona Theresia Forsén

, Costume Designer

Clary Westerström

, Make-up

Ulrika Eklund

, Make-up

Per Åleskog

, Make-up

Horst Stadlinger

, Make-up

Cecilia Drott

, Hair Stylist

Sven Wichmann

, Production Designer

Palle Sonesson

, Property Master

T. Bekmark-Pedersen

, Property Master

Anders Rinman

, Property Master

Rune Gustafsson

, Music Composer

Bo Persson

, Supervising Sound Editor

Klas Engström

, Supervising Sound Editor

Klas Dykhoff

, Supervising Sound Editor

Patrik Strömdahl

, Supervising Sound Editor

Thomas Huhn

, Supervising Sound Editor

Patrik Grede

, Supervising Sound Editor

Göran Lindberg

, Unit Manager

Malte Forssell

, Unit Manager

Leif Stoltze

, Construction Coordinator

Cecilia Hersby

, Propman

Lars Karlsson

, First Assistant Cameraman

Carl Sundberg

, Second Assistant Cameraman

Dan Myhrman

, Assistant Cameraman

Håkan Holmberg

, Assistant Cameraman

Sophie Lundberg

, Assistant Film Editor

Steve St. Peter

, Assistant Director

Cecilia Norborg

, Assistant Costume Designer

Charlotte Melander

, Assistant Costume Designer

Mia Avellone

, Production Assistant

Nils Melander

, Color Timer

Sven Fahlén

, Re-recording Mixer

Arne Carlsson

, Key Grip

Börje Larsson

, Gaffer

Björn Becker

, Gaffer

Bengt Lundgren

, Gaffer

Sten Nielsen

, Carpenter

Hardy Larsen

, Carpenter

Jesper Thomsen

, Carpenter

Frank Stoltze

, Carpenter

Erik Klein

, Carpenter

Bent Nielsen

, Carpenter

Michael Dulin Larsen

, Carpenter

Per Kjær Jörgensen

, Carpenter

Morten Friis Pedersen

, Carpenter

Thommy Roland Hansen

, Carpenter

Kristofer Sjöström

, Painter / Scenic Artist

Teddy Holm

, Painter / Scenic Artist

Helen Johansson

, Painter / Scenic Artist

Robert Johansson

, Driver

Agneta Karlström

, Press Agent

Thommy Berggren

, Erik Bergman

Henrik Linnros

, Pu Bergman

Lena Endre

, Karin Bergman

Jacob Leygraf

, Dag

Anna Linnros

, Lillan

Malin Ek

, Märta

Marie Richardson

, Marianne

Irma Christenson

, Aunt Emma

Birgitta Valberg

, Grandmother

Börje Ahlstedt

, Uncle Carl

Maria Bolme

, Maj

Majlis Granlund

, Lalla

Birgitta Ulfsson

, Lalla

Carl Magnus Dellow

, Watchmaker

Melinda Kinnaman
Per Myrberg

, Ingmar

Helena Brodin

, Nurse Edit

Halvar Björk

, Ericsson

Gunnel Gustafsson

, Mrs.Berglund

Kurt Säfström

, The Caretaker

Lis Nilheim

, The Vicar's wife

Hans Strömblad

, Konrad

Bertil Norström

, The Vicar

Suzanne Ernrup

, Helga Smed

Lars Rockström

, Smed, the smith

Josefin Andersson

, Young woman

Carl-Lennart Fröbergh

, uncredited

Maggie Widstrand

, Other Crew