Ur-Faust
Max von Sydow and Toivo Pawlo play twin-like Faust and Mephisto in Bergman's second to last Malmö production, which travelled to London.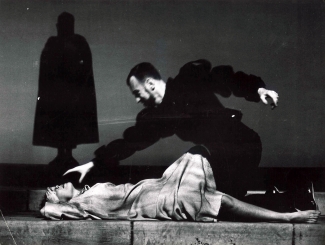 'This is grandiose theatre - but difficult to explain.'
About the production
Ur-Faust had been broadcast on Swedish Radio two years earlier in a new translation, which made it more accessible to a modern Swedish audience. Ingmar Bergman himself was quoted as saying, 'The work was rhythmic, clear, cohesive, complete as theatre... all that which the later Faust is not.'
Bergman chose to stage the original version of Goethe's Faust, written when Goethe was 23-24 years old and first read in a literary salon in Weimar, in 1775, only to be lost and rediscovered more than 100 years later.

In an interview, declaring the theme of Ur-Faust to be emptiness, 'First comes the discovery of emptiness. Then, the filling of emptiness, and finally, the punishment.'

The set design was kept sparse: three Gothic vaults dominated the stage; the middle one flanked by two sculptures, a Madonna and a gargoyle of the kind that adorn the Notre Dame cathedral in Paris.
Critics were not surprised that Bergman produced Goethe's Faust, a work based on the same juxtaposition of good and evil as his own stage plays and films. 'Bergman too is torn, like young Goethe, between darkness and light; he is thrown between the abysses of heaven and earth; he oscillates between smothering paganism and heavenly glow. And his duality goes right through his being.'
There was much anticipation prior to the opening night of Bergman's Faust, but many reviewers were disappointed. 'The premier of Goethe's Ur-Faust on Malmö's main stage, a production regarded for months as the theatre event of the year, almost resulted in our tense expectations dissolving into nothing. Ingmar Bergman was to be crowned, definitely, as our new and innovative director of the classics. But none of this happened.'
It seems that the more the reviewers noticed 'cinematic' features in the production, such as projected imagery and rhythmic cuts, the more critical they became.
Sources
The Ingmar Bergman Archives.
Birgitta Steene, Ingmar Bergman: A Reference Guide, (Amsterdam University Press, 2005).
Henrik Sjögren, Lek och raseri: Ingmar Bergmans teater 1938-2002 (Carlssons Bokförlag 2002).
Henrik Sjögren:
This is grandiose theatre - but difficult to explain. It hits in such an overwhelming way, both emotionally and intellectually. [...] One could begin by talking about the characterization or the scenography; one could begin with the uniqueness and possibilities of the theatre in our time, or about the devil's treason in our hearts where Mephisto and Faust have settled. But nothing of this would explain the totality which is Ingmar Bergman's theatre.
 
London, UK, Price's Theatre, 4 May 1959
Eight performances were given. The Faust production was invited to London in early May 1959. Bergman arrived on 1 May after minor surgery in Stockholm and gave a press conference the same day at the Swedish Embassy in London. Questions directed to Bergman referred entirely to his filmmaking and touched on such subjects as his loyalty to Sweden; his films as various facets on himself; and a statement he had made about all great artist making the same work over and over again.

A sold-out opening night was attended by cultural celebrities and the Swedish diplomatic corps. The overall British reception was respectful and had few of the reservations voiced in the Swedish reviews at home. Possibly, the production had become more refined since the premier in Malmö. British critics were probably influenced by the international Bergman wave in the cinema, which peaked around this time but left Swedish critics rather cold.
Collaborators
Max von Sydow

, Faust

Oscar Ljung

, Wagner/Angel and various other parts

Toivo Pawlo

, Mefistofeles

Axel Düberg
Åke Askner

, Frosch

Gustaf Färingborg

, Altmeyer

Tor Isedal

, Siebel

Leif Hedberg

, Brander

Gunnel Lindblom

, Margaretha

Gudrun Brost

, Martha

Bibi Andersson

, Lieschen

Folke Sundquist

, Valentin

Gerd Hein
Arne Hasselblad

, The priest

Johann Wolfgang von Goethe

, Author

Ingmar Bergman

, Director

Kerstin Hedeby

, Designer