When the Devil Makes an Offer
Bergman had directed Soya's play the year before at the Stockholm Studentteater.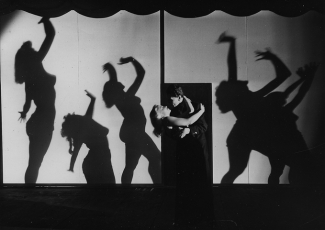 'Bergman's direction emphasised the cynical, sharpening it to a fine point, while in the next moment the bitter taste was replaced by an amiable, blissful notion.'

Mbg, Helsingborgs Dagblad
About the production
Carl Erik Soya was a Danish playwright who served a prison term during the Nazi occupation of Denmark for his novel A Guest. His play When the Devil Makes an Offer uses symbolic figures close to Bergman's own liking; a medieval play in modern attire. 
'On Saturday evening I attended When the Devil Makes an Offer, which in and of itself is possibly the most popular rebuttal to Freud that exists. The version stage by Bergman and his cast was none the less subtle in that they displayed it as an all-out revue-comedy. Freud as a ballet, a vaudeville, the latter in the vein of The Three-Penny Opera, really? Oh yes.'
Herbert Grevenius, Stockholms-Tidningen
Collaborators
Carin Cederström

, (Unknown part)

Curt Edgard

, (Unknown part)

Sture Ericson

, (Unknown part)

Karl-Axel Forssberg

, (Unknown part)

Åke Fridell

, (Unknown part)

Ulf Johanson

, (Unknown part)

Otto Landahl

, (Unknown part)

Dagny Lind

, (Unknown part)

Ingrid Luterkort

, (Unknown part)

Birger Malmsten

, (Unknown part)

Marianne Nielsen

, (Unknown part)

Gunnar Nielsen

, (Unknown part)

Bertil Sjödin

, (Unknown part)

Siv Thulin

, (Unknown part)

Carl Erik Soya

, Author

Ellen Bergman

, Choreography

Karl-Henrik Edström

, Music

Ingmar Bergman

, Director

Gunnar Lindblad

, Designer