Woyzeck
If Persona was Bergman's most experimental film, Woyzeck was his most experimental theatre production.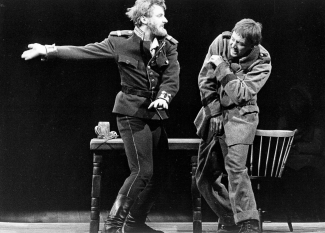 'The audience was drawn into the drama which stretched between two opposing poles: Büchner's text and contemporary - late 1960s - society.'
About the production
Bergman's production of George Büchner's Woyzeck was a crucial step in his conception of the symbolic relationship between stage and audience.
At a press conference on 16 January 1969, he displayed - along with set designer
Marik Vos
 – a stage model of a specially designed arena theatre to be built on The Royal Dramatic Theatre's Main Stage with seating for 150 spectators.
After some 20 rehearsal sessions in a special studio at the theatre, the ensemble continued rehearsing on the arena stage on 20 February 1969, at which time theatre students, critics and other professionals in the field were invited to attend.
Critics were told they could write about the production at any time and talk to the cast but had to show respect for the work rules set down. Open rehearsals continued for a month. They took place twice a day, at 11am and 1pm.
Staging Woyzeck with open rehearsals might have been an attempt by Bergman to respond, in a professional rather than political way, to demands by young Swedish drama groups to make the theatre a more open and democratic institution.
The overall press response to Bergman's disciplined type of direction and his formal aestheticism was, to some, his version of Woyzeck resulted in a beautiful performance; to others it was too controlled and right. In Expressen, P O Enquist commented, 'Everything feels polished but conventional; spotless but spineless.
Sources
The Ingmar Bergman Archives.
Birgitta Steene, Ingmar Bergman: A Reference Guide, (Amsterdam University Press, 2005).
Birgitta Steene, Ingmar Bergman: A Reference Guide, (Amsterdam University Press, 2005).
The critic of Sydsvenska Dagbladet headlined his review 'Bullying à la Bergman' and implied that the diminished acting space and lack of props were solely means for Bergman to control his actors.
Leif Zern in Dagens Nyheter, on the contrary, applauded Bergman's intentions.
I have never seen Bergman work more openly than here [...…] I experience his production as very liberating, very present [...…] It is personal but not at the expense of the material, and it is born out of a collaboration between text, direction, and actors that is unique in our country.
Collaborators
Thommy Berggren

, Woyzeck

Gunnel Lindblom

, Marie

Charlotta Öhman

, Christian

Susanna Söderström

, Christian

Sigge Fürst

, The captain

Tord Stål

, The doctor

Lars Amble

, Drum major

Axel Düberg

, Anders

Agda Helin
Sven-Eric Gamble
Urban Sahlin
Gösta Prüzelius

, The jew

Birger Malmsten

, The fool

Sif Ruud

, The grandmother

Margaretha Byström

, Katrin

Erik Hell

, The inn keeper

Ellika Mann

, Margret

Carl Billquist
Malin Ek

, The girl

Cecilia Nilsson

, First child

Daphne Strååt

, First child

Madeleine Fjellström

, Second child

Mikaela Strååt

, Second child

Per Areskoog

, Choir

Bert Bellman

, Choir

Linnéa Broberg

, Choir

Hilde Ebbersten

, Choir

Mattias Erdelyi

, Choir

Einy Eriksson

, Choir

Ralf Glaerum

, Choir

Barbro Hedström

, Choir

Jan Åke Holm

, Choir

Pia Kornevall

, Choir

Annicka Kronberg

, Choir

Karin H. Larson

, Choir

Anders Levelius

, Choir

Franco Mariano

, Choir

Gertrud Mariano

, Choir

Mia Nyström

, Choir

Dick Olson

, Choir

Robert Panzenböck

, Choir

Axel Segerström

, Choir

Carl Skylling

, Choir

Inge Telander

, Choir

Harry Gloorup

, Lighting

Beata Bergström

, Stills photographer

Georg Büchner

, Author

Arne Hertler

, Stage manager

Mats Ek

, Choreography

Daniel Bell

, Music

Arne Lundh

, Make-up and wigs

Ingmar Bergman

, Director

Göran Sarring

, Assistant director

Holger Juhlin

, Master carpenter

Marik Vos

, Designer

Ann Toft

, Prompter

Per Erik Wahlund

, Translation