P. O. Enquist and Ingmar Bergman
P. O. Enquist is dead. A great deal has already been said about this extraordinary author; here follows a few words about his collaborative work with Ingmar Bergman and the way the two artists drew inspiration from one another.
There were similarities between the two Swedish cultural giants even before they met. A Protestant upbringing was to have a profound impact on the life and work of both. There were also thematic similarities: the conditions for creativity, issues of guilt, family relationships. Both were also important protagonists in the post-war political project in Sweden. Bergman did keep a low profile in this respect, but he was still very much part of it. As to Enquist, he played an active role in cultural politics, for example as a member of the government Film Agreement committee in 1998.
However, the potentially most important common denominator before they began to work together, was a third person – August Strindberg. The Night of the Tribades (1975) was Enquist's debut for the stage. It portrayed the triangle drama between Strindberg, his wife Siri von Essen and her alleged lover, Marie David. The play was a major success, and Enquist became one of Sweden's most performed playwrights at home and abroad. He later wrote the screenplay for the major 1980s TV production Strindberg: Ett liv (Strindberg: A Life). (You can read more about Bergman's relationship to his hero here.)
As a result, P. O. Enquist and Ingmar Bergman shared common ground by the time they began their first collaborative project, which took place outside their native Sweden. Enquist's play Rain Snakes was premiered at Det Kongelige Teater in Copenhagen in September 1981. According to Expressen's Björn Nilsson, it was his best play so far: "The work of a clearly brilliant playwright who is beginning to gain control of his full range." The premiere at Dramaten in Stockholm occurred only a month later, and soon on a string of European stages, before Bergman directed it at the Residenztheater in Munich in 1984.
The play is the story of an (imagined) encounter between H. C. Andersen and Hanne and Johan Ludvig Heiberg; she a principal actress at the aforementioned Det Kongelige Teater and her husband the theatre's director. H. C. Andersen, already famous for his fairytales, wants to achieve recognition from the cultural establishment, for example by having his plays performed at Det Kongelige …
In the play, Andersen is a regnorm (a "rain snake"), the Danish word for an earthworm that has made its way to the surface. It is easy to see why Enquist and Bergman were fascinated by such a tragic figure. They were both well acquainted with the archetype for a failed social climber – Jean in Strindberg's Miss Julie. New characters in the work of both authors would represent a desire to make a name within a brutal cultural establishment and to exceed people's expectations. Interestingly, these characters are often based on real people: Selma Lagerlöf in Enquist's The Image Makers and Georg af Klercker in Bergman's The Last Gasp – both more or less celebrated, yet disillusioned artists.
Rainsnakes is testament to how thin the bourgeois veneer can be, as Bergman well knew. He had scraped on it before, especially in Fanny and Alexander, which he had just completed when he began to work on Enquist's play.
The production of Rain Snakes in 1984 meant a return to the Residenztheater for Bergman. He had not yet moved back to Sweden, but he had spent most of his time there during the shooting of Fanny and Alexander, when he had found time to also direct After the Rehearsal for Swedish Television and King Lear at Dramaten. Now he was back in Munich, where he had been living since 1976, employed by the Bavarian State Theatre. In a letter to Enquist dated on 6 November 1983, Bergman wrote:
I read in the newspaper that RAIN SNAKES is coming to Paris. God protect you from the French critics, they are arrogant, parochial and astonishingly incompetent. Commercial success is what matters, money is a good thing, it settles the nerves. […] As usual, there have been many problems at the Rezidensteater [sic], an astonishing amount of scheming, friction and all kinds of devilish plots. For a while, it looked as if neither I nor RAIN SNAKES would be produced in the spring. But now the air has been temporarily cleared and we begin rehearsals in mid-March. I'm reading H. C. Andersen's fairy tales, Johanna Luise Heiberg's memoirs, Enquist's Sekonden and other nourishing and good books. I'm also struggling with one of your older colleagues, a certain Mr. Shakespeare, who has written an uncommonly tricky piece entitled King Lear.
In Germany, Bergman had previously mostly directed classics such as Ibsen, Molière, Strindberg and Chekhov, but now, he revealed in an interview, he thought it would be "fun to stage a play by a living Swedish playwright," and he concluded that, "I was delighted, this was about something I have always been interested in: art, love, life and death". However, he did not expect much from the reception: "I have just read Süddeutsche Zeitung's positive treatment of Rain Snakes in Zurich, but I will not get my hopes up. I rarely get good reviews in Munich," which was true. Perhaps this experience allowed Bergman to better understand Andersen in Enquist's play.
The first night looked promising. Christine Buchegger made an outstanding comeback as Hanne after having been away from the stage for a few years due to severe illness. According to a Swedish observer, the ensemble, Bergman the director and the author, Enquist, were called back in to take a bow "at least 15 times by the enthusiastic premiere audience". It meant little to the critics, however, the reviews were as unenthusiastic as ever. One critic wrote that, "historically, it is of course completely without interest […] The Heibergs have been forgotten, and there must be better analyses of Andersen". So it goes.
Fifteen years passed before they worked together again, but Bergman and Enquist stayed in touch. By telephone, we have to assume, and in writing. The letters are kept in the Ingmar Bergman Archive. Bergman's memoir The Magic Lantern was published in September 1987. Enquist read it soon afterwards, and wrote the following to Bergman:
Dear Ingmar, I finished your book this morning. You have had a hell of a lot of praise by now, so you don't need any more. I just want to tell you that it's a masterpiece. It's so damned well written, and it says so much about what life can be like, and it's so touching, and so mean in such a funny way that I close it and think about whether that bastard is perhaps a better author than filmmaker? On the other hand, you would never have been able to make such good films if you hadn't been such a good author.
When Private Confessions was about to be published in 1995, Enquist could not wait until it had been printed. He grabs a copy of the manuscript from Norstedts, his and Bergman's publisher, and pens another letter: "You seldom get to read a novel – this is how I see it – that covers so much experience, despair and truth. I think it's perhaps the best you have ever written, so it's a shame that you have stopped making films yourself."
A few years later, in 1997, it is time for Bergman to direct a new play by Enquist, which will premiere at Dramaten. It is entitled The Image Makers. If the topic and the characters in Rain Snakes were in the director's taste, this came even closer, it was personal. The Image Makers portrays the shooting of the film The Phantom Carriage, in which the film's director, Victor Sjöström, has invited the author, Selma Lagerlöf, to Filmstaden studios in order to watch some raw footage. The photographer, Julius Jaenzon, and Sjöström's mistress, the actress Tora Teje, are joining them.
Bergman repeatedly emphasized that The Phantom Carriage was the film that meant most to him. He had also directed two films that featured Sjöström: To Joy and, most memorably, Wild Strawberries.
Bergman read the play in his office at Dramaten. These were his thoughts:
I believed that this is something I can do, I know about this, I have known all these people, some of them intimately, and I know better than anyone what Filmstaden actually looked like. Moreover, The Phantom Carriage is one of my most important cinematographic experiences. I grabbed the play, went down to Ingrid Dahlberg and told her: "I'm the only one who knows how to do this," so I got the cast I wanted.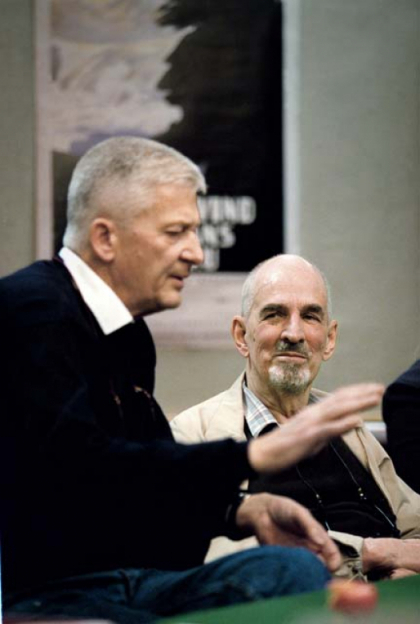 This time, the critics were more obliging. Leif Zern wrote in Dagens Nyheter that Enquist had developed into a supremely gifted engineer, and that he in Bergman had been given a director who knew how to give weight to the qualities of the text. This may well have been true, but perhaps the excellent result was not entirely a good thing in terms of the play. Bergman's unique understanding of the text, his authoritarian direction and, not least, the marketing of his production turned The Image Makers into a work by Bergman, rather than by Enquist. It started even before the premiere with more interviews with the director about the new play than with the author, and it continued on the day the reviews were published: a number of critics wrote more about the direction than they did about the play. For example, in her review in Expressen, Margareta Sörenson analysed the performance against the background of Bergman's, rather than Enquist's, body of work. "There is less confrontation and energy from Ingmar Bergman than in all his previous productions. He turns the gaze outwards and to the past, discussing both with himself – I imagine – and with the actors about the actor's work, about the role of art."
The Image Makers became more closely associated with Bergman than with Enquist. It was unfair, regardless of how brilliantly the director approached the text – although, perhaps, congenial! The Image Makers is after all about a celebrated film director who engages with the work of a famous author and makes it his own. In the play, Tora Teje in fact complains to Selma Lagerlöf about the tendency of the director to take possession of the text: "They want to tinker without you interfering, they know that the soul of the book is your doing, and they want to tinker with it on their own."
This may well be true. However, while The Night of the Tribades, Rain Snakes, The Hour of the Lynx and other plays by Enquist are regularly staged throughout Europe, The Image Makers has hardly been performed at all after Bergman's version. This will hopefully change, but for now, the result of the after all extraordinary Bergman–Enquist collaboration can still be enjoyed in the form of the television drama, which, according to some, is even better than Dramaten's staging of the play.
P. O. Enquist is one of the foremost Swedish authors of the 20th century. He had a great deal in common with Ingmar Bergman. With both having passed, we can only hope that their conversation will continue; but on the other hand, we have to admit that Enquist was right when he in The March of the Musicians wrote that, "there is always something better than death."
Jan Holmberg, Director of the Ingmar Bergman Foundation