To Joy
A mediocre violinist dreams of a successful solo career as doubts creep into his marriage.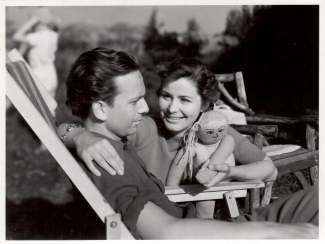 "A kerosene stove explodes portentously in the beginning of the film, and Beethoven's Ninth Symphony is shamelessly exploited."
About the film
Ingmar Bergman and Birger Malmsten had travelled down to the French Riviera on holiday.

Reminiscing in Bergman on Bergman: 
Then I met some friends down there – painters and so forth – they were hardly ever quite sober – so there I sat, and began to feel all romantic about my marriage – my then marriage, that is to say one I'd just taken extreme delight in ripping to pieces in Three Strange Loves. I got a bit sentimental and began thinking about my time in Hälsingborg, what fun it had all been, the symphony orchestra, and how I wasn't such a genius as I'd imagined. The first real setbacks, you see, had begun to put in an appearence. But I thought to myself: 'even if one is only a mediocrity, still one must function'. So then I made up some sort of consolation for myself. That's the infantry who are important in culture, not the more dashing cavalry. It all turned out into quite a harmonious film. The only trouble was, I couldn't find an end to it. So I made up that operatic ending with the kitchen stove blowing up. 
Sources of inspiration 
The musical leitmotif in the film and the inspiration for its title is the final movement of Beethoven's Symphony number 9, the Choral Symphony, the famous setting of Schiller's Ode to Joy.

From Bergman on Bergman: 
The symphony orchestra in Helsingborg, though severaly lacking in sophistification, exuberantly played the canon of major symphonies. As often as time and circumstances allowed, I sat in on orchestra rehearsals. For their reason finale they planned to perform Beethoven's Ninth. I was allowed to borrow the score from the conductor, Sten Frykberg, and could actively follow, note by noto, the musicians and the members of the unpaid but passionate amateur choir. It was apowerful and touching event. I thought it was a magnificent idea for a film. It seemed so natural I tripped over the idea. I changed the theatrical people in my autobiographical film to musicians and gave it the title To Joy after Beethoven's symphony. [...] That the film's young violinist plays Mendelssohn's Violin Concerto with about the same lackluster skill as I exhibited in Crisis is just part of the whole story.
Shooting the film
The film was shot during the summer of 1949, beginning in the middle of July. The final takes were completed in early September. The exteriors were shot in the southern Swedish town of Helsingborg and the area around neighbouring Arild. A few years earlier Bergman had been the head of the Helsingborg City Theatre, and was therefore very familiar with the town.
The orchestral sequences were recorded at the Swedish Academy of Music with the assistance of sound technicians from the AGA sound film laboratory and Swedish radio. At the Spegel cinema in Stockholm where the film was premièred, they set up a special sound system with extra speakers, one on each side of the screen. This system was highly effective in the major orchestral passages.

Two pioneers from the Golden Age of Swedish silent film took part in To Joy: the actor John Ekman and the director and actor, Victor Sjöström. This was to be Ekman's final film, whereas in Wild Strawberries, Bergman handed Sjöström one more leading role as the elderly Professor Isak Borg.
Sources
The Ingmar Bergman Archives.
Ingmar Bergman, Images: My Life in Film.
Stig Björkman, Torsten Manns & Jonas Sima, Bergman on Bergman, (New York: Da Capo P., 1993).
The film prompted a number of influential Stockholm critics to a vehement attack on what they regarded as Bergman's dramatic clichés. A. G. Bergman, writing in Aftontidningen, recommended the director to desist from "trying to be a writer" on the grounds that: "This his latest film reveals more harshly than any before his paucity of ideas in this area." In Morgontidningen Nils Beyer condemned what he regarded as psychological myopia:
Ingmar Bergman's unfortunate limitation is that he is unable to portray, or even to understand what constitutes, an ordinary human being, someone who combines deep-rooted egoism with a natural feeling for other people. Instead we have people jumping into bed with each other, exclaiming "you bloody slut", or "you should bloody well get something out of life", or "I'll bet you're scared now, eh?" And to continue in the style of the film, Ingmar Bergman has spewed himself out in the role of Stig, obviously believing that in doing so he has made a fine contribution to the psychology of modern man.
Perhaps the harshest note of all was struck by the critic for Bonniers Litterära Magasin, Harry Schein, who considered the film the weakest of Bergman's works:
In all of Ingmar Bergman's films there has been obscure religious philosophising, but in this film it occurs in a more relentless form even than in Eve. There is more than a hint of Edvard Persson's philosophy, listening for a baby's cry the moment somebody dies, and Beethoven would have been least impressed of all with these notions as a source of inspiration.
Whereas religion in American films gained "worldly alibis through priests who play baseball and boxing nuns," Bergman, according to Schein, gave his films "the necessary stamp of tendentious realism" courtesy of "violence towards women, talk of abortions, empty brandy bottles and the line 'Bloody hell, I like you' instead of 'I love you'. Not forgetting the peculiar phenomenon that Bergman, in the country with fewer prostitutes per capita than any other in the world, manages to put a whore in every film."

Yet not all the reviews were negative. Writing in Svenska Dagbladet, Lill was of the opinion that Sweden had hardly produced a writer who managed to write dramatic dialogue in such supreme fashion since August Strindberg, dialogue that combines focus and cogency with absolute spontaneity, where every line seems to stem naturally from the lips of the actors, rather than something written down by a tentative author." According to Lill, the film was very typical of its creator: "It neither shies away from what is idyllic and compact, nor from what is harrowing, intimate and loathsome, the latter, however, on a very small scale this time. And with every inch of footage, it leads its own subtle, ever-shifting life." The reviewer was especially pleased with the reproduction of the music, of which she wrote: "It is a pleasure to note that pains which have been taken with the technical side of the music have really produced such wonderful results in the loudspeakers, an orchestral tone so realistic, subtle and powerful."
Distribution titles
An die Freude (West Germany)
Iloksi (Finland)
Til glede (Norway)
To mennesker (Denmark)
Vers la joie (France)
Production details
Production country: Sweden
Swedish distributor (35 mm):  Svensk Filmindustri, Svenska Filminstitutet
Laboratory: Svensk Filmindustris filmlaboratorium
Production company: Svensk Filmindustri

Aspect ratio: 1,37:1
Colour system: Black and white
Sound system: AGA-Baltic
Original length (minutes): 98

Censorship: 076.639
Date: 1950-02-17
Age limit: 15 years and over
Length:2700 metres

Release date: 1950-02-20, Spegeln, Stockholm, Sweden, 98 minutes
Filming locations
Sweden (1949-07-11-1949-09-02)

Råsunda Filmstad, Stockholm, (ateljé)
Helsingborg
Arild in Skåne
Music
Title: Symfoni, no 9, op. 125, d-moll. (Presto) with the final choir "An die Freude"
Composer: Ludwig van Beethoven (1824)
Lyrics: Friedrich von Schiller (1787)

Title: Egmont-uvertyren, op. 84
Composer: Ludwig van Beethoven (1810)
Comment: Instrumental.

Title: Djungel
Composer: Sam Samson
Comment: Instrumental

Title: Samba Valentino
Composer: Sam Samson
Comment: Instrumental

Title: Kvartett, flöjt, K. 298, A-major
Composer: Wolfgang Amadeus Mozart (1778)
Comment: Instrumental.

Title: Prodaná nevesta. Uvertyr Alternative title: Brudköpet. Uvertyr
Composer: Bedrich Smetana (1866)
Comment: Instrumental.

Title: Konsert, violin, orchestra, op. 64, e-minor
Composer: Felix Mendelssohn-Bartholdy (1844)
Comment: Instrumental.

Title: Symphony, no 1, op. 21, C-major
Composer: Ludwig van Beethoven (1800)
Comment: Instrumental.

Title: Quartet, fluite, K. 298, A-major. Menuett
Composer: Wolfgang Amadeus Mozart (1778)

Title: Concert, violin, orchestra, op. 64, e-moll. (Kadens)
Composer: Felix Mendelssohn-Bartholdy (1844)
Comment: Instrumental.

Title: Dig skall min själ sitt offer bära
Lyrics: August Afzelius (1814)
Britt G. Hallqvist (lyrics arrangement 1979)

Title: Postludium
Composer: Erik Johnsson
Söderby: Then we have a woman in the orchestra. It is a little silly and against the nature. But she's very talented.

Stig: I'll tell you the secret of real art. It's created when you're unhappy. I prefer being unhappy. God knows I'm mostly in that state.

Stig: Perhaps one acts crazily and stupidly sometimes. The main thing, however, is that one wants to be a real person and artist.

Marta: There's so much misery, laxity and indifference, in body and mind. In the end you don't believe in anything. You think that's how it is. That's the whole meaning.
Stig: There doesn't have to be a meaning.
Marta: Yes, there must be. If there isn't you make one up. Otherwise you can't live.

Stig: You don't understand. I don't want a child, I hate children. You think this is a good world to come into? I prefer extinction.

Marta: It's easier when there are two of you, I'm sure of it.
Stig: You are never two. Inside you're always alone. What you're saying is just jabber and sentimentality.

Stig: I can't understand what's wrong. I probably ate something bad.
Marta: Some tribal people are so smart that when the wife is about to have a baby, the man goes to bed and screams and performs. He takes all the congratulations as well. That's fair, I guess.

Stig: Don't ask questions about things that don't concern you.
Marta: That you're together with Nelly Bro, it doesn't concern me?
Stig: Not really. You may be condemnatory, but keep it to yourself. I'm not interested.

Söderby: It's a question of joy, you see. Not a joy that expresses itself in laughter. Or a joy that says I am happy. What I mean is a joy that is so great, so particular, that it lies beyond pain and boundless despair. You understand, it's a joy beyond all understanding.
Mark Sandberg for Pacific Film Archive screening, 1996:
In To Joy Bergman dedicates his full attention to a theme that will recur in smaller filmic moments throughout his career: the idea of music's redemptive power. In a frenetic performance, actor Stig Olin plays an ambitious concert violinist of mercurial temperament who ends up sacrificing nearly everything for his career.

The fact that his orchestra conductor is in turn played by Victor Sjöström, the grand old master director of the Swedish silent cinema (and Bergman's main cinematic mentor as well), only adds to the resonances of this film as a personal parable of Bergman's own filmmaking. Beethoven's music, the source for the title, is equated by film's end with the momentary but intense joy of the Swedish summer, leading Bergman biographer Peter Cowie to cull from this film an artistic manifesto of sorts: 'There are brief instances in life that are of such exquisite beauty that they compensate for all the misery and unhappiness.'
Collaborators
Maj-Britt Nilsson

, Marta Olsson, violinist

Stig Olin

, Stig Eriksson, violinist, her husband

Birger Malmsten

, Marcel, cellist

John Ekman

, Mikael Bro, older actor

Margit Carlqvist

, Nelly Bro, his young wife

Victor Sjöström

, Söderby, conductor

Sif Ruud

, Stina

Erland Josephson

, Bertil, skådespelare

Ernst Brunman

, Konserthusvaktmästare

Allan Ekelund

, Vigselförrättaren

Maud Hyttenberg

, expedit i leksaksaffären

Berit Holmström

, Lisa, Martas och Stigs flicka

Eva Fritz-Nilsson

, Lisa som treåring

Björn Montin

, Lasse, Martas och Stigs pojke

Staffan Axelsson

, Lasse som treåring

Georg Skarstedt

, Anker, flöjtist

Svea Holst

, sjuksyster på BB

Ingmar Bergman

, väntande man på BB

Tor Borong

, väntande man på BB

Astrid Bodin

, gäst på Martas födelsedagsfest

Marianne Schüler

, gäst på Martas födelsedagsfest

Marrit Ohlsson

, gäst på Martas födelsedagsfest

Rune Stylander

, Persson, orkestermedlem

Agda Helin

, sjuksyster på BB

Gunnar Rystedt

, orkestermedlem

Carin Swensson

, nybliven mor på BB

Svea Holm

, nybliven mor på BB

Dagny Lind

, mormor

Nils Svenwall

, Arkitekt

Bengt Järnmark

, B-foto

Aaby Wedin

, B-ljud

Gunnar Fischer

, Foto

Oscar Rosander

, Klippning

Sven Hansen

, Ljudtekniker

-

, Musik

Eskil Eckert-Lundin

, Orkesterledare

Ingegerd Ericsson

, Scripta

Louis Huch

, Stillbildsfoto