After the Rehearsal
Elderly director stages a Strindberg play and talks to his actresses.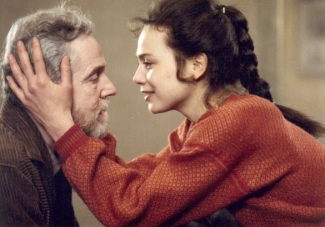 "[...] After the rehearsal was meant to be a pleasant title episode on my road toward death."
About the film
Bergman writing on the genesis of the film in Images: My Life in Film: 
Originally, I imagined the film as a correspondence between an aging director and a young actress. I began writing it but found it boring before long; it would be more fun to see them.

While I wrote, I must have hit a sore nerve or, if you like, an underground vein of water. From my watery unconscious, twisted vines and strange weeds shot up; everything grew into a witch's porridge. Suddenly there appeared the director's former mistress, who is the mother of the young actress. She has been dead for years, and yet she enters the play. On the dark, empty stage of the theater during the quiet hour between four and five in the afternoon, much can return to haunt you. The result of this brewing was a piece of dramatic television that is about life in the theater.[...]

After the Rehearsal was written expressly for the joy of materializing it together with Sven Nykvist, Erland Josephson, and Lena Olin. I have always followed Lena with tenderness and professional interes. Erland has been my friend for fifty years. Sven is Sven. If once in a while I miss working in a film, it really is just the collaboration with Sven that I miss.

So After the rehearsal was meant to be a pleasant title episode on my road toward death. We planned to keep the team small. We would rehearse for three weeks, and Sven would film it. We would work in Filmhuset (Film House) and the set was to be so simple.

Shooting the film
Bergman did not recall the filming with pleasure. In Images: My life in Film:
To my surprise, the shooting was completly joyless. Seeing After the Rehearsal now, I find it much better than I had remembered. When you have struggled with a bad shoot, the dispiritedness lingers. It makes you remember the film with greater distaste than necessary. One frustration I felt concerned a scene with Ingrid Thulin, truly one of the great movie actress of our time. As a jelaous colleague expressed it once: 'She is married to the camera.' But in this film she couldn't distance herself from her part. When she would say the line 'Do you thing that my instrument is destroyed forever?' she would begin to cry. I told her, 'Please don't sentimentalize!' To me, it seemed natural for her to say the line with cool observance. Instead she burst out crying every time. Finally I gave up. Perhaps I was upset with Ingrid because I was angry with myself. 'Is my instrument destroyed forever?' The question seemed to concern me more than it did her.

Add to this the fact that Erland Josephson was overworked. For the first time during our long collaboration, he was hit by what the Germans call Textangst (which literaly means text anxiety – having trouble learning and remembering lines). The last and most important day brought short-circuiting and blackouts. We muddle through, but that was all.

Lena Olin kept her presence of mind, and in spite of being relatively inexperienced, she managed gallantly without leting herself be disturbed by our turmoil.

Epilogue 
Bergman in Images: 

'After the Rehearsal, in the final edited version, ran one hour and twelve minutes. I had been forced to cut at least twenty minutes of the final material. Today it is hard to believe that After the Rehearsal was actually written as a bit of a black comedy with dialogue in harsh yet twenty minutes of the finished material.'
The film was made for television, and the fact that it was given cinema distribution abroad was to prove controversial. Prior to the scheduled cinema screenings in America, Bergman sent a telex to the US distributor, Triumph Films, a subsidiary of Columbia Pictures. In it he explained that it was contrary to his wishes that After the Rehearsal should be launched as a feature film, since he had previously stated that Fanny and Alexander was to be his last feature. Triumph Films, however, pointed out that a contract signed by the film's producer, Jörn Donner, gave them the television, video and cinema rights to the film, so the issue from their point of view was done and dusted.
Sources
The Ingmar Bergman Archives.
Ingmar Bergman, Images: My Life in Film.
Jurgen Schildt in Aftonbladet:
[...] above all, the camera tends to rest in unashamed close-up on Henrik Vogler, played by Erland Josephson, who has become thickset and battle-scarred in the service of his director. It falls to him to trot out a number of Ingmar Bergman's inveterate opinions. That to be an artist is both a joy and a curse and what is more, unless I heard incorrectly between the lines, a social superfluity touching on the luxurious. [...] But if we scrape below the surface of the dialogue, Bergman's chamber play is about routines and seeing through them, about the world as willpower and performance. And as such, about the tedium of triumph, the knowledge that he has mastered all the tricks in the book, together with the suspicion that he cannot be bothered to tackle them one more time. And yet he can. Added to this, it should be said that yesterday's Bergman address was a harsh and mute event; tightly played, indiscrete in its psychological elucidations, at once limited in format and insidious in its richness of expression.
Jan Aghed in Sydsvenska Dagbladet:
Pictorially, After the Rehearsal stands still as narrative. But Bergman has for so long possessed such a discerning intuition for image size, juxtaposition and rhythm, surrounding himself as we know with such highly expressive faces on the part of his actors, that even this dramatic miniature becomes an intense visual experience.
Per Allan Olsson in Dagens Nyheter:
Is the unmasking of the director Henrik Vogler's driving forces just as revealing when applied to people outside the magic theatre? Despite all the question marks, even I am captivated by all the Bergmanesque magic of After the Rehearsal: his dramatic pictorial narration and his ability to spur on his actors to great feats. Ingrid Thulin's portrayal of the elderly, alcoholic actress burns right into one's retinas, naturally possessing a validity over and above all preconceptions; imprisoned in her 'only expression'– that of the theatre – she is fighting for her life both on and off the stage.
Distribution titles
After the Rehearsal (USA)
Après la répétition (France)
Despues del ensayo (Spain)
Efter repetitionen (Denmark)
Efter repetitionen (Norway)
Nach der Probe (Germany)
Po próbie (Poland)
Production details 
Production country: Sweden
Laboratory: FilmTeknik AB
Production company: Cinematograph AB, Personafilm GmbH
Original work: After the Rehearsal (Play) by Ingmar Bergman

Aspect ratio: 1,85:1
Colour system: Colour
Sound system: Optical mono

TV-screening: 1984-04-09, TV1 Sweden, 75 minutes
Henrik Vogler: At my age, when you lean forward sometimes, your head suddenly finds itself in another reality. The dead are no longer dead. The living look ghostlike. What was obvious a minute ago becomes peculiar and impenetrable.

Anna Egerman: Why me as Indra's daughter?
Henrik Vogler: Because you're quite talented.
Anna Egerman: So you think so?
Henrik Vogler: I saw you in a drama school play. Agnes in Brand. It was awful.
Anna Egerman: Yes, it was awful.
Henrik Vogler: You can only be that bad if you're talented.

Henrik Vogler: I knead the text for a specific purpose. I use a giant cross in the final scene or 100 extras on stage in rags, left fist raised. I violate Strindberg. It works, it's all the rage. I get rave reviews.

Anna Egerman: Is it really so important to be precise with your feelings? How can I protect myself from the world without my little act?
Henrik Vogler: Guess.
Anna Egerman: Maybe I shouldn't protect myself.

Anna Egerman: Many directors' paths are lined with crushed actors. Have you ever counted your victims?

Henrik Vogler: I love actors, so I can't hurt them.

Henrik Vogler: Everything is represented. Nothing is.

Rakel: Are you so tormented that you can't bear the unpredicatable?
Henrik Vogler: You're being unbearable theatrical.
Rakel: Do you think so? Sorry.
Henrik Vogler: I hate turmoil, aggressions and outbursts of emotion. I administrate, distribute and organise. I don't participate in the drama, I materialise it. I hate all things spontaneous, rash and imprecise. I have no room for my own confusion, except as a key to secrets of text, or as stimulus for the actors' creativity. My rehearsals take place in the operating theatre, where self-discipline, cleanliness, light and stillness prevail. It's the only way to approach the infinite, the pain, the darkness, and the only way to solve the enigma and learn the mechanism of repetition.

Rakel: Theatre is shit, filth and lecher, turmoil, tangles and trouble. I don't believe in your theory of purity. It's suspect. It's typical of you.

Henrik Vogler: I've never succeeded with Tartuffe.
Rakel: You should try again.
Henrik Vogler: Besides, it's a boring play.

Henrik Vogler: Nurture your childlessness. It's a good filter against consciousness
Anna Egerman: When hit by passion I'm not conscious.
Henrik Vogler: Jealous?
Anna Egerman: Normal.
Henrik Vogler: I see. I belive you.
Anna Egerman: What about you?
Henrik Vogler: Hardly normal.
James Quandt, 1996:
Ironically, this coda to Bergman's cinema career received some of the best reviews of any of his films. Andrew Sarris called it 'one of Bergman's greatest films. He has attained a sublimity of self-revelation in this masterpiece such as few artists have achieved in any medium.' Richard Corliss (Time Magazine) said it was 'as direct, serene and human as any he has made.'

A spare, pellucid work featuring three actors in one set, After the Rehearsal is a far-reaching meditation on life and theater and the connections between the two. Erland Josephson plays a theater director who is rehearsing Strindberg's A Dream Play; Ingrid Thulin, his former star, now a ravaged alcoholic who has been assigned a small role; and Lena Olin, the ambitious young female lead. The solitary musings and incendiary encounters of these characters illuminate a world which Bergman both loves and fears: that of the bare stage.
Collaborators
Erland Josephson

, Henrik Vogler, stage director

Nadja Weiss
Bertil Guve
Anna Asp

, Art Director

Ulf Björck

, Gaffer

Sven Nykvist

, Director of Photography

Lars Karlsson

, Assistant Cameraman

Eva Ivarsson

, Unit Manager

Sylvia Ingemarsson

, Film Editor

Lenamari Wallström

, Assistant Costume Designer

Inger Pehrsson

, Costume Designer

Owe Svensson

, Production Mixer

Bo Persson

, Production Mixer

Nils Melander

, Color Timer

Bengt Lundgren

, Key Grip

Jörn Donner

, Producer

Katinka Faragó

, Production Manager / Production Coordinator

Eva Bergman

, Assistant Director

Kaj Larsen

, Property Master

Kerstin Eriksdotter

, Script Supervisor

Anna-Lena Melin

, Make-up Supervisor

Arne Carlsson

, Still Photographer

Lars-Owe Carlberg

, Other Crew

Ingmar Bergman

, Screenplay