King Lear
King Lear was Bergman's first production at The Royal Dramatic Theatre after his exile in Munich, with Jarl Kulle in the leading role in the wake of his success with Fanny and Alexander.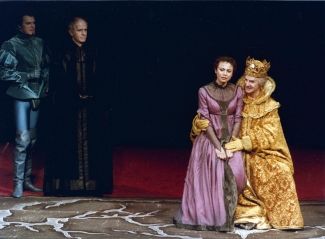 'It is unreal, dreamlike and wonderful to be back with one's own language, friends and the theatre I grew up with.'
About the production
Bergman mentioned three reasons for producing King Lear:
1) He felt like doing it 
2) He had the right actors for it
3) He thought the public would enjoy it.
As for his own relationship to Lear, he quoted Goethe. 'In an aging man there is always a King Lear'. Ingmar Bergman had not directed a Shakespeare tragedy since his third production of Macbeth in 1948. King Lear had not been staged at The Royal Dramatic Theatre since 1929. Bergman was hesitant about available Swedish translations of Shakespeare; therefore he commissioned a new translation that was to be 'a playable, speakable, and above all understandable version of King Lear'. Bergman calls Shakespeare's tragedy 'a secret continent'. He decided to approach King Lear as an existential drama and replaced Shakespeare''s anachronistic references to classical mythology.
Bergman's homecoming and return to The Royal Dramatic Theatre seemed too remarkable that one reviewer suggested the Lear production be noted in the Swedish calendar as a cultural milestone, while his colleague Björn Nilsson vowed to see to it that Bergman come back permanently to Sweden, 'even if we must drag him by his hair through the waves of the Baltic sea.' Reviews emphasized the Lear production as Bergman's very personal reading of Shakespeare's tragedy and pointed to his qualities as an inspirer of actors and staff. There was almost complete unanimity that Bergman's disciplined and lucid direction had a beneficial effect on both set designer and choreographer, and that it released the best professional qualities among the actors.
Sources
The Ingmar Bergman Archives.
Birgitta Steene, Ingmar Bergman: A Reference Guide, (Amsterdam University Press, 2005).
Collaborators
Jarl Kulle

, King Lear

Margaretha Byström

, Goneril

Ewa Fröling

, Regan

Lena Olin

, Cordelia

Jan-Olof Strandberg

, Fool

Börje Ahlstedt

, Kent

Per Myrberg

, Gloucester

Mathias Henrikson

, Edgar

Tomas Pontén

, Edmund

Per Mattsson

, Albany

Peter Stormare

, Cornwall

Olof Lundström Orloff

, Oswald

Lakke Magnusson

, Burgund

Peter Andersson

, Cornwall/Frankland

Johan Lindell

, Frankland

Hans Strååt

, Officer

Birger Malmsten

, Servant

Rolf Skoglund

, Writer

Frank Sundström

, Doctor

Gudmar Wiveson

, The Herald

Jan Nyman

, The Herald

Dennis Dahlsten

, The Captain

Pierre Wilkner

, The Fencing Master

Ing-Britt Andersson

, Jester

Ivan Ossoinak

, Jester

Marie Richardson

, Jester

Per Svensson

, Jester

Pia Johansson

, Goneril's court

Jan Halling

, Goneril's court

Staffan Lindberg

, Goneril's court

Kristina Törnqvist

, Reserve

Katarina Weidhagen

, Regan's court

Karl Dunér

, Regan's court

Rafael Edholm

, Regan's court

Malte Forssell

, Regan's court

Peter C Blomberg

, Servant

Anna-Carin Franzén

, Servant

Anders Palm

, Servant

Kim Wesén

, Servant

Anders Hambraeus

, Soldier

Thomas Strand

, Soldier

Marta Oldenburg

, Regan's court

Christer Karlsson

, Reserve

Mikael Persbrandt

, Reserve

Gerthi Kulle

, Regan

Johan Rabaeus

, The Herald

Staffan Fridman

, Jester

Elisabet Melander

, Jester

Stefan Larsson

, Jester

Anne Barlind

, Goneril's court

Maria Bergström

, Goneril's court

Anja Dahlström

, Goneril's court

Monica Knudsen

, Goneril's court

Sören Wallström

, Goneril's court

Catharina Alinder

, Regan's court

Ann-Sofie Kylin

, Regan's court

Åsa Lekberg

, Regan's court

Lena Nilsson

, Regan's court

Margareta Rylander

, Servant

Ralf Tjernlund

, Servant

Fredrik Backman

, Soldier

Niklas Danielsson

, Soldier

Stenka Fors

, Soldier

Max Glantz

, Soldier

Hans Ledel

, Soldier

Joachim Vogel

, Soldier

Clea Lundberg

, Court

Michael Winsa

, Court

Sven Larsson

, Court/Servant

Steve Kratz

, Court

Maria Therese Sarrazin

, Jester

Mikael Cocke

, Soldier

Jonas Erkman

, Soldier

Björn Hedrén

, Soldier

Fredrik Hammar

, Soldier

Bo J:son Lindh

, Soldier

Lars Forsgren

, Soldier

Carl-Henrik Wendt

, Soldier

Peter Widman

, Soldier

Uno Vesterlund

, Soldier

Eva Callenbo

, Servant

Matilda Mattson

, Servant

Paula Ternström-Almquist

, Servant

Stein Rognstad

, Servant

Erik Wingqvist

, Servant

Annika Lindberg

, Reserve

Måns Edwall

, Reserve

Oscar Ljung

, Old man

Herbert Grevenius

, Dramaturgy

Ulla Åberg

, Dramaturgy

Béla Rerrich

, Fencing instructor

William Shakespeare

, Author

Ulla Cederlund

, Stage manager

Donya Feuer

, Choreography

Mait Angberg

, Assistand choreographer

Gunilla Palmstierna-Weiss

, Costume design

Lars Johnsson

, Lighting design

Daniel Bell

, Music

Leif Qviström

, Make-up and wigs

Anna Lena Melin

, Make-up and wigs

Ingegerd Sundstedt

, Make-up and wigs

Helena von Bergen

, Make-up and wigs

Ingmar Bergman

, Director

Anita Molander

, Assistant director

Stefan Lundgren

, Props

Karl Evert Kevestad

, Props

Peter Schantz

, Advisor

Maria Lagerbielke

, Assistant designer

Holger Juhlin

, Carpenter

Britta Olin

, Prompter

Bernt Thorell

, Technician

Jakob Tigerschiöld

, Workshop

Agneta Pauli

, Workshop

Britt G. Hallqvist

, Translation