To Damascus
Ingmar Bergman commanded the theatrical diversity in Strindberg's drama and produced one of his most remarkable plays, which nevertheless met with a cold response in Berlin.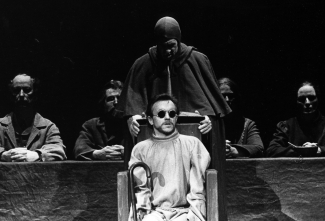 'Presently one can scarcely imagine a more proficient, competent production. Bergman knows what he is doing and does it with absolute confidence.'

Åke Janzon, Svenska Dagbladet
About the production
Strindberg's 'station drama' in three parts from 1898 and 1901 depicts the spiritual journey of a man called The Stranger. The title of the play is a reference to the conversation of the Biblical Apostle Paul en route to Damascus. Bergman chose to combine Parts I and II of Strindberg's play, he cut the text extensively and toned down its religious implications to present a human relationship drama.
More and more the critical responses to Bergman's stage productions expressed enthusiasm for his professional skills and imaginative craftsmanship, while criticism often focused on the reviewer's preconception of the text of the play and the degree to which Bergman remained loyal or sensitive to it.
Sources
Birgitta Steene, Ingmar Bergman: A Reference Guide, (Amsterdam University Press, 2005).
Germany, Berlin, 27-28 September 1974, during Berliner Festwochen
The German critics had expected to be met with 'a Bergman sensation', but were disappointed by what they considered to be a 'restrained', 'dull' and 'wordy' production.
Collaborators
Jan-Olof Strandberg

, Unknown

Helena Brodin

, The woman

Anders Ek

, The beggar

Ulf Johanson

, The doctor

Frank Sundström

, Caesar the fool

Aino Taube

, The mother

Per Sjöstrand

, The father

Oscar Ljung

, Old Ekdal

Gösta Prüzelius

, The professor

Hjördis Petterson

, Alewife

Ellika Mann

, Woman 1

Gertrud Fridh

, Woman 2

Birger Malmsten

, Slob 1

Segol Mann

, Slob 2

Dennis Dahlsten

, The policeman

Dora Söderberg

, Wet nurse

Per Grundén

, Landlord

Barbro Hiort af Ornäs

, Abbess

Gerthi Kulle

, Farm maiden

Gösta Söderberg

, Guest 1

Karl-Axel Forssberg

, Guest 2

Åke Wästersjö

, Guest 3

Beata Bergström

, Stills photographer

August Strindberg

, Author

Arne Hertler

, Stage manager

Klas Möller

, Lighting design

Lennart Halling

, Projections

Daniel Bell

, Musical arrangement

Arne Lundh

, Make-up and wigs

Marianne Lundh

, Make-up and wigs

Inga-Britt Mengarelli

, Make-up and wigs

Walter Techt

, Make-up and wigs

Rolf Linder

, Make-up and wigs

Agneta Pauli

, Producer

Ingmar Bergman

, Director

Kari Sylwan

, Assistant director

Marik Vos

, Designer

Holger Juhlin

, Carpenter

Ullacarin Rydén

, Prompter

Bernt Thorell

, Technician