Erik XIV
Bergman's sole production of a Strindberg historical drama was a step beyond his mastering of the same stage in The Crown Bride.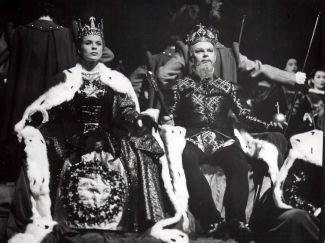 'The Shakespearean multiplicity, the Shakespearean diversity in the play had to be brought under control, and Bergman did so without deleting a single scene - as far as I could tell, without deleting a single word.'
About the production
Bergman's approach was to stylize the setting in Strindberg's historical drama and minimize stage conventions. There were no specially constructed interior or exterior sets, no rotating stage, and no curtain. The only décor was an immense vault that spanned the stage and could be lowered and raised by a simple mechanism. Bergman did not cut a single line from Strindberg's text but added new dramatic vignettes, such as a vampire-like courtly ballet and the appearance of a substitute king at Erik's and Karin Månsdaughter's wedding, dressed like a woman but wearing a huge white beard.
The reviews of the Erik XIV production were sharply mixed, a great many of them highly critical, calling Bergman's approach an unfortunate return to an earlier, more excessive directing style.

At the other end of the critical spectrum were views like who nominated Bergman as Olof Molander's heir as a director of Strindberg, and who concluded ambiguously: 'In sum, it is a production one could probably cope with seeing seven times a week'.
Sources
The Ingmar Bergman Archives.
Birgitta Steene, Ingmar Bergman: A Reference Guide, (Amsterdam University Press, 2005).
Collaborators
Toivo Pawlo

, Erik XIV

Åke Fridell

, Göran Persson

Bibi Andersson

, Karin Månsdotter

Oscar Ljung
Åke Askner
Leif Hedberg

, Nils Sture

Berndt Henziger

, Erik Sture

Björn Bjelfvenstam

, Nils Gyllenstjerna

Jullan Kindahl

, Göran Persson's mother

Nine-Christine Jönsson

, Göran Persson's mother

Ingrid Thulin

, Agda

Gerd Hein
Nils Eklund

, Johan

Max von Sydow

, Carl

Yngve Nordwall

, Peder Welmanson

Axel Düberg

, Max

Josef Norman
Gustaf Färingborg

, Lejonhufvud

Hans Kjölaas

, Ivarsson

Karl-Fredrik Liljeholm

, Brahe

Per Björkman
Lenn Hjortzberg

, The dwarf

Gerhard Lindqvist
Thure Carlman
Åke Åkerlund
August Strindberg

, Author

Ingrid Tönsager

, Choreography

Greta Johansson

, Costume design

Manne Lindholm

, Costume design

Ingmar Bergman

, Director

Per Falk

, Designer