Faithless
Infidelity drama inspired by Bergman's own life during the autumn of 1949. Directed by Liv Ullmann, screenplay by Ingmar Bergman.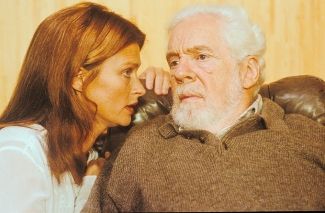 About the film
Faithless was first screened in competition at the Cannes Film Festival in 2000. Though it had a rather cool reception, Lena Endre was praised for her portrayal of Marianne Vogler. Still, the prize for best actress went to Björk in Dancer in the Dark, Lars von Trier's film who also had the Palme d'Or.

Swedish critics were kinder when the film premiered in Sweden in September of the same year. The critics applauded Liv Ullmann's good care of her actors, not the least Lena Endre, who once again received praise.
Sources
The Ingmar Bergman Archives.
Distribution titles
Infedele (Italy)
Infiel (Spain)
Faithless (USA)
Treulosen (Germany)
Troløs (Denmark)
Uskoton (Finland)
Production details 
Production country: Sweden, Norway, Finland, Italy, Germany
Swedish distributor (35 mm): Svensk Filmindustri
Production company: Sveriges Television AB
Co-production company: Svensk Filmindustri, SF Norge A/S, Yleisradio Ab, Radiotelevisione Italiana, Zweites Deutsches Fernsehen

Aspect ratio: 1,85:1
Colour system: Colour
Sound system: Dolby Stereo Spectral Recording

Censorship:  136.925
Date: 2000-06-05
Age limit: 11 years and over
Length: 4221 metres
Release date:  2000-09-15, Filmstaden, Göteborg, Sweden
Filmstaden, Malmö, Sweden
Filmstaden Söder, Stockholm, Sweden
Röda Kvarn, Stockholm, Sweden
Marianne (Lena Endre) is happily married to Markus (Thomas Hanzon), a successful conductor. They have a nine-year-old daughter, Isabelle. Markus's best friend is David (Krister Henriksson). Twice divorced, David is often at Marianne and Markus' apartment, and is Isabelle's favourite storyteller. One night, while Markus is away, David visits the flat as usual. But the sexual and emotional attraction that Marianne and David have for one another changes what was once a safe, platonic friendship. An intense affair develops, with devastating consequences.

Within this complex set of relations, no one is innocent, people manipulate those they love, secrets are revealed, and everyone is faithless.

Erland Josephson plays the role of Bergman.
Collaborators
Thomas Hanzon
Michelle Gylemo
Juni Dahr
Philip Zandén
Thérèse Brunnander
Johan Rabaeus
Jan-Olof Strandberg
Björn Granath
Gertrud Stenung
Rasmus Rasmusson

, Propman

Calle Persson

, First Assistant Cameraman

Love Malmsten

, Construction Coordinator

Lars Gustafsson

, Second Assistant Cameraman

Per Eriksson

, Driver

Lars Stålberg

, Gaffer

Bengt-Inge Hertzman

, Gaffer

Tommy Andersson

, Gaffer

Mats Arehn

, Film Commissioner

Arne Carlsson

, Second Unit Cameraman

Jörgen Persson

, Director of Photography

Roland Lindmark

, Unit Manager

Ise Wentzel

, Assistant Film Editor

Sylvia Ingemarsson

, Film Editor

Inger Eiserwall

, Assistant Costume Designer

Inger Pehrsson

, Costume Designer

Gunnar Landström

, Production Mixer

Bengt Wallman

, Production Mixer

Sten Lindberg

, Color Timer

Cecilia Drott

, Make-up / Hair

Elisabeth Ekman

, Make-up / Hair

Gábor Pasztor

, Re-recording Mixer

Teddy Holm

, Painter / Scenic Artist

Adrian Wester

, Key Grip

Elisabeth Liljeqvist

, Production Manager / Production Coordinator

Karin Brodahl-Persson

, Production Secretary

Kaj Larsen

, Project Leader

Liv Ullmann

, Director

Gunnlaugur Jónasson

, Assistant Director

Jan-Erik Savela

, Property Master

Maria Kiisk

, Casting

Göran Wassberg

, Production Designer

Åsa Persson

, Assistant Production Designer

Lotta Gummesson

, Script Supervisor

Jan Eriksson

, Carpenter

Lars-Göran Kask

, Carpenter

Anders Olin

, Carpenter

Jerker Malmsten

, Carpenter

Joakim Strömholm

, Still Photographer

Nadja Glans

, Sound Editor

Maria Curman

, Executive Producer

Karin Sheppard

, Other Crew

Hjalmar Palmgren

, Other Crew

Berit Calderon

, Other Crew

Einar Björge

, Other Crew

Anneli Oscarsson

, Other Crew

Jan B. Larsson

, Other Crew

Ingmar Bergman

, Screenplay