The Gambling Hall/Mr Sleeman Cometh
Bergman stages two seldom shown one-act plays written by Hjalmar Bergman at the end of the 1910s.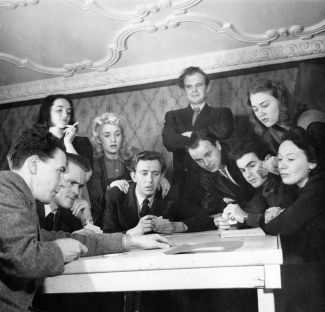 'Mr Sleeman Cometh] is a little masterpiece. It's a pity that Hjalmar Bergman isn't staged more often...'
About the production
The play was presented by Ingmar Bergman as an expressionistic nightmare, supported by Gunnar Lindblad's phantasmagorical stage design. The Gambling Hall is a minor dramatic exercise, clearly imitation of German expressionistic dramas of the 1920's.
 
Sources
The Ingmar Bergman Archives.
Collaborators
Toivo Pawlo

, The manager (The Gambling Hall) / Mr Sleeman

Inge Waern

, Olga (The Gambling Hall) / Anne-Marie (Mr Sleeman Cometh)

Anders Ek

, The friend (The Gambling Hall) / The hunter (Mr Sleeman Cometh)

Birger Malmsten

, Gunnar (The Gambling Hall)

Åke Fridell

, Railrood king (The Gambling Hall)

Bertil Sjödin

, (unknown part)

Monica Schildt

, (unknown part)

Sif Ruud

, Aunt Mina (Mr Sleeman Cometh)

Rune Stylander

, (unknown part)

Curt Edgard

, (unknown part)

Palle Granditsky

, (unknown part)

Tulli Sjöblom

, (unknown part)

Siv Thulin

, (unknown part)

Margit Andelius

, Aunt Bina (Mr Sleeman Cometh)

Franci Uher

, (unknown part)

Hjalmar Bergman

, Author

Ingmar Bergman

, Director