The Passion of Anna
A loner living on an isolated island begins a relationship with a married woman in Bergman's "first true color film".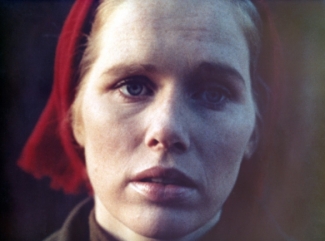 "[W]ithin the narrow confines of the chamber play, Bergman is still the only master in Swedish cinema."

Jurgen Schildt in Aftonbladet
About the film
Memorable and noteworthy from this chamber play is the fact that the four leading actors appear in special takes, one at a time, commenting upon their characters' mental state, an interview style Bergman probably borrowed from Godard's La Chinoise. Interrogator is Bergman himself. His first question is addressed to the film's leading actor, von Sydow, in the fourth take:
'Max, as an actor, what is your personal view of Andreas Winkelman?'

Max von Sydow: 'He is awfully difficult in one way, because he has tried to hide from the world around him. His unhappy marriage and his legal worries have driven him to a blind alley where he tries to conceal his identity. He tries to wipe out his means of expression, so that, without being aware of it that hiding place has become a prison. The hard thing to me is to try and express a lack of expression.'
Sources of inspiration 
Writing in Images: My Life in Film: 
The four leading characters in the film use Johan (Erik Hell) as a accomplice in their game. There exists a parallel between Johan and the fisherman Jonas in Winter Light. Both become victims of the characters' paralysis and inability to engage in human emotional experience. My philosophy (even today) is that there exists an evil – and humans are the only animals to possess it. An evil that is irrational and not bound by low. Cosmic. Causeless. Nothing frightens people more than incomprehesible, unexplainable evil.
Shooting the film 
The film was shot on Fårö during the autumn of 1968. Bergman writing in Images:
The filming of The passion of Anna took forty-five days and was quite an ordeal. The screenplay had been written in a white heat. It was more a description of a series of moods than a traditional, dramatic film sequence. Ordinarily, I solved any anticipated technical problems immediately in the writing stage. But here I chose to deal with the problems during filming. To some extent this decision was made because of a lack of time, but mostly I felt a need to challenge myself.

The passion of Anna was also the first true color film Sven Nykvist and I did together. In All these Women we had filmed in color according to the established rules. This time we wanted to make a film in color as it had never been done before. Contrary to our usual collaborative experiences, we found ourselves in endless conflicts. My intestinal ulcer acted up, and Sven had vertigo. Our ambition was to make a black-and-white film in color, with certain hues emphasized in a strictly defined color scale. It turned out to be difficult. The color negative exposed slowly and demanded a totally different lighting than it would today. The poor result of our efforts confused us, and, regretfully, we argued often.

It was also 1968. The seeds of rebellion from that year began to reach even the crew at Fårö. Sven had an assistent photographer with whom we had worked on several earlier films. He was a short man with round glasses, like a militar serviceman. Nobody had been more diligent and industrious than he. Now he was transformed into an active agitator. He called us dictator and that all artistic decisions should be made by the whole crew. I declared that those who did not like our way of working could return home next day with their salaries intact. I was not going to change my method and schedule of shooting and did not intent to accept artistic decisions from the crew. Nobody wanted to go home. I saw to it that our agitator was assigned to ohers duties, and the filming of The Passion of Anna continued without any futher protest meetings. The filming, however, became one of the worst I have ever experienced, equal to This can't happen here, Winter Light, and The Touch.
Epilogue 
United Artists was the company responsible for international distribution of The Passion of Anna. The Swedish newspaper Expressen was far from happy with the company's marketing: 'Despite their new style of language, the same old clichés are being trotted out: A film from Sweden – that nation of suicidal sex addicts who find the temperature cold outside but all the more warm in bed.'

Screened outside the competition at the 1970 Cannes Film Festival, the film was very positively received by the French critics. In April that year Bergman had been awarded a special prize by the catholic jury at the International Film Weeks in Valladolid, Spain, an event to showcase films of special religious or universal human interest. He also received an award for screenwriting.
Sources
The Ingmar Bergman Archives.
Ingmar Bergman, Images: My Life in Film.
Collaborators
Max von Sydow

, Andreas Winkelman

Erik Hell
Sigge Fürst
Svea Holst
Annicka Kronberg
Hjördis Petterson
Brian Wikström
Malin Ek
Britta Brunius
Brita Öberg
Marianne Karlbeck
P.A. Lundgren

, Art Director

Arne Carlsson

, Assistant Unit Manager

Roland Lundin

, First Assistant Cameraman

Sven Nykvist

, Director of Photography

Siv Lundgren

, Film Editor

Max Goldstein

, Costume Designer

Ethel Sjöholm

, Costume Designer

Lennart Engholm

, Production Mixer

Olle Jakobsson

, Re-recording Mixer

Johann Sebastian Bach

, Music Composer

Allan Gray

, Music Composer

Karl-Arne Bergman

, Property Master

Jan Söderkvist

, Property Master

Katinka Faragó

, Script Supervisor

Börje Lundh

, Make-up Supervisor

Cecilia Drott

, Make-up Supervisor

Ulf Nordholm

, Sound Effects

Ingmar Bergman

, Screenplay