The Poor Bride
Aleksandr Ostrovskij's play, written in 1878, introduced bourgeois drama in Russia but had never been performed in Sweden, when Bergman decided to stage it at Malmö's Intiman, transforming the play into an ironic critique of the male species.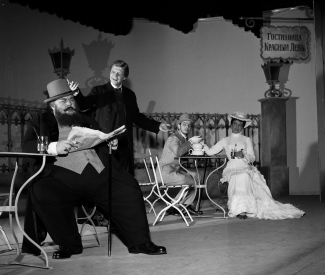 Reviews and comments
'A melodrama in a provincial town; wonderful material for Ingmar Bergman to work with!' exclaimed Nils Beyer in his review. He and others remarked on the kinship in temperament between the director and playwright.
On the whole, the reception of this stage production demonstrated the same kind of ambivalence that much of Bergman's filmmaking was beginning to elicit abroad. On the one hand a critical corps overwhelmed by the director's uninhibited and visually charged presentation; on the other hand, reservations about an artist who seemed to manipulate both his cast and his audiences emotionally to enforce his personal vision.
Sources
The Ingmar Bergman Archives.
Birgitta Steene, Ingmar Bergman: A Reference Guide, (Amsterdam University Press, 2005).
Collaborators
Harriet Hedenmo

, Xarita Ignacevna Ogudalov

Gunnel Lindblom

, Larisa Dmitrievna

Benkt-Åke Benktsson

, Mokij Parmenyc Knurov

Folke Sundquist

, Vasilij Danilyc Vozjevato

Toivo Pawlo

, Julij Kapitonyc Karandysc

Max von Sydow

, Sergej Sergejic Paratov

Naima Wifstrand

, Efrosinia Potapovna

Åke Fridell

, Robinzon

Josef Norman

, Gavrilo

Björn Bjelfvenstam

, Ivan

Berndt Henziger

, Ilja

Aleksandr Ostrovskij

, Author

Ingmar Bergman

, Director

Martin Ahlbom

, Designer