In the Presence of a Clown
Uncle Carl encounters death in the guise of a female clown.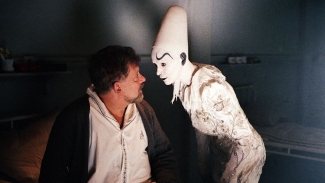 '[A]mong the soon 80-year-old director's most powerful works.'

Nils Schwartz in Expressen
About the film
At the centre of In the Presence of a Clown we find a recurring Bergman character: uncle Carl Åkerblom, engineer and Schubert fan. Börje Ahlstedt returns to the role for the fourth time following Fanny and Alexander, The Best Intentions and Sunday's Children. 

The year is 1925 and the 54-year-old inventor Carl Åkerblom, has been locked-up at the psychiatric ward of Akademiska Hospital in Uppsala for the attempted murder of his fiancée, Pauline Thibault (Marie Richardson). Carl is intrigued by the idea of replacing silent movies with talking pictures. Together with another patient, Professor Osvald Vogler (Erland Josephson), he gets together a performance to show the magic of this idea.  A group of people attend the performance, including Carl's stepmother. During the performance emotional confrontations come to the surface among the people there. 

Though orginally made for television, In the Presence of a Clown was screened in the 'Un certain regard' at the Cannes film festival.
Sources
The Ingmar Bergman Archives.
Distribution titles 
Dabei: Ein Clown (Germany) 
En présence d'un clown (France)
I klovnens nærvær (Norway) 
In the Presence of a Clown (England)
Vanità e affanni (Italy)
Production details 
Production country: Sweden, Denmark, Norway, Italy, Finland, Germany
Production company: Sveriges Television AB, Danmarks Radio, Norsk Rikskringkasting, Radiotelevisione Italiana, Yleisradio Ab TV1, Zweites Deutsches Fernsehen

Original work: Larmar och gör sig till (Play)

TV-screening: 1997-11-01, SVT1, Sverige, 120 minuter
Collaborators
Ingmar Bergman

, Director, screenplay and a patient

Måns Reuterswärd

, Producer

Pia Ehrnvall

, Producer

Raymond Wemmenlöv

, Director of Photography

Tony Forsberg

, Director of Photography

Sven-Åke Visén

, Director of Photography

Pelle Norén

, Director of Photography

Sylvia Ingemarsson

, Film Editor

Göran Wassberg

, Production Designer

Mette Møller

, Costume Designer

Cecilia Drott

, Make-up

Christina Sjöblom

, Make-up

Franz Schubert

, Music Composer

Börje Ahlstedt

, Carl Åkerblom

Marie Richardson

, Paulin Thibault

Erland Josephson

, Osvald Vogler

Pernilla August

, Karin Bergman

Peter Stormare

, Petrus Landahl

Anita Björk

, Anna Åkerblom

Lena Endre

, Märta Lundberg

Agneta Ekmanner

, Rigmor, the clown

Gunnel Fred

, Emma Vogler

Johan Lindell

, Johan Egerman

Gerthi Kulle

, Nurse Stella

Anna Björk

, Mia Falk

Folke Asplund

, Fredrik Blom

Inga Landgré

, Alma Berglund

Alf Nilsson

, Stefan Larsson

Harriet Nordlund

, Karin Persson

Tord Peterson

, Algot Frövik

Birgitta Pettersson

, Hanna Apelblad