Rabies
Bergman directs TV movie from "an unpleasant piece" by Olle Hedberg.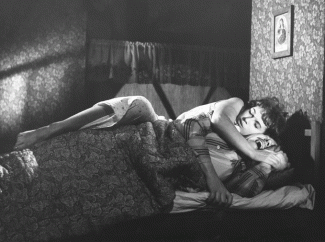 About the film
This made-for-television film was based on Olle Hedberg's script, which Ingmar Bergman had directed for the City Theatre of Hälsingborg as early as in 1945, and as a radio play the following year. Bergman, who called the play 'an unpleasant piece', used stage actors from Malmö. The scarce reviews of the film focused on Bergman's faiblesse for the puppet theatre and the morality play, with the result that the characters functioned as types.
Sources
The Ingmar Bergman Archives.
Production details
Production country: Sweden
Production company: Sveriges Radio AB
Original work: Rabies eller Lindras livets kval av likars jämmer? (Play) by Olle Hedberg

Aspect ratio: 1,37:1
Colour system: Black and white
Original length (minutes): 89

TV-screening: 1958-11-07, TV Sweden, 89 minutes
Countryside shop-keep Sixten (Åke Fridell) is being mean towards his mistress, the maid Jenny (Gunnel Lindblom). Jenny takes her revenge by causing a rift between Eivor (Bibi Andersson) and her husband-to-be, who in turn vents his frustration on his cousin Knut (Tor Isedal) a military career man who torments his inferiors. Private Sven (Axel Düberg), a student in his civilian life, compensates by being a bully towards the pupil whom he's helping out with his studies. The latter retaliates against Sixten, the shop-keep.

A relay race of "scenes from human life". The recurring theme is how mankind's worst qualities spread like a disease: the person who gets rejected/humiliated/downtrodden takes it out on someone else. What goes around...
Collaborators
Folke Sundquist
Dagny Lind
Tor Isedal
Axel Düberg
Nils Nygren
Åke Jörnfalk
Marianne Stjernqvist
Gunnel Blixt
Olle Hedberg

, Screenplay

Henrik Dyfverman

, Producer

Ingmar Bergman

, Director