A Shadow / Medea
The combination of Hjalmar Bergman and Jean Anouilh is somewhat disconcerting as Bergman continues his miserable residence at Lorens Marmstedts Intiman.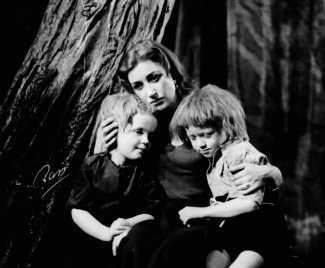 'Medea ran around barefoot like a gypsy and her wet nurse had the dirtiest skirt I have ever seen on stage.'
About the production
Medea was also produced for Radioteatern in 1951. Bergman himself seemed to be unsatisfied with both the production and life in general, as can be noted in the following quote. 'Everything failed and I was a suspect character.' Even though the production was not hailed a public success, the criticism was not  as harsh as Bergman later wished. 
Some concluded that the common bond was to be found in Ingmar Bergman's particular view of life - in his fascination with worldly evil.
Sources
The Ingmar Bergman Archives.
Collaborators
Lars Egge

, The bridesgroom (A Shadow)

Ann-Mari Wiman

, The bride (A Shadow)

Hjördis Petterson

, Mother of the bride (A Shadow)

Birger Malmsten

, Erik (A Shadow) / The boy (Medea)

Ulf Johanson

, Mathias (A Shadow) / Kreon (Medea)

Julie Bernby
Teeri Stenhammar
Marie-Louise Martins
Gösta Prüzelius
Lars-Erik Liedholm
Gertrud Fridh

, Medea

Anders Ek

, Jason (Medea)

Märta Arbin

, Wet nurse (Medea)

Hjalmar Bergman

, Author (A Shadow)

Jean Anouilh

, Author (Medea)

Ingmar Bergman

, Director

Eric Söderberg

, Designer

C.G. Bjurström

, Translation (Medea)

Tuve Ambjörn Nyström

, Translation (Medea)