The Virgin Spring
An austere study of rape, evil and death, based on a 13th century folksong.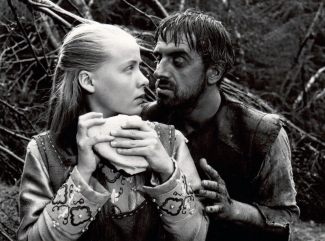 "At the time I'd thought it a good film, one hell of a fine film! I considered it one of my best films. I thought it was magnificent."
About the film
Based on a 13th century folksong, the screenplay was written by Ulla Isaksson. Bergman has often spoken of Akira Kurosawa's Rashomon as one of his favourite films. The Virgin Spring undoubtedly owes a debt to this work, as it also does to Victor Sjöström's cinematic studies of nature.

Shooting the film
The film was shot at various locations in Dalarna, including Styggforsen and Skattungby.

The original PR material contained a short piece written by Ingmar Bergman entitled: Pages from a Non-Existent Diary. He tells the story of a rainy morning in the late spring of 1959: 'All were active in order to keep warm. The temperature was about the freezing point, and now and then snowflakes appeared from the ice-grey mist.'

The crew struggled to get the ageing camera equipment working in the harsh weather, when suddenly the clouds parted and the sun shone through. Time for a take: 'However, as the rays of the sun penetrated and sparkled across the mysterious darkness of this water in the forest and through the transparent spring green of the Swedish birch trees, someone called out loudly and pointed to the sky.'

Two cranes were flying majestically over the treetops. Everyone stopped working to admire the scene. When the birds had disappeared, Bergman mused for a moment over how pleasant it would be to have a Hollywood-like setup at his disposal:

'[...] to have a camera track that was not buckled, a camera truck that does not creak, and it would be quite an event just for once to make a motion picture with a budget of over two hundred and fifty thousand dollars, just for the experience. However, despite all that I am turning down the American offer down flat. I felt a sudden happiness and relief. I felt secure and at home.'

Epilogue 
The scenes of violence in the film caused a heated debate in the press. The film censors were criticised for passing it without cuts, and one individual actually complained to the Swedish Parliamentary Ombudsman (who did not, however, see fit to take any action).

The film won several international awards, including an honoray nomination and the critics' award at the 1960 Cannes Film Festival. It also picked up the Oscar for Best Foreign Language film of 1960, presented on 17 April 1961.
Sources
The Ingmar Bergman Archives.
Stig Björkman, Torsten Manns & Jonas Sima, Bergman on Bergman, (New York: Da Capo P., 1993).
Collaborators
Birgitta Valberg
Birgitta Pettersson
Axel Düberg
Tor Isedal
Ove Porath
Axel Slangus
Gudrun Brost
Oscar Ljung
Tor Borong
Leif Forstenberg
Ann Lundgren

, in för Gunnel Lindblom och Birgitta Valberg

P.A. Lundgren

, Art Director

Rolf Holmqvist

, First Assistant Cameraman

Staffan Dalin

, Boom Operator

Sven Nykvist

, Director of Photography

Carl-Henry Cagarp

, Unit Manager

Oscar Rosander

, Film Editor

Marik Vos

, Costume Designer

Aaby Wedin

, Production Mixer

Ulla Isaksson

, Screenplay

Erik Nordgren

, Music Composer

Allan Ekelund

, Production Manager / Production Coordinator

Lenn Hjortzberg

, Assistant Director

Karl-Arne Bergman

, Property Master

Ulla Furås

, Script Supervisor

Börje Lundh

, Make-up Supervisor

Ingmar Bergman

, Director