The People of Värmland
Bergman chose Fredrik August Dahlgren's public favourite as his farewell to Malmö City Theatre, staging it around Christmas 1958.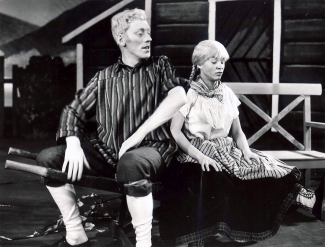 'When I was younger I thought that the people of Värmland were awful and despicable. I was the most intelligent, brilliant one out there. Now I feel the exact opposite.'
About the production
Bergman wanted to stage The People of Värmland as a sign of gratitude for a memorable childhood experience of the play. But he had actually tackled the play before; in fact every Christmas since 1951, a taped radio version directed by Bergman had been broadcast on Swedish Public Radio. 
In an interview Bergman claims having stopped working as a luxury prostitute. From now on he was to attract the masses that seldom went to the theatre, and do so with quality productions:
If you produce a popular play, you must do so with quality. It is very easy to stage popular plays in a careless and ugly fashion. But there should be beautiful music and fun people, colourful costumes and stage design, a moving plot, the right length of the performance (...). The person who sees The People of Värmland for the first time will certainly find the theatre enjoyable. Then he will perhaps return and see Faust.
The production as a whole was a huge critical and popular success, and it was suggested that the Malmö City Theatre make it a tradition to present The People of Värmland once a year at Christmas time. A good many reviews explained the success as a mixture of national nostalgia, like leafing through an old picture book as good solid entertainment.
Bergman's approach to his material was ironic but not overbearing, 'the kind of amusing lack of respect one can permit oneself towards something one loves with all one's heart (…...) It is on that love that his production builds, and it is that love he communicates to the audience, just as he apparently communicated it to his cast'.
It is rather rare in Sweden to find such rave and happy theatre reviews as those that appeared fairy regularly during Bergman's Malmö years. The period has come to live on as one of the absolute peaks in Bergman's career as a stage director. Upon his departure from the Malmö stage, several reviewers commented on his development as a theatre director, listing as important features his careful reading of the dramatic text; his attention to detail the mise-en-scene and casting; his ability to inspire and hold together a huge ensemble.
Sources
The Ingmar Bergman Archives.
Birgitta Steene, Ingmar Bergman: A Reference Guide, (Amsterdam University Press, 2005).
Collaborators
Toivo Pawlo

, Foundry proprietor

Olav Gerthel

, Vilhelm

Anna-Stina Walton

, Lotta

Albin Lindahl
Åke Fridell

, Sven Ersson

Dagny Lind

, Lisa

Folke Sundquist

, Erik

Bibi Andersson

, Stina

Max von Sydow

, Per

Tor Isedal

, Ola

Gunnel Lindblom

, Britta

Oscar Ljung

, Jan Hansson

Kerstin Rabe

, Annika

Christina Lindström

, Anna

Arne Hasselblad

, Anders

Axel Düberg

, Bengt

Lenn Hjortzberg

, Hinrik

Nils Nygren
Åke Askner

, Nisse

Fredrik August Dahlgren

, Author

Ingrid Tönsager

, Choreography

Ingmar Bergman

, Director

Martin Ahlbom

, Designer