Shame
A married couple cultivate their garden on an island just off the coast, trying in vain to avoid the war that is encroaching from the mainland.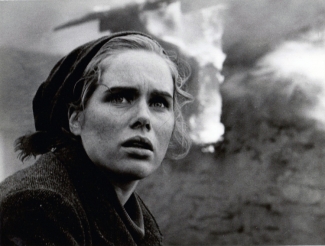 "With 'The Shame', Bergman has stepped out of the struggle with his own demons to our own times, to something outside and greater than himself."

Mauritz Edström in Dagens Nyheter
About the film
Max von Sydow and Liv Ullmann play the leads in this dystopic drama. Originally entitled 'The War', Bergman changed the name to 'The Dreams of Shame' during the writing of the screenplay. The film's final title came about only when it had been completed. The MSEK 2.8 budget, rather high for a black and white Swedish film, was largely met by overseas sales (handled by United Artists) before the film premiered.

Ingmar Bergman writing on the genesis of the film in Images My life in Film:

'For a long time before making this film I had carried around the notion of trying to focus on the 'little war', the war that exist on the periphery where there is total confusion, and nobody knows what is actually going on. If I had been more patient when writing the script, I would have depicted this 'little war' in a better way. I did not have that patience.'

Sources of inspiration 
Bergman in Images: 
To make a war film is to depict violence committed toward both groups and individuals. In American film, the depiction of violence has a long tradition. In Japan, it has developed into a masterful titual, matchlessly choreographed. When I made Shame, I felt an intense desire to expose the violence of war without restraint. I did not understand that a modern portrayer of war needs a totally different fortitude and professional precision than what I could provide.

Once the outer violence stops and the inner violence begins, Shame becomes a good film. When society can no longer function, the main characters lose their frame of reference. Their social relations cease. The people crumble. The weak man becomes ruthless. The woman, who had been the stronger, falls apart. Everything slips away into a dream play that ends on board refugee boat. Everything is shown in pictures, as in a nightmare. In a nightmare, I felt at home. In the reality of war, I was lost. (During the whole screenwritting period, the story was called Dreams of Shame.)

In other words, we are talking about poorly constructed manuscript. The first half of the film is really nothing more than an endlessly drawn-out prologue that ought to have been over and done within ten minutes. What happens later could have been built upon, fleshed out, and developed as much as was needed. I didn't ever see that. I didn't see it when I wrote the screenplay; I didn't see it when I shot the film; I didn't see it when I edited it. During that time I lived with the idea that Shame was self-evident and emotionally logical all the way through.

That during the course of working one does not see anything wrong with the mechanics of the script is probably due to a self-protective reflex that funtions throughout a long and complicated procedure. This defensive mechanism quiets the critical superego. With your self-critical inner voice hollering in your ear, shooting a film would probably become much too heavy and painful to bear.
Shooting the film 
Shooting took place on Fårö, where Bergman had recently settled, from the middle of September until late November 1967. The 40-man film crew was assisted on occasions by members of the Swedish armed forces stationed nearby.

Epilogue 
In early October 1968 Bergman's perceived lack of engagement in the burning issue of the day (the Vietnam War), as evinced by a number of reviewers, resulted in an intensive debate in the Swedish press. It was sparked off by the radical Swedish novelist Sara Lidman, who published a scathing attack on Bergman in Aftonbladet on 6 October. When a number of articles appeared in his defence, Lidman reiterated her position in two further articles in the same newspaper, published on 13 and 19 October respectively.
Sources
The Ingmar Bergman Archives.
Ingmar Bergman, Images: My Life in Film.
Jurgen Schildt in Aftonbladet:
Bergman has tried yet, for the most part, failed to succeed. His illusory devices are not up to scratch this time. There is, with the exception of Liv Ullmann, an academic air to his characters, his conflicts and the background of war that he creates. The military drills are obvious, and one can almost hear the hearty voices of command: 'forward, march…..'

I do not know why, but for my own part I refuse to obey orders. Perhaps because the deception is too obvious. Perhaps because Bergman has not been able to convince himself before trying to convince the rest of us. Or perhaps because the subject is greater than the director who has transposed the war – the vexed question of Vietnam – to a few acres on Fårö and the surrounding area.
'With The Shame, Bergman has stepped out of the struggle with his own demons to our own times, to something outside and greater than himself. It gives his language a simplicity and openness which he has very seldom before achieved, (and) in his strongest moments, a sense of horror before which one is helpless.'
Mauritz Edström in Dagens Nyheter

'Björnstrand's portrayal of a person who has walked the tightrope of degradation to its limit seems to me to illustrate most starkly what The Shame is about: the dignity that in a war can only exist as an awareness of death, the cowardice in those who want to survive, the impossibility of acting with humanity in an inhuman situation. It is a disturbing image in a disturbing film.'
Lasse Bergström in Expressen
Disribution titles
La honte (France - translated title)
Schande (West Germany)
Shame (USA)
Shame (Great Britain)
Skammen (Norway)
Szégyen (Hungary)
La verguenza (Spain)
Production details 
Working title: Skammens drömmar
Production country: Sweden
Swedish distributor (35 mm): Svensk Filmindustri, Svenska Filminstitutet
Laboratory: FilmTeknik AB
Production company: Svensk Filmindustri
Cinematograph AB

Aspect ratio: 1,37:1
Colour system: Black and white
Sound system: Optical mono
Original length (minutes): 103

Censorship:  106.933
Date: 1968-06-26
Age limit: 15 years and over
Length: 2820 metres

Release date: 1968-09-29, Spegeln, Stockholm, Sweden, 103 minuter
1968-09-29, Camera, Täby, Sweden
Filming locations 
Sudersand, Fårö, Sweden
Visby, Gotland, Sweden 
Eva: Many of the things that might be bad between us depend on the fact that we have no children, that I, as a woman, don't have a child. I mean, I'm 30, and it's time I had a baby.
Jan: 30 is not old. You can wait till you're 40.

Eva: Next time we go to the village, we can see the doctor.
Jan: Why?
Eva: To be examined. I mean, since we don't have any children yet, and if it may depend on, I mean, I am healthy, one know that…
Jan: Yes, but I'm healthy too. We're both healthy. It's just psychological.
Eva: Jan, I'm serious, if we go to the doctor, he can examine you. I don't mean it personally, but the time we didn't live together. I mean, we both know what you were doing then.
Jan: I didn't do anything.
Eva: But that could be important. It could be why we don't have children. Because you had a lot of women that…
Jan: I didn't. Why talk about this? It was nothing. I've always loved you.
Eva: What about the opera singer?
Jan: No, I didn't even like her. You know that, it was nothing. It only happened once. I have always loved you, Eva. I've always loved you. And I love you now.
Jan: I'm not as selfish as you think.
Eva: I think you're enormously selfish.
Jan: I'm going to be a better person next year – even next week.
Eva: Will you?
Jan: I promise. I believe in a complete change of character – if you want it enough.
Eva: You?
Jan: Yes, I am not a determinist, you see.

Eva: Sometimes everything seems just like a dream. It's not my dream, but someone else's, that I have to participate in. What happens when the one who dreamt us wakes up and feels ashamed?

Jan: Funny, when there was a war, we were at least relatively nice to each other.

Soldier: Where do you belong? Whose side are you on?
Jan: I don't belong anywhere. We're musicians.
Soldier: You were musicians. There aren't any orchestras any more.

Jacobi: This business of being an artist. Is it all it's cracked up to be? Does it free you from all your obligations? You're wrong.

Jacobi: I have only experienced human nearness a few times. Always in connection with pain. Is it the same for you?
During civil war, two musicians retreat to a rural island to farm. They are apolitical; a neighbor sometimes gives them a fish; wine is a luxury. They love each other, but there are problems: the war upsets Jan, he is weepy, too sensitive; Eva wants children, he does not. The war suddenly arrives: rebels attack, neighbors die. When the other side restores order, Jan and Eva are arrested as collaborators. After frightening and roughing them up, the local colonel releases them; then he begins appearing at their farmhouse: to talk or to pursue Eva? He gives her money. The rebels return; chaos ensues. Jan becomes violent and murderous; they flee. Can they escape? If so, to what?
Collaborators
Birgitta Valberg
Sigge Fürst
Hans Alfredson
Ingvar Kjellson
Frank Sundström
Gösta Prüzelius
Willy Peters
Björn Thambert
Bengt Eklund
Rune Lindström
Frej Lindqvist
Åke Jörnfalk
Lars Amble
Karl-Axel Forssberg
Brita Öberg
Pelle Berglund
Nils Fogeby
Agda Helin
Ellika Mann
Gregor Dahlman
Brian Wikström
Monica Lindberg
Nils Whiten
Jan Bergman
Georg Skarstedt
Lilian Carlsson
Börje Lundh
Eivor Kullberg
Karl-Arne Bergman
Stig Lindberg
P.A. Lundgren

, Art Director

Roland Lundin

, First Assistant Cameraman

Berndt Frithiof

, Boom Operator

Gillis Roosvall

, Driver

Jan Nilsson

, Gaffer

Georg Engstrand

, Gaffer

Gerhard Carlsson

, Gaffer

Sven Nykvist

, Director of Photography

Ulla Ryghe

, Film Editor

Max Goldstein

, Costume Designer

Lennart Engholm

, Production Mixer

Olle Jakobsson

, Re-recording Mixer

Johann Sebastian Bach

, Music Composer

Börje Krogstad

, Key Grip

Stig Limér

, Key Grip

Einar Carlsson

, Key Grip

Lars-Owe Carlberg

, Production Manager / Production Coordinator

Raymond Lundberg

, Assistant Director

Arne Carlsson

, Assistant Property Master

Lennart Bergqvist

, Advisor

Rustan Åberg

, Advisor

Katinka Faragó

, Script Supervisor

Cecilia Drott

, Make-up Supervisor

Helena Olofsson

, Make-up Supervisor

Evald Andersson

, Sound Effects

Lennart Blomqvist

, Other Crew

Ingmar Bergman

, Screenplay