Brink of Life
Small scale story of three women in a maternity ward.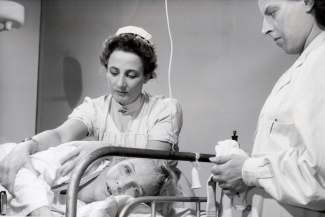 "This time Ingmar Bergman has had the good sense that he has not always shown: he has joined forces with a top class screenwriter. Ulla Isaksson has presented him with an excellent script from which his direction has produced a maximum of effects. Not artificial effects, but true-to-life narration."
About the film
Having promised Sveriges Folkbiografer a film, Bergman finally opted to base it around two short stories from a collection (Aunt of Death) by his friend Ulla Isaksson. He and Isaksson were to work together again: she wrote the screenplays both for The Virgin Spring and The Blessed Ones.

Shooting the film
Shooting the film proved troublesome. Folkbiografer owned a studio in the basement of an old building in Stockholm's Östermalm area that was once a school gymnasium. The premises were both dilapidated and extremely dirty. An influenza epidemic was raging at the time, and as the behind-the-scenes film shows, the director (always prone to infection) took to wearing a face mask for the shoot.

Bergman in Images: My life in Film: 
From time to time (rather frecuently) we went behind the sets, where laughing gas was kept. Laughing gas is as addictive as a dope, though it has shorter effect. Max Wilén, the cameraman, turned out to be an adequate crftsman without any sensibility or joy. We carried out gloomy collaboration with sullen but polite decorum. The laboratory was also a disaster (scratches and dirt on the developed film). All together, the film isn't much. The actresses remain its biggest asset. Just as in other pressured situations, these women proved their professionlism, inventiveness, and unshakable loyality. They had the ability to laugh in the face of trouble. They had sisterhood. Consideration and caring for each other. Actors, yes, they deserve especial chapter, but I don't know if I'd be able to explain and illuminate how each one influenced the origin and composition of my films.
Epilogue 
At a time when very few men had ever been present at an actual birth, Brink of Life came as a shock for many viewers. The newspapers reported people fainting (the record being set in Bergen in Norway, where eight people passed out during the same screening!).

Brink of Life picked up three awards at the Cannes Film Festival in 1958. Ingmar Bergman won the international award for direction. Eva Dahlbeck, Ingrid Thulin, Bibi Andersson and Barbro Hiort af Ornäs shared the award for best actress and Ulla Isaksson won the international screenplay award.
Sources
The Ingmar Bergman Archives.
Ingmar Bergman, Images: My Life in Film.
Robin Hood in Stockholms-Tidningen:
Once again Ingmar Bergman has made an excellent film, quite unlike his earlier works. Wild Strawberries was different from The Seventh Seal, and Brink of Life is different from Wild Strawberries. [...] Brink of Life is not a film of a play. What Bergman actually wants to say is expressed in images, not words. In large close-ups of the face. It is a device widely used in television. A device used in 12 Angry Men.

However, the lack of cinematic imagination, the insularity, concentration on a handful of people, and the narrative's chronological progress, are not down to Bergman: because the screenplay is not his own, it is Ulla Isaksson's. For the first time in a long while he presents in film a screenplay not written by himself. And as this is Ulla Isaksson's first effort in the cinema, one cannot expect any genuine cinematic verve.

But with his interest in television, Bergman has certainly got to grips with this story with enthusiasm, since it suits his current aspirations towards simplicity. It has given him the chance to express himself almost exclusively through the faces of a small number of people. There is no musical score. And the sound effects are minimal. Everything hangs on the actors.
C B-n in Dagens Nyheter:
Brink of Life is Ingmar Bergman's best film. One of the best films that Swedish cinema has ever produced. This time Ingmar Bergman has had the good sense that he has not always shown: he has joined forces with a top class screenwriter. Ulla Isaksson has presented him with an excellent script from which his direction has produced a maximum of effects. Not artificial effects, but true-to-life narration.
Staffan Tjerneld in Expressen:
In effect it is a report from a maternity ward. Doctors, nursing sisters, agony, vomiting, everything is included in Ingmar Bergman's painstaking portrayal. It is one, however, which lacks his customary pictorial virtuosity. Artistically the film is a miscarriage. Dramatically it is abortive and the psychological foundation is surprisingly emaciated.
Distribution titles
Alle soglie della vita (Italy)
Au seuil de la vie (France)
Brink of Life (USA)
Elämän kynnyksellä (Finland)
En el umbral de lav vida (Spain)
Livets under (Denmark)
Nära livet (Norway)
So Close to Life (Great Britain)
Production details
Production country: Sweden
Swedish distributor (35 mm): Svenska AB Nordisk Tonefilm
Production company: Svenska AB Nordisk Tonefilm
Original work: Det vänliga, värdiga (Novel) by Ulla Isaksson, Det orubbliga (Novel) by Ulla Isaksson

Aspect ratio: 1,37:1
Colour system: Black and white
Sound system: Optical mono
Original length (minutes): 84

Censorship: 091.741
Date: 1958-03-19
Length: 2310 metres

Release date: 1958-03-31, Fontänen, Stockholm, Sweden, 84 minutes
Filming locations 
Nordisk Tonefilm, Stockholm, Sweden 
Karolinska sjukhuset, Stockholm, Sweden 
Music 
Title: Du gamla, du fria
Lyrics: Richard Dybeck
Cecilia: I want to know exactly. But I already know. It has left me.
Doctor: Yes, unfortunately. But it would have wrong even if you had come in earlier. Something failed from the start.

Nurse: Please understand that the views of this have changed enormously. It is neither shameful nor unfortunate for a girl to give birth nowadays. You can call yourself Mrs and get yourself a house.

Hjördis: You'll force me to give birth. Money this and money that. Homes here and homes there. "Aren't they wonderful?" I find them disgusting. Disgusting and repulsive.

Cecilia: That women of my kind never would marry. We're independent enough to want to stand on our own two feet. But not independent enough to be able to support the ones we are married to. Loneliness is our only option.
Brink of Life pursues Bergman's fascination with the inner lives of women to a maternity ward where three women await the blessed event with mixed attitudes – and fates. Only an unwed teenager who has tried to abort the dreaded newcomer finds herself heading toward a healthy delivery.

The film won awards at Cannes not only for the director (his third in a row) but for the actresses – Ingrid Thulin, Eva Dahlbeck, and Bibi Andersson – whose ensemble work is impressive. The acting holds the charge, and the camera knows it, in this film that is simple in focus, and more clinical than cynical. Not your basic Bergman.
Collaborators
Inga Landgré
Gunnar Sjöberg
Ann-Marie Gyllenspetz
Sissi Kaiser
Margaretha Krook
Lars Lind
Monica Ekberg
Gun Jönsson
Maud Elfsiö
Kristina Adolphson
Gunnar Nielsen
Inga Gill
Bengt Blomgren
Bibi Lindström

, Art Director

Sven Brodin

, First Assistant Cameraman

Max Wilén

, Director of Photography

Gunnar Lundin

, Unit Manager

Carl-Olov Skeppstedt

, Film Editor

Lennart Svensson

, Production Mixer

Ulla Isaksson

, Screenplay

Gösta Hammarbäck

, Production Manager / Production Coordinator

Gösta Ekman

, Assistant Director

Hilding Gahnström

, Property Master

Lars Engström

, Advisor

Ingrid Wallin

, Script Supervisor

Nils Nittel

, Make-up Supervisor

Ingmar Bergman

, Director