Face to Face
Troubled by childhood memories a psychiatrist is driven to the verge of a mental breakdown.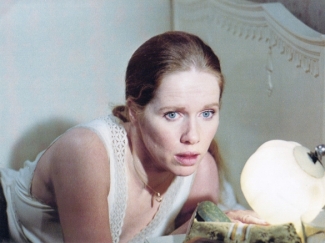 "If I had had the experience I have today and the strength I had then, I would have translated this material into practically feasible solutions and not hesited for a moment. It would have been a sacrosanct cinematografic piece of poetry."
About the film
Ingmar Bergman on the genesis of the film in Images: My Life in Film: 
When we were in the United States, Dino Laurentiis asked me: 'are you doing anything I could have?' I heard myself answer, 'I'm making a psycological thriller about the breakdown of a human being and her dreams'. 'It's sounds great,' he said. So we sign a contract.

This should have been a happy period of my life. I had the Magic Flute behind me, as well as Scenes from a Marriage and Cries and Whispers. I was successful at the theater. Our little company was producing the films of other directors, and the money was flowing in. It was precisely the right time to take a difficult task. My artisitc self-confidence was as high as it's ever been. I could do whatever I wanted, and anyone and everyone was willing to finance my efforts.
Sources of inspiration 
Bergman in Images: 
Suddenly the film as it ought to have been emerges from my workbook:

She sits on the floor in her grandmother's apartment, and the statue moves in the sunshine. On the stairs she meets a large dog tha bares its teeth. Then her husband arrives. He is dressed as awoman. She goes looking for a doctor. She is a pyschiatrist herself and says that "she doesn´t understand this particular dream in spite of having understod everything that has happened to her over these last thirty years." Then the old lady raises herself from her enormous, dirty bed and looks at her with her one, ailing eye. But grandmother and grandfather hug each other, and grandmother caresses grandfather´s cheeks and whispers tender words to him in spite of his not being able to utter more thana few isolated syllables.

But behing all this, behind the drapes, a whispered conversation is carried on about what ought to be done with her sexually, perhaps a widening of her anal opening. And at the same moment She apeears, the Other, who takes such things lightly and caresses her in all sorts of ways. It is unexpectedly pleasant. But now somebody arrives and asks for her help, really pleads with her, somebody in a desperate situation. She throws a tantrum, followed by an anxiety attack, because the tension is not lessening. But, in spite of everything, it's a relief to plan and carry out that murder of Maria she has been thinking about for so long. Although afterwards it will care for me and tell me not to be afraid. And if I change my clothes completly and go to a party, everybody must see and understand that I am innocent and cast their suspicions on somebody else.

That's how Face to Face should have been made. If I had had the experience I have today and the strength I had then, I would have translated this material into practically feasible solutions and not hesitated for a moment. 
Shooting the film 
Bergman was dissatisfied with the result. Writing in Images: 
During the filming of Face to Face everybody was very enthusiastic, and that of course is all-important. Nobody seemed to care that I kept remarking the dreams incessantly, changing them and moving them around. I even stuck in my old Fridell etching with snow on the furniture and the little girl who stands there holding the candle the illuminates the terrible clown.

Two short dream sequences strike me as acceptable. One is when the lady with one eye comes over to Jenny and strokes her hair. The other one, which at least is honestly thought out, is Jenny's brief encounter with her parents after the automobile accident. From the viewpoint of direction, it's a rather good scene. They crawl behind the Duch-tiled stove and start to cry when Jenny hits them. But in one way the scene is poorly directed: Jenny should have remained completely calm rather than acting in the same way as her parents do. I did not understand that at the time. Still, a concrete dream atmosphere does exist at this point.
Epilogue 
Bergman on the films reception in Images: 
Dino di Laurentiis was delighted with the film, which recieved rave reviews in America. Perhaps it did present something new that had never been tried before. Now when I see Face to Face, I remember an old farce with Bob Hope, Bing Crosby, and Dorithy Lamour. It's called The Road to Morocco (David Butler, 1942). They have been shipwrecked and come floating on a raft in front of a projected New York in the background. In the final scene, Bob Hope throws himself to the ground and begins to scream and foam at the mouth. The others stare at him in astonishment and ask what in the world he is doing. He immediately calms down and says, 'This is how you have to do it if you want to win an Oscar.'

When I see Face to Face and Liv Ullmann's incredibly loyal effort on my behalf, I still can't help thinking on The Road to Morocco.
Sources
The Ingmar Bergman Archives.
Ingmar Bergman, Images: My Life in Film.
Distribution titles
Ansikt til ansikt (Norway)
Cara a cara (Spain)
Face à face (France)
Von Angesicht zu Angesicht (West Germany)
Production details 
Production country: Sweden
Laboratory: FilmTeknik AB
Production company: Cinematograph AB, Sveriges Radio AB, TV2

Aspect ratio: 1,66:1
Colour system: Eastman Color
Sound system: Optic mono

TV screening: 1976-04-28 TV2 Sweden 45 minutes
Filming locations 
Sweden (1975-1975)
Music 
Title: Fantasi, piano, K. 475, c-moll
Composer: Wolfgang Amadeus Mozart (1785)
Instrumentalist: Käbi Laretei
Collaborators
Aino Taube
Sif Ruud
Tore Segelcke
Kari Sylwan
Gösta Ekman
Rebecca Pawlo
Bengt Eklund
Göran Stangertz
Daniel Bergman
Sven Lindberg
Marianne Aminoff
Jan Erik Lindqvist
Helene Friberg
Mona Andersson
Kristina Adolphson
Peter Kropénin

, Propman

Lars Stålberg

, Gaffer

Stefan Gustafsson

, Gaffer

Sven Nykvist

, Director of Photography

Bengt Franzén

, Assistant Cameraman

Lars Karlsson

, Camera Operator

Siv Lundgren

, Film Editor

Caroline von Rosen

, Assistant Costume Designer

Maggie Strindberg

, Costume Designer

Kerstin Eriksdotter

, Continuity

Tommy Persson

, Sound Assistant

Björn Gunnarsson

, Sound Assistant

Owe Svensson

, Production Mixer

Nils Melander

, Color Timer

Cecilia Drott

, Make-up / Hair

Wolfgang Amadeus Mozart

, Music Composer

Ragnar Waaranperä

, Key Grip

Anders Bergkvist

, Key Grip

Stefan Eidin

, Key Grip

Lars-Owe Carlberg

, Producer

Peder Langenskiöld

, Production Assistant

Katinka Faragó

, Production Manager / Production Coordinator

Anna Asp

, Property Master

Anne Terselius-Hagegård

, Production Designer

Helena Olofsson

, Make-up Supervisor

Arne Carlsson

, Still Photographer

Dagmar Snäcke

, Other Crew

Ingmar Bergman

, Dialogue