Hour of the Wolf
Plagued by nightmares, a reclusive artist living on an isolated island has visions of demons.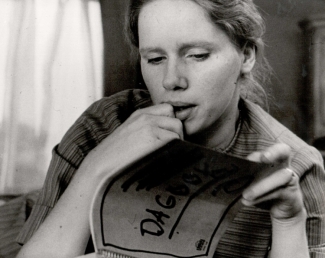 "I call myself an artist for lack of a better name. In my creative work is nothing implicit, except compulsion. Through no fault of mine I've been pointed out as something extraordinary, a calf with five legs, a monster."

Johan Borg (Max von Sydow) in Hour of the Wolf
About the film
By autumn 1964 Bergman had completed a screenplay entitled 'The Cannibals'. However, in the spring of 1965 he fell ill with pneumonia, and the project was shelved. On his recovery, he pressed ahead with Persona in the late summer the same year. Various themes from The Cannibals were subsequently incorporated into The Hour of the Wolf, shot in 1966 from the end of May until late September. By the time of its premiere in 1968, his next feature Shame had already been completed.

The title of the film is explained in the opening credits:

'The hour of the wolf is the hour between night and dawn. It is the hour when most people die, when sleep is the deepest, when nightmares feel most real. It is the hour when the demons are most powerful. The hour of the wolf is also the hour when most children are born.'

Sources of inspiration 
In Bergman on Bergman, the director explains how the main character, Johan Borg, regards his own position as an artist as a affliction: 'He can't escape it. There's no question, that is, of a gift form on high. No other-worldly relationship. It's just there. A disease. A perverison. A five-legged calf. He takes a very brutal view of his situation.'

This attitude to his work appears similar in many ways to Bergman's own.

Shooting the film 
The exteriors for The Hour of the Wolf were shot for the most part on the coast in the Southern Swedish county of Halland at Hovs Hallar; the same spot where the famous scene of Death playing chess with the knight in The Seventh Seal had been filmed.

Epilogue 
International distribution was handled by the US Company United Artists. Despite mixed reactions in Sweden, in America at least two newspapers ranked it among the ten best films of the year.
Sources
The Ingmar Bergman Archives.
Stig Björkman, Torsten Manns & Jonas Sima, Bergman on Bergman, (New York: Da Capo P., 1993).
Mauritz Edström in Dagens Nyheter: 
With an obsession that is real– however false the imputed role of the demons that he fights against might be – and a capacity for metamorphosis that seems boundless, he projects his struggles in images that are constantly new. Yet despite all the apparent shifts, his world is strangely constant. One might object to everything, such as his way of speaking (for example)… but one is forced to take it at face value in order to make any kind of contact whatsoever.
Lasse Bergström in Expressen:
Motifs such as the flock of black birds have been lifted from earlier periods. [...] The vampire motif is nothing new for Bergman, but here we find it in a gothic horror story which is at once both inaccessibly personal and entertainingly brilliant. The magician suffers yet finds delight in his tricks. And that is the paradox in this esoteric, beautiful film.
"What makes The Hour of the Wolf mute and impenetrable is Bergman's dictatorial proclamation of his message. The film never opens up for the viewer, never contends with itself and consequently does not permit any debate with the recipient."
Carl Henrik Svenstedt in Svenska Dagbladet

"People will most likely talk about struggle in the context of this film; conscious or unconscious struggle. In every respect, Bergman carries out a series of grandiose conjuring tricks: romantic, self-indulgent and, of course, utterly asocial."
Jurgen Schildt in Aftonbladet
Distribution titles
L'heure du loup (France)
Die Stunde des Wolfs (West Germany)
Vargtimen (Norway)
Production details
Production country: Sweden
Swedish distributor (35 mm): Svensk Filmindustri, Svenska Filminstitutet
Laboratory: FilmTeknik AB
Production company: Svensk Filmindustri

Aspect ratio: 1,37:1
Colour system: Black and white
Sound system: Optical mono
Original length (minutes): 90

Censorship: 105.951
Date: 1967-09-27
Age limit: 15 years and over
Length: 2455 metres

Release date: 1968-02-19, Röda Kvarn, Stockholm, Sweden, 87 minutes
Filming locations
Sweden
Filmstaden, Råsunda 
Hovs hallar at Hallandsåsen
Music 
Comment: Saraband from Partita no 3 a-minor by Bach and O ewige

Nacht! from The Magic Flute by Mozart.
Johan: In an hour or so it will be daylight, and then I can sleep.

Johan: A minute can seem like an eternity. It's beginning now. Ten seconds. Oh, these seconds. How long they last. The minute isn't up yet. Oh, now it's gone.

Alma: Isn't it so that all people who have been living together all their lives begin to resemble each other? In the end, they have so much in common that not only their thoughts but also their faces take on the same expression.

Heerbrand: My name's Heerbrand, analyst. I examine souls and turn them inside out. And what do I see? I need hardly to tell you. You're an artist. You know the human heart. Who hasn't seen your facial studies and self-portraits?

Johan: Forgive me. I call myself an artist for lack of a better name. In my creative work is nothing implicit, except compulsion. Through no fault of mine I've been pointed out as something extraordinary, a calf with five legs, a monster. I have never fought to attain that position and I shall not fight to keep it. Megalomania? Yes, I've felt it waft about my brow at times, but I think I'm immune. I have only to think of the utter unimportance of art in the world we live in to bring it down to earth.

Lindhorst: Let's drink to our artist. He's not just a genius, but a thinker too. Bless my soul, I had no idea.

Corinne von Merkens: Look at this mark, by the way. It's a scar from another man's, shall we say, advances. A perpetual source of renewed excitement. It's all very trivial, of course, but to me it's stimulating. This mark can't keep my fascination forever.

Johan: This hour is the worst. Do you know what it's called?
Alma: No.
Johan: The old folks called it "the hour of the wolf". It's the hour when most people die, when most children are born. Now is when nightmares come to us.

Alma: You once said what you liked about me was that God had made me all together. That I had whole feelings and whole thoughts. You said it was important that such people should be alive. I thought it sounded so wonderful. I was glad. I was wrong.

Lindhorst: Take a look in the mirror. Now you are yourself and yet not yourself. The ideal conditions for a lover's meeting.

Johan: The glass is shattered, but what do the splinters reflect? Can you tell me that?

Alma: Is it true that a woman who lives a long time with a man eventually winds up being like that man?
Kathleen Murphy, Film Society of Lincoln Center: 
Madness and demonism, present in many of Bergman's films, are made the explicit themes of Hour of the Wolf. Here they are associated with artistic creativity. Alma (Liv Ullmann) tells of her life with her artist husband, who disappeared, leaving only his diary.

The first of three films featuring Max von Sydow as Bergman's alter ego, the artist in retreat to an island (Fårö, the director's own home) where all his demons and imagined monsters can come out to play, threatening to possess their creator and 'disappear' him into the darkness behind the brain. A strikingly Gothic tale of horror, Hour of the Wolf owes much to Bram Stoker's Dracula in its evocation of the artist's admirers and tormentors as vampires, flocks of flesh-eating birds and insects.
Collaborators
Georg Rydeberg
Gudrun Brost
Bertil Anderberg
Lenn Hjortzberg
Agda Helin
Mikael Rundquist
Folke Sundquist
Mona Seilitz
Marik Vos

, Art Director

Anders Bodin

, First Assistant Cameraman

Roland Lundin

, First Assistant Cameraman

Lennart Engholm

, Boom Operator

Arne Carlsson

, Driver

Sven Nykvist

, Director of Photography

Bo A. Vibenius

, Unit Manager

Ulla Ryghe

, Film Editor

Max Goldstein

, Costume Designer

Eivor Kullberg

, Costume Designer

Per-Olof Pettersson

, Production Mixer

Olle Jakobsson

, Re-recording Mixer

Johann Sebastian Bach

, Music Composer

Wolfgang Amadeus Mozart

, Music Composer

Lars Johan Werle

, Music Composer

Lars-Owe Carlberg

, Production Manager / Production Coordinator

Karl-Arne Bergman

, Property Master

Börje Lundh

, Make-up Supervisor

Tina Johansson

, Make-up Supervisor

Kjell Gustavsson

, Make-up Supervisor

Evald Andersson

, Sound Effects

Ingmar Bergman

, Screenplay