Sawdust and Tinsel
A talented but rather disagreeable group of travelling circus players put on a disastrous performance in a hick town in southern Sweden.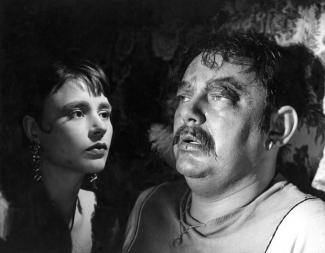 "I refuse [...] to perform an ocular inspection of the vomit that Ingmar Bergman has left behind him on this occasion, even though I can well imagine that the original menu was an appetising one."
About the film
Sawdust and Tinsel was the first film by Ingmar Bergman to be produced by Sandrews (the second and final one was Dreams).

Bergman in Images: My Life in Film: 
I don't have much to say about Sawdust and Tinsel. One could insist that the film is a pandemonium – but a well – organized pandemonium. I wrote it in a small hotel on Mosebacke Square, in the same building where the South Theater is situated. Then room was narrow, with a panorama view of the city and the bay. A winding secret staircase connected the theater with the hotel. In the evenings I could hear the music from the revue being performed below. At nigth, the actors and their strange quests partier in the hotel's dining room. In this setting Sawdust and Tinsel was born in less than three weeks. I remember that the demands of retrospective jealousy, were bridled and made to pull a loaded wagon; they were forced into productive activity. I wrote the film straight through from beguinning to end, without stopping to think or add or fill in.

The drama had its origin in a dream. I depicted the dream in the flashback about Frost and Alma [...] To express it in musical terms, one could say the main theme is the episode with Frost and Alma. There follows, within an undivided time frame, a number of tematic variations of erotics and humiliation in ever-changing combination.

Sources of inspiration
In Images Ingmar Bergman has described how Sawdust and Tinsel was born out of a vision of the Swedish landscape: 'There were some circus caravans travelling at dawn one late winter day in the neighbourhood of Gimo. The Uppland landscape there, in all its wretchedness, has a uniquely ghoulish quality that captivated me.'
Sawdust  and Tinsel is relatively honest and shamelessly personal. Albert Johansson, the circus owner, loves both Anne and his chaotic life in the circus. And yet, he is strongly drawn toward the bourgeois security he had in life with his now abandoned wife. To put it briefly: he is a walking chaos of conflicting emotions. The fact that Åke Grönberg played Albert, and that the part was expressly written for him, has nothing to do with any influence from Dupont's film Variety with Emil Jannings. It's much simpler than that: if a scrawny director aims for a self-portrait, of course he chooses a fat actor to play himself.

Shooting the film 
Shooting began at the end of February 1953, coming to an end in early June. Previous commitments did not allow cinematographer Hilding Bladh to carry out all the work behind the camera. The cameraman who took his place was Sven Nykvist, and the production manager was Lars-Owe Carlberg. Both men would later become Bergman's faithful collaborators. Sawdust and Tinsel also marked the beginning of a long partnership with the costume designer Mago.)
Sources
The Ingmar Bergman Archives.
Ingmar Bergman, Images: My Life in Film.
The film received fairly mixed reviews. Those that were negative were so extremely disparaging that they have overshadowed what was, after all, a mixed bag ranging from approval to extreme condemnation. Writing in Aftonbladet, Filmson was firmly in the latter camp: "I refuse [...] to perform an ocular inspection of the vomit that Ingmar Bergman has left behind him on this occasion, even though I can well imagine that the original menu was an appetising one. I am of the opinion that one should avoid any act of public defilement, even if one has a great deal to flush out of one's system, unless like an August Strindberg one can produce something sublime from one's squalor." What the writer-director had in his heart was, according to Filmson, "not worth more than the price of a postage stamp." This was a case of "the return of Bergman's juvenile jungle, in which one might well admire the strange beauty of the vegetation, but would seek in vain for any purpose or meaning". And comparing Åke Grönberg to the great German actor Emil Jannings, the former was deemed merely to have produced a "greasy, sweaty, staring, small-town Genghis Kahn."

Much later, Bergman would respond to this attack: "This utterance is rather representative of the animosity that was coming at me from many directions. Unfortunetly, I cannot claim that it left me unaffected".

The majority of reviewers, however, were favourably impressed, and many considered the work to be one of Bergman's best in terms of artistic control. Nils Beyer in Morgontidningen did actually call it Bergman's best film, and Harry Schein in Bonniers Litterära Magasin claimed that it was one of the finest films he had ever seen.

Somewhere between Filmson's bile and Schein's waxing lyrical comes Arbetaren's Mauritz Edström, whose measured appraisal probably reflects a cross section of the contemporary press reviews:
Ingmar Bergman has made a damned good film, a better film than most others made previously in this country. [...] "Sawdust and Tinsel is an original film in sense that it has been independently created. It is accomplished and rich, at once a frenzied game and a matter of the utmost seriousness. Such is its effect. Here we have a young group of actors full of vitality, who Bergman has managed to mould to a complete and accomplished entity (fittingly laying to rest the myth that Swedish actors cannot act in films). Here is cinema that is beautiful, intensive and brutal by rapid turns - pictorially Sawdust and Tinsel is the complete antithesis to the exaggeratedly cold beauty of, say, Miss Julie. And here is a score by Karl-Birger Blomdahl, which more than deserves a mention. It builds on simple, positive themes, at times verging on the bizarre and burlesque, yet always inseparable from the film.
Distribution titles
Abend der Gaukler (West Germany)
Gjøglernes aften (Norway)
Gøglernes aften (Denmark)
The Naked Night (USA)
Noche de circo (Spain)
Noite de circo (Portugal)
La nuit des forains (France)
Sawdust and Tinsel (Great Britain)
Una vampata d'amore (Italy)
Vecer kejklíru (Czech Republic)
Vecer sutov (Soviet Union)
Wieczór kuglarzy (Poland)
Viettelysten ilta (Finland)
Production details 
Production country: Sweden
Swedish distributor (35 mm): Sandrew-Bauman Film
Laboratory: Film-Labor
Production company: Sandrew-Produktion
Aspect ratio: 1,37:1
Colour system: Black and white
Sound system: Optical mono
Original length (minutes): 92

Censorship: 082.807
Date: 1953-09-01
Age limit: 15 years and over
Length: 2545 metres

Release date: 1953-09-14, Grand, Stockholm, Sweden, 92 minutes
Filming locations 
Sweden (1953-02-1953-06) (starting: end of February, ending: beginning of June)

The Sandrew studios, Stockholm
Gävle Teater, Gävle
Arilds Nabb, Höganäs
Ystad
Music
Title: Hjalmar och Hulda
Alternative title: På blomsterklädd kulle satt Hjalmar och qwad
Lyrics: Wilhelmina Stålberg (1839)
Singer: Harriet Andersson

Title: Älvsborgsvisan
Alternative title: Ny Elfsborgsvisa/Den blomsterprydda gondolen gled...
Lyrics: August Wilhelm Thorsson (1883)
Singer: Harriet Andersson

Title: Ty tsaren han rider ifrån främmande land...
Singer: Åke Grönberg, Anders Ek
Bergman's earliest evocation of the theater of humiliation, Sawdust and Tinsel is a portrait of turn-of-the-century itinerant circus performers who are figures of ritual mortification before their public and, in a day and night of unmasking, before each other as well. The circus owner, Albert (Åke Grönberg), and his bareback-rider girlfriend, Anne (Harriet Andersson), seek the rejections of, respectively, an ex-wife and a scornful actor from the more "respectable" provincial theater. Their disgrace and redemption are mirrored in a dreamlike flashback, which in turn finds its resolution in a dream of return and reunion. Through the deus ex machina of the cinema, the film is lifted from its sad subject by extraordinary cinematography in which many a Bergman trope finds its genesis: dressing-room mirrors turn an individual into her own twin, a couple into a complexity of faces, making the search for meaning in another human being a virtual gauntlet. Bergman's players truly earn their bows.
Collaborators
Åke Grönberg
Gudrun Brost
Annika Tretow
Erik Strandmark
Curt Löwgren
Otto Moskovitz
Majken Torkeli
Vanje Hedberg
Hanny Schedin
Göran Lundquist
Mats Hådell

, Albert, Alberts och Agdas yngste son

Eric Gustafson
Michael Fant
Julie Bernby
Conrad Gyllenhammar
Mona Sylwan
Naemi Briese
Lissi Alandh
Karl-Axel Forssberg
Olav Riégo
John Starck
Erna Groth
Agda Helin
Sigvard Törnqvist
John Björling
Gunborg Larsson
Gunnar Lindberg
Bibi Lindström

, Art Director

Hans Dittmer

, First Assistant Cameraman

Lars Johnsson

, First Assistant Cameraman

Gösta Björck

, Boom Operator

Hilding Bladh

, Director of Photography

Sven Nykvist

, Director of Photography

Alva Lundin

, Titles

Lars-Owe Carlberg

, Unit Manager

Carl-Olov Skeppstedt

, Film Editor

Max Goldstein

, Costume Designer

Olle Jakobsson

, Production Mixer

Karl-Birger Blomdahl

, Music Composer

Rune Waldekranz

, Line Producer

Marianne Axelsson

, Script Supervisor

Nils Nittel

, Make-up Supervisor

Rune Zetterlund

, Technical Advisor

John W. Björling

, Technical Advisor

Ingmar Bergman

, Screenplay