Peer Gynt
Bergman's first production of the 'unplayable' colossus Peer Gynt ran for five hours, with a youthful and energetic Max von Sydow playing the lead on the enormous stage.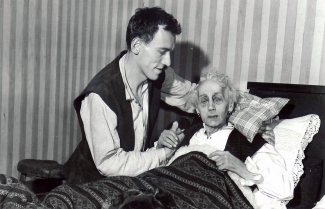 'The masterpiece is the only thing that matters, said Palinurus. Here is the masterpiece, blooming for one day or fifty, enough to forgive and condone the whole Ingmar Bergman phenomenon with all the difficulties and trouble it has entailed. And the viewer must be happy that Ingmar Bergman got to live this long, and that he himself (the viewer) got to live and see such a rich and beautiful piece of theatre.'
Reviews and comments
Performed on the main stage, the production was five hours long. In the reactions of the critics one can discern the traditional view that the piece is actually unplayable. Hans Ruin (Sydsvenska Dagbladet) felt that there are certain scenes which lend themselves best to the imagination, and that it is naturally tempting for a director like Bergman to give flesh and bones to these scenes, the dream and delirium scenes, for example.
In general the production was well received by the critics, and unlike Ruin, many felt that Bergman had succeeded in liberating the text from its position as a drama to be read. Writing in Dagens Nyheter, Ebbe Linde described the production as follows.
Above all, drama in every pore, probably not something that has been the case in every production; intense drama without the least support of music that holds the viewer captivated for five hours, five hours that fly by like 45 minutes, such is the extent of one's engagement the whole time.
Many felt that this was down to Bergman's ability to create meaningful tableaux which breathed life into Ibsen's text. To this end, Bergman was ably assisted by his scenographer, Härje Ekman. The upshot of their collaboration was positive. Tord Bæckström, writing in Göteborgs Handels- och Sjöfartstidning, described Bergman as a director who is able to create living and vibrant stage images. He also felt that Härje Ekman's sets were on a par with Bergman's direction, and was especially taken with 'Bergman's ability to shape the mise-en-scene in such a way and with so many figures that one felt, in every step, the firm grip of his artistic will'. This ability to give physical form to Ibsen's suggestive outlines was especially apparent in the scene in which Peer comes to the court of the Dovre King.
It is done with hair-raising skill. Like a tightly-clustered relief in a block, the troll court is rolled out, an array of mischief, billowing with collective reactions until it comes loose like a landslide of larva-coated stones that engulfs Peer, a seething mass of hair and snouts which halfway through is already Böjgen. All that's needed is for the senses to relax in a more wakeful state for the spell to manifest itself as this faceless being, and, line by line, haul this Peer, overcome with lethargy, towards the back of the empty stage.
Others were more negative to the production, finding it long and tedious, and without any capacity to touch the audience. And the reason for this was the very length of the play, thought Ivar Harrie in Expressen, who maintained that 'Bergman didn't really show his claws - perhaps he realised that it wasn't worth it. Norway's national play is, and will remain, unplayable'.
The reviews feature many positive comments about Max von Sydow's portrayal of Peer. He is described as stately and dynamic, the absolute and obvious powerhouse of the stage. His acting was consistent throughout the play, in which there were plenty of other colourful performances, and was its hub and dynamo. Max von Sydow was just 28 years old at the time, but had already developed a broad range to his acting which came to the fore in his interpretation of Peer. Beneath the youthful and healthy exterior one could discern a dark layer of anxiety and restlessness.
Ebbe Linde concluded his highly positive review with the words:
All that remains is to encourage anyone who can, both at home and abroad, to make their way to Malmö for all they are worth. For there, right now, is the dramatic centre of Sweden and, I would dare to venture, of all of Europe too.
Sources
The Ingmar Bergman Archives.
Henrik Sjögren, Lek och raseri, Ingmar Bergmans teater 1938-2002, ( Stockholm: Carlsson Bokfölag, 2002).
Peer Gynt was written by Henrik Ibsen in 1867. At the time, Ibsen had moved to Rome, having failed as a theatre director in Kristiania, now Oslo. In its form, Peer Gynt was pioneering, a romantic fairy tale with realistic contemporary references. It is easy to see certain parallels with Goethe's Faust, along with echoes of Hans Christian Andersen.

Peer Gynt was originally intended as a play solely to be read, but the text has been proved to function on the stage. Prodigious in length, few directors have dared to stage the piece in its entirety. Most prefer to adapt and shorten the play, which in itself involves interpretation.

The play has often been regarded as a critique of the Norwegian national character, but more generally it is a critique of the distortion of reality brought about by the romantic imagination, and all the failings which this entails. The figure of Peer Gynt is a romantic dreamer and a demonic egoist who is thoroughly exposed in the course of the play. He can be regarded both as the alarming and somewhat ridiculous reverse side of the glamour of the 19th century Byronic ideal.

Bergman staged two productions of Peer Gynt, with a 34-year interval between them. The first, with a youthful Max von Sydow, at Malmö City Theatre, was five hours long. The second, with a middle-aged and jovial Börje Ahlstedt at The Royal Dramatic Theatre, was one hour shorter.
Collaborators
Naima Wifstrand

, Åse

Max von Sydow

, Peer Gynt

Jullan Kindahl

, Karin

Gudrun Brost

, The Old Woman

Åke Åkerlund

, Ejvind

Gustaf Färingborg

, Aslak

Björn Bjelfvenstam

, The Bridegroom

John Degerberg

, Bridegroom's father

Alfhild Degerberg

, Bridegroom's mother

Hans Kjölaas

, Hans

Per Björkman

, The Cook

Gunnel Lindblom

, Solveig

Nils Nygren

, Solveig's father

Judith Frithiof

, Solveig's mother

Karin Olafsdottir

, Helga

Berndt Henziger

, Guttorm

Åke Fridell

, The Dovre King/Hægstad Farmer

Eva Stiberg

, Ingrid

Bibi Andersson

, Girl at Saeter

Ingrid Thulin

, Girl at Saeter/Anitra

Gerd Hein

, The Woman in Green

Maud Hansson

, Troll kid

Anna-Stina Walton

, Troll kid

Helena Reuterblad

, The Troll Maiden

Mimmo Wåhlander

, The Sister of the Woman in Green

Bengt Rosén

, Troll cook

Åke Jörnfalk

, Eldest Troll

Leif Forstenberg

, The Witch

Hans Polster

, The Old witch

Lenn Hjortzberg

, Limping Glytten

Åke Askner

, Trumpetståhle

Nils Eklund

, Monsieur Ballon

Bengt von Knorring

, von Eberkopf

Axel Düberg

, Hider of stolen goods

Thure Carlman

, The Thief

Leif Hedberg

, Fellahn

Rune Turesson

, Hussein

Dagfinn Heiborg

, The Lookout

Karl-Fredrik Liljeholm

, The First Mate

Oscar Ljung

, The Strange Passenger

Jöran Olsson

, The Deckman

Ulla Rodhe

, Girl at Saeter

Josef Norman

, Old man Ekdal

Toivo Pawlo

, The Button Molder

Yngve Nordwall

, The Thin One

Henrik Ibsen

, Author

Ingrid Tönsager

, Choreography

Greta Johansson

, Costume design

Manne Lindholm

, Costume design

Ingmar Bergman

, Director

Härje Ekman

, Designer