Show
The premiere of famous Swedish playwright Lars Forssell's play, in which Allan Edwall played The Goat, based upon Jewish-American comedian Lenny Bruce.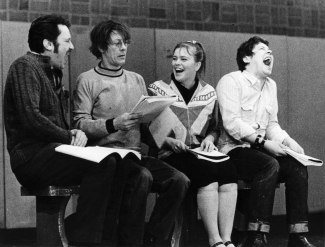 'Allan Edwall as The Goat is amongst the finest roles I have seen in theatre.'

Hans Axel Holm, Dagens Nyheter
About the production
Forssell's ambition to transform the life of Lenny Bruce into a universal vision was supported by Bergman in his staging of the play, which opened with The Goat tumbling out of a crack in a symbolic world egg. According to Lars Forssell, Bergman was a 'genius. Completely phenomenal! We in Sweden don't understand that we have such a giant talent among us.'
Sources
The Ingmar Bergman Archives.
Birgitta Steene, Ingmar Bergman: A Reference Guide, (Amsterdam University Press, 2005).
The text of Lars Forssell was met with scepticism, but Bergman's direction was praised. Åke Janzon in Svenska Dagbladet wrote, 'It takes a magician like Ingmar Bergman to transform all these practical jokes, sketches, puns, and witty lines into a theatre performance. […...] Ingmar Bergman has used the text as a musical score and he succeeds... in convincing us that he can make splendid theatre out of practically anything.'
Collaborators
Allan Edwall

, The goat

Harriet Andersson

, Ann

Anita Wall

, Betty

Solveig Ternström

, Maria

Börje Ahlstedt

, Peter

Mathias Henrikson

, Paul

Jonas Bergström

, David

Gösta Prüzelius

, Police officer

Jan Nyman

, Policeman 1

Birger Malmsten

, Policeman 2

Karin Kavli

, Leberknödel

Kristina Adolphson

, Liliane

Ernst-Hugo Järegård

, Dick

Lil Terselius

, Karin

Heinz Hopf

, Waiter

Gertrud Fridh

, Waitress

Hans Strååt

, The judge

Hjördis Petterson

, Mrs Bruère

Georg Årlin

, Colonel Rack

Carl Billquist

, Man 1

Peter Harryson

, Man 2

Kari Sylwan

, The girl

Anders Ek

, Old soldier

Georg Rydeberg

, The president

Birgitta Valberg

, The old lady

Beata Bergström

, Stills photographer

Lars Forssell

, Author

Arne Hertler

, Stage manager

Donya Feuer

, Choreography

Klas Möller

, Lighting design

Lennart Halling

, Projections

Lars-Johan Werle

, Music

Arne Lundh

, Make-up and wigs

Agneta Pauli

, Producer

Ingmar Bergman

, Director

Anita Brundahl

, Assistant director

Gunnel Lindblom

, Assistant director

Gunilla Palmstierna-Weiss

, Designer

Holger Juhlin

, Carpenter

Anita Orre

, Prompter

Bernt Thorell

, Technician