Smiles of a Summer Night
Ingmar Bergman's international breakthrough took the form of this turn-of-the-century comedy about passion, jealousy and pride.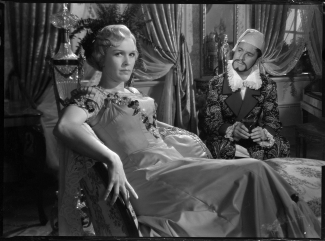 "The poor imagination of a spotty youth, the insolent dreams of an immature heart and a boundless contempt for artistic and human truth are the forces which have created this "comedy". I am ashamed to have seen it."

Olof Lagercrantz in Dagens Nyheter
About the film
Talking about the genesis of the film in Bergman on Bergman:
As for Smiles of a Summer Night, the situation was simply that I needed another success. Journey into Autumn [Dreams] had gone to hell and I had to attach myself again to SF. It was one of the most difficult periods in my life. For a couple of years I'd been the producer at Malmö City Theater, the Harriet period was over, and I'd promised Carl-Anders Dymling that my next film wouldn't be a tragedy. He'd also intimated that if it was to be a serious piece, well then I hardly need bother my head about making a film that summer. I needed money, so I thought it wiser to make a comedy.
Epilogue 
The shooting of Smiles of a Summer Night began on 28 June 1955, and ended on 29 August that same year.
Reminiscing in Bergman on Bergman:
'I remember how, afterwards, when they saw the film, the head office told me it had all been a dreadful miscalculation. The film wasn't funny. It was stylised. It was too lame, and too long. They'd also tumbled to the fact that it was in period costume, and just then costume films weren't doing any box-office.'
In Cannes 1956, Smiles of a Summer Night was awarded Prix de l'Humour Poétique. Bergman himself did not know that the film was represented at the festival:
'I was sitting in the shithouse reading the papers. And then I read: Swedish film gets prize at Cannes, Swedish film causes sensation, or something of that sort. What the devil film can that be, I wondered. When I saw it was Smiles of a Summer Night I couldn't believe my eyes.'
In 1973, Smiles of a Summer Night was reworked into a Broadway musical called A Little Night Music, with lyrics by Hugh Wheeler and music by Stephen Sondheim. It premiered in New York in February 1973 and later played at a number of Swedish venues. In 1977, the musical was made into a film in Austria (!), directed by Harold Prince and starring Elizabeth Taylor as Desirée Armfeldt (Eva Dahlbeck's character). More meritorious is A Midsummer Night's Sex Comedy from 1982, Woody Allen's rework of Smiles of a Summer Night.
Sources
The Ingmar Bergman Archives.
Stig Björkman, Torsten Manns and Jonas Sima, Bergman on Bergman (New York: Da Capo P., 1993).
The first of Bergman's films to bring the director international success, due to its exposure at the 1956 Cannes Film Festival, was inspired by Marivaux's comedies and Shakespeare's A Midsummer Night's Dream, and it inspired, in turn, both Stephen Sondheim's musical A Little Night Music (1973) and Woody Allen's A Midsummer Night's Sex Comedy (1982). It is far from being the only allusion to the Swedish master in Allen's work. The American director referred to Bergman as "probably the greatest film artist since the invention of the motion picture camera (Chaplin, 1988) and admired "this combination of intellectual artist and film technician". (Time, 2007) Allen subsequently worked with two of Bergman's collaborators – Sven Nykvist on four films (Another woman, 1987; Crimes and Misdemeanors, 1989; New York Stories, 1989; Celebrity, 1998), and Max von Sydow, who played the part of the tormented artist in Hannah and Her Sisters (1986), as an implied reference to his roles in The Magician and Hour of the Wolf.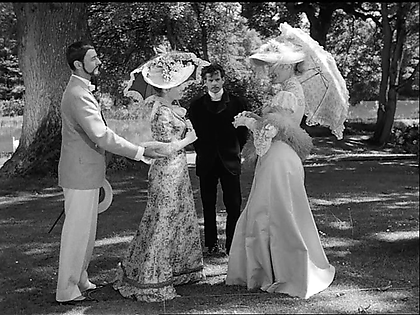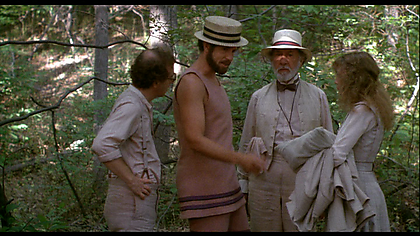 In a nod to Sawdust and Tinsel (1953), the character played by Woody Allen in Hannah and Her Sisters (1986) wants to commit suicide at the end, but due to perspiration, the gun slips and the ball hits a mirror instead of him. As in Bergman's film, an insistent ticking is heard during the whole scene.
© Charlotte Renaud
[The "Legacy" section is written and compiled by Charlotte Renaud. Look here for heirs to other Bergman films.]
Distribution titles
Kesäyön hymyilyä (Finland)
Das Lächeln einer Sommernacht (West Germany)
Das Lächeln einer Sommernacht (East Germany)
Smiles of a Summer Night (USA)
Smiles of a Summer Night (Great Britain)
Sommernattens smil (Denmark)
Sommernattens smil (Norway)
Sonrisas de una noche de verano (Spain)
Sorrisi di una notte d'estate (Italy)
Sourires d'une nuit d'été (France)
Production details 
Production country: Sweden
Swedish distributor (35 mm): Svensk Filmindustri, Svenska Filminstitutet
Swedish distributor (video for rental and sale) (physical): Svenska Filminstitutet
Laboratory:Svensk Filmindustri
Production company: Svensk Filmindustri

Aspect ratio: 1,37:1
Colour system: Colour
Sound system: Optical mono
Original length (minutes): 96 108

Censorship: 087.386
Date: 1955-12-14
Age limit: 15 years and over
Length: 2975 metres

Release date: 1955-12-26, Röda Kvarn, Stockholm, Sweden, 108 minutes
Filming locations 
Sweden (1955-06-28-1955-08-29) (complementary shooting two days in November 1955)

Filmstaden, Råsunda (studio)
Jordberga slott, Anderslöv
Ystad
Music 
''Aufschwung opus 12 no 2'' (music Robert Schumann)

''Fantaisie-Impromptu opus 66'' (music Frédéric Chopin)

''Liebestraum opus 62 no 3'' (music Franz Liszt)

''Bort med sorg och bitterhet'' (music Erik Nordgren, lyrics Ingmar Bergman)

''Du skall ej fruktan bära/La ci darem la mano'' (music Wolfgang Amadeus Mozart, lyrics Lorenzo Da Ponte, alias for Emanuele Conegliano)

psalm 144 ''I himmelen, i himmelen'' (lyrics Laurentius Laurinus sr. unknown composer)
''Madigans visa/Elvira Madigan'' (lyrics Johan Lindström) based on ''Freut euch des Lebens''
Fredrik: Desirée, how I longed for you.

Fredrik: One's debut is always a miserable farce. Fortunately, women don't take it half as serious as we do. Or mankind would die out.
Henrik: You joke about everything.
Fredrik: You will to, when you see your own folly, and the triviality of your illusions.

Desirée: Fredrik, you old goat, you bastard, you long-nosed camel. You're looking unusually human.
Fredrik: Thanks for the compliment.
Desirée: Is your large pectoral aching? The heart, as mortals call it.
Fredrik: That's not why I came here.
Desirée: No, it was always your noblest parts that brought you to Desirée.

Fredrik: How could a woman ever love a man, can you tell me that?
Desirée: A woman's view is seldom aesthetic. And you can always turn the light out.

Desirée: Were you going to marry me?
Fredrik: Maybe I wasn't just then.
Desirée: See. Besides, your valiantly amused yourself with scores of other women.
Fredrik: But you were the headquarters.

Desirée: How long will you stay?
Carl-Magnus: I have 20 hours' permission. Three hours to come here, nine with you, five with my wife, and three back. That makes 20 hours. Would you mind if I change into my dressing-gown?

Carl-Magnus: I also see my nightshirt has proved useful. It fits you well, I hope. Not too small, not too large.
Fredrik: Very well, thank you. Not too small and… not to large.

Carl-Magnus: I can tolerate my wife's infidelity, but if anyone touches my mistress, I become a tiger!

Charlotte: So, my dear Carl-Magnus, you consider all women seducible?
Carl-Magnus: Absolutely. Age, class, conditions or looks are of no consequence.
Desirée: Even married women?
Carl-Magnus: Not least the married.
Desirée's mother: In that case, your main ally is not your own assets, but the married woman's marital ennui.

Henrik: Oh Lord. If your world is full of sin, I want sin. Let the birds build nest in my hair. Take my wretched virtue from me. I can't stand it any longer.
Judy Bloch, 2004:
One of the cinema's great erotic comedies. The plot is an Ophulsian ronde of love affairs and intrigues revolving around a middle-aged lawyer; his young wife who remains a virgin; his former mistress, a sophisticated stage actress; her lover, and his wife. They gather for a weekend at the country estate of the actress's elderly mother, who works a kind of magic on this ménage of infinite possibilities. A true parody of the ridiculous male, this is a comic working-out of an idea suggested so tragically in other Bergman films—that men are a species of beast who turn to women to save them from being totally humiliated. Not always a smart move. Woody Allen brilliantly reworked Smiles of a Summer Night in A Midsummer Night's Sex Comedy, and the film also inspired the Broadway play A Little Night Music.
Collaborators
Ulla Jacobsson
Björn Bjelfvenstam
Margit Carlqvist
Jullan Kindahl
Gull Natorp
Gunnar Nielsen
Birgitta Valberg
Gösta Prüzelius
Svea Holst
Mona Malm
Lena Söderblom
Josef Norman
Yngve Nordwall
Hans Strååt
Lisa Lundholm
Börje Mellvig
David Erikson
Arne Lindblad
Einar Söderbäck
Sten Gester
Mille Schmidt
John Melin
Anders Wulff
Viveca Heister
Birgitta Hellerstedt
P.A. Lundgren

, Art Director

Åke Nilsson

, First Assistant Cameraman

Lennart Wallin

, Boom Operator

Gunnar Fischer

, Director of Photography

Gustav Roger

, Unit Manager

Ove Kant

, Unit Manager

Oscar Rosander

, Film Editor

Max Goldstein

, Costume Designer

Per-Olof Pettersson

, Production Mixer

Frédéric Chopin

, Music Composer

Franz Liszt

, Music Composer

Wolfgang Amadeus Mozart

, Music Composer

Erik Nordgren

, Music Composer

Robert Schumann

, Music Composer

Eskil Eckert-Lundin

, Orchestra Leader

Allan Ekelund

, Production Manager / Production Coordinator

Lennart Olsson

, Assistant Director

Katinka Faragó

, Script Supervisor

Louis Huch

, Still Photographer

Ingmar Bergman

, Screenplay